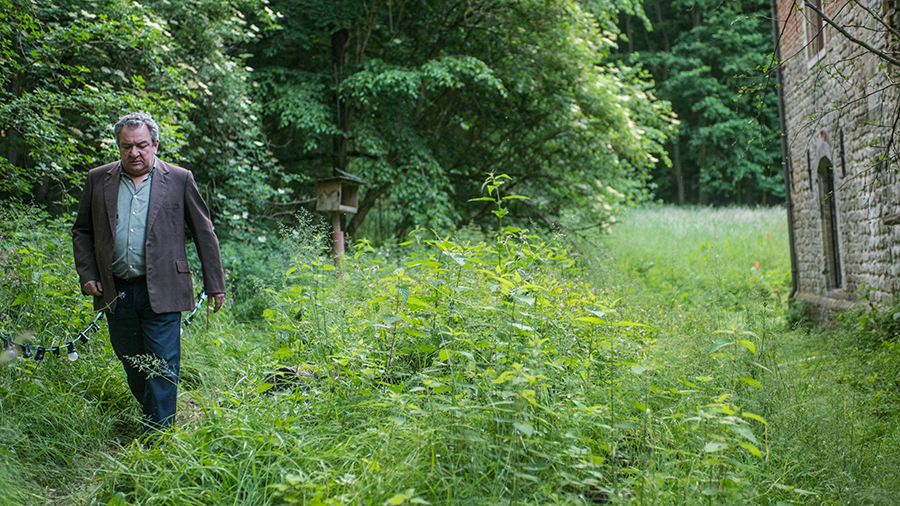 SEASON ONE EPISODE REVIEWS:
Episode 1 | Episode 2 | Episode 3 | Episode 4 | Episode 5 | Episode 6 | Episode 7 | Episode 8
In The Missing's fifth episode, we finally have a show on the same level as the debut. After three consecutive episodes that wandered somewhat and became too confusing, Episode 5 was a powerful hit.
The show begins in odd fashion. After last week's revelation that Ian has been missing for eight years, we see him and his wife on the majestic seas. Are they on the run and drifting away on international waters? They seem too calm to be worried about past misdeeds. From the beginning, we know something is off with the boat scene, but our curiosity isn't satisfied until the end. More on that a bit later.
With Tony, he's on the warpath after realizing that Vincent and Ian know each other. He and Emily waste no time in attempting to convince the mayor to look into Ian. The mayor undermines the request and portrays Ian as a communal figure incapable of such evil. He certainly portrays that aura, but the overweight, unsettling construction boss has made audiences uneasy since Episode 1.
Since the local authorities have proven worthless aside from Julien, Tony literally takes matters into his own hands. He and Emily do legwork together for the first time in search of answers on Oliver's behalf. Despite Emily's discomfort, they drive to a spot often frequented by Vincent. Tony gets out of the car and walks with fierceness toward the sex offender. As he demands to know the connection between Vincent and Ian, Tony viciously assaults his victim to the point of near disfigurement.
Trembling with blood on his hands, Tony confirms his suspicion. Ian Garrett is listed in Vincent's phone. A powerful construction industry boss and an underemployed creeper don't usually cross paths. That is, they don't do so unless something draws them together. We don't hear Vincent say this onscreen, but Tony reveals to Emily that the two perverts shared files and illegal content together. Vincent had finally cracked and revealed his involvement with Ian to the desperate father.
After the beating, Vincent warns Ian of Tony's recently acquired knowledge. It appears that Tony has the upper hand and will soon cause Ian's demise. In this game of chess though, Ian alerts the authorities of the assault and has Tony arrested. Defiant as ever, Tony refuses to go quietly as he urges law enforcement to arrest Ian.
Meanwhile, last week's episode introduced an important figure in Rini. In the current time frame, she had already traveled to Paris with Julien and Tony. The purpose of this trip had been for Rini to obtain information from her brother about a suspicious figure with some connection to Oliver. After being sliced in the throat years ago when dealing with her brother and his associates, Rini is fearful of further involvement. But she knows she owes her life to Julien and agrees to participate. She threatens her brother with a knife and scares the information out of him, successfully aiding Julien and Tony's investigation, while also ridding herself of personal demons.
That was the primary flash forwarded time frame. Much of everything else took place after Oliver's initial disappearance. Once Tony is released from jail for Vincent's assault, he goes to Ian's property and boat. He breaks into the the boat and finds a video camera. On it? We're not shown, but Tony's reaction tells us all we must know. Ian is a child predator. Tony's suspicions are confirmed. And when Ian arrives at the boat as well, The Missing explodes. Ian basically admits to murdering his own daughter, reveals to Tony that there's over 50 tapes of him abusing children, and claims that his grandfather abused him as a child.
Heavy. Disturbing. Climatic. The moment is powerfully sickening. Tony is overwhelmed with the pure evil in front of him. Ian may be rich and successful, but his true colors are vividly shown. The man is sadistic and evil. Unable to restrain himself after Ian makes a comment about Oliver's beauty, Tony bashes the villain's head against the boat and presumably kills him. This prevents Tony from obtaining additional knowledge from Ian, but the murder was committed in a fit of rage. We don't know if Ian had direct involvement with Oliver; my gut suggests he didn't, but we do know he's a child predator. That was enough reason for the desperate father to snap.
As promised earlier, back to that odd boat scene. It turns out that Ian's mentally unstable wife had simply slipped into a rabbit hole of daydreaming. She was fantasizing about life at sea with Ian as she sat in the room of her assumed mental hospital. We learn this when she receives a visitor in Vincent. He had traveled in order to tell her about Ian's monstrous ways, but he realizes that she already knows. The realization of Ian's evil likely pushed his wife toward insanity. Plenty to digest. Even more to be excited about for the remaining three episodes.
The Missing airs at 9:00 p.m. on Starz. You can also watch the series at Starz online.