It looks like the Brooklyn Nets are bonding in ways other than organizing their own unofficial workouts before training camps open later this week. NBA veterans, Deron Williams and Reggie Evans played a practical joke on "the rook," MarShon Brooks by filling his car with popcorn. Apparently, last season's shortened number of 66 games compared to the regular 82 qualifies Brooks as a rookie still.
According to NetsDaily:
On return to the parking lot at PNY Center in East Rutherford, Brooks found his car and he the victims of a veterans prank. His Acura was filled with popcorn and conclusive evidence of who did it is all over the internet. Why pull a rookie prank on a guy who's been through it once? Well, the committee of Nets Vets has ruled that since last season was only 66 games long, he still must serve 16 games in rookie purgatory. It seemed like Brooks will deal with it okay, but as he tweeted, "Lol wish yall could see this dude at the car wash face tho."
See the pic below of Brooks' car, courtesy of D-Will's Instagram. It must be said that this much fun can help team chemistry, so the harmless shenanigans will likely continue. It's going to be fun following this team.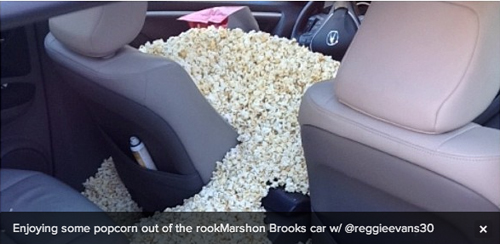 Also, if you haven't read it yet, check out our Brooklyn Nets season preview!
You can contact and find me on Twitter @BallerMindFrame or e-mail me at [email protected].