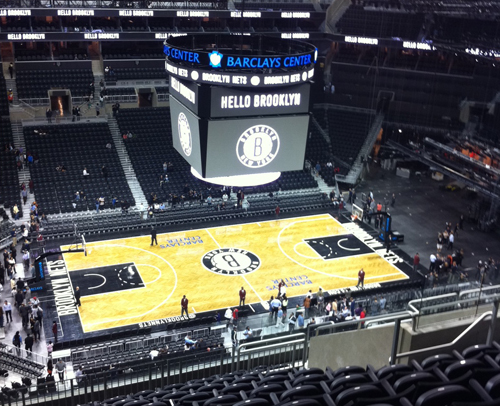 Last week, I was fortunate enough to check out the new Barclays Center, home of the Brooklyn Nets, for a special event catered as a show of appreciation to season ticket holders. I'm not one, but my friend Seth is, and he was kind enough to hook a brother up! The picture above is a view from the seats I'll be in (section 210) when the Nets take on the New York Knicks for the first regular season NBA game ever played at Barclays. Can't wait!
You can check out a couple of dozen pics I took on Baller Mind Frame's Facebook album page. And while you're there, Like the Facebook page! Oh, and also check out the Nets season preview I did! Blatant promotion aside, check the following video because it takes you from the beginning of the construction site to the finished product:
Check out the pictures on Facebook and you'll get a much better feel of how great Barclays Center is. Of course, I'm not exactly speaking from the most objective point of view. Let's go, Nets!
(H/T to NetsDaily)