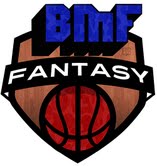 The NBA is back! Training camps are open and teams are getting ready for the preseason. That also means another thing, fantasy basketball is just around the corner! It's been a long summer and I've been busy writing, not just here on Baller Mind Frame, but I actually co-authored a book with my fellow bloggers from Give Me The Rock. It's not like the season-specific draft guides you see on fantasy sports sites, but a general and authoritative strategy guide aimed at helping people win at fantasy basketball. I'm proud to say that it's finally out on Amazon.
Now that that shameless plug is out of the way, let's talk about preparing for the 2012-13 fantasy NBA season. Specifically, mock drafts. Aside from doing research on the latest injury reports and player movement over the offseason, one other useful tool to use in preparation for your real drafts with your buddies, is to do mock drafts.
I generally like to get several mocks under my belt before the season begins. I participated in the Baller Mind Frame mock draft, which we decided to play out and is now officially the BMF Experts League. I also did a few on Yahoo! Here's an example of one. Now that I've participated in a few mock drafts, testing multiple scenarios from various draft positions, and getting a feel for players' average draft position (ADP), here are some observations I've made from those experiences.
1. Do not depend on the fantasy site's rankings
Injuries to Channing Frye, who is officially out for the season; Derrick Rose, who is still expected to miss half of the season; and recently John Wall who will miss eight weeks; leave them on draft boards as "land mines" for people who cannot show up for the live draft. It's best to pre-rank the players based on your projections for this season, and exclude the likes of Frye and other guys you don't want to get caught dead having on your team's roster. It was disappointing to see teams auto-pick Frye, even if it was just for practice because a pick like that changes the flow of a draft.
2. True small forwards are few and far between
The top two players in fantasy this season are both small forwards, LeBron James of the Miami Heat and Kevin Durant of the Oklahoma City Thunder. You probably remember them from last season's NBA Finals. After them, you're looking at Carmelo Anthony of the New York Knicks, Rudy Gay of the Memphis Grizzlies, and maybe even Danny Granger of the Indiana Pacers. From there, it's a steep drop from that precipice of players. There is an abundance of point guards, spread out across various tiers and ranks. Centers, a position which used to be considered the "thinnest" position, aren't too hard to find if you time it right. Because there is a tendency for drafters to go through runs of picking guards and centers, I find myself sometimes getting dragged along by sheer inertia. Consequently, on more than one occasion, I found myself having difficulty getting a small forward-eligible player to fill my team's SF slot at the right value point. If the opportunity presents itself, and the right player with the right value falls to your spot, you may want to consider filling your team's positional needs at that time, especially at the three position.
3. If you're going to participate in a mock draft, go through it all the way
On more than a few mock drafts, I've noticed more that a few drafters put their teams on auto-pick after round six or seven. It boggles the mind, well mine at least. In the first few rounds of the draft it's pretty clear who the best players are, who are better than whom. Things get muddled, even blurry, in the middle and later rounds and I appreciate mock drafts partly for the information I gain on who to pick in the later rounds. While it's true that the core of your team is composed of who you draft in the first four or five rounds, you can't just rest your laurels on those picks alone. Go through the whole mock draft, navigate through its flow, and take note of when players get picked.
4. Don't get caught up in the player runs
It starts sometimes as early as the second round. One player picks a center, the next player reaches for another, and yet another team "forces the issue" on another; and it has begun, inexplicable panic as seemingly limited resources fly off the draft board. It's called a position run (or train). Sometimes you just have to tell yourself to relax. You can't possibly run out of centers by the fourth round. There will be C-eligible guys later in the draft. Maybe not of equal talent or tier as the ones flying off the board, but usable nonetheless. It's an opportunity to snag some solid fantasy value from players playing in positions not attached to the train. Pick THOSE guys, and grab your center or point guard to fill your roster needs in a round or two. It will work itself out. Sacrificing value for position will just get you into trouble and mess with your team's mojo. Mock drafts have been useful in seeing when these runs normally occur, and I can adjust accordingly. Runs always happen, whether in mock drafts or in real live ones, you just don't always need to put your running shoes on.
5. Validate your sleeper list
One thing I found particularly useful was that people weren't sleeping on some targets I thought I could get away "stealing" at particular rounds. I know for example, that I can't always wait til the ninth round to get my Kawhi Leonard on and that it's not a guarantee that Jonas Valanciunas will always get to be my last-round flier pick. People know. That's the paradox when it comes to sleepers. If too many people see the potential that you do, then that player is no longer a sleeper. On the other hand, I've noticed my fair share of players who tend to get "ignored" more than others. It also pays to read what goes on in the chat box. A very chatty draft room can at times be quite enlightening as people get to vocalize their opinions on players and picks. I realized that I sometimes needed to break the ice with a "nice pick" comment at some point in the draft to get things going. This is another reason to stick it out until the last rounds, to find opportunities for value. Since going through about seven or so mock drafts at this point, I've now fine-tuned the names on my sleeper list.
And there you have it. I personally recommend that everyone participate in at least a handful of mock drafts before real drafts begin. You'll never know what you'll see and learn next.
Follow @FantasyHoopla
Follow @BallerMindFrame