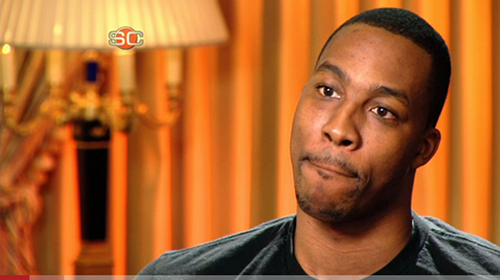 Dwight Howard of the Los Angeles Lakers did an interview with ESPN's Stephen A. Smith and, man, should Howard just keep his mouth shut! Below are some excerpts that prove he's trying really hard to appear genuine and cool or… I'm not sure.
"I'm not a crybaby," Howard told ESPN's Stephen A. Smith on SportsCenter on Monday. "I didn't try to cry my way out of Orlando. That was never my intention, or not what I did at all. And I understand everybody thought it was that way because of what was being put out there. I'm not indecisive. I love this game. You know I play it because it inspires me; it inspires millions of kids around me, adults and all. And, I'm going to have fun while I do it."
When you say you're not something, you are that something. D12, doth protest too much. And what was being put out there was your alleged "loyalty" to the Orlando Magic and your bold-faced lie to reporters about not wanting head coach Stan Van Gundy to be fired. Umm, Diet Pepsi, anyone:
Just stop talking, Dwight! Stop it!
"Well with my back you know, it's not all the way there, 75 percent," Howard said. "And with my shoulder, it's day to day. This is the first year recovering off of a back surgery. I really don't think people understand the severity of the surgery and the injury, and how long it takes to recover. Even sitting down in this chair right now is causing my legs to go numb, and just having this tingling sensation all the way down my legs. So, that happens when I'm playing. That happens when I'm just sitting on the bench for a couple minutes. It's not easy."
2013 FREE AGENCY, HERE HE COMES!!!
"You play with Kobe Bryant you know, he's going to get them up," Howard said. "But, at the same time, I have to find ways to still be effective. I can't allow that to affect how I play. There were a lot of times early in the season where I would get upset you know, because I felt like he shot the ball a lot. And you know, I wanted some touches down low. Do I want touches, yeah."
If there's one thing about Dwight Howard, it's his knowledge in endearing himself to his teammates, especially a worldwide basketball icon. Do your thing, Dwight! Too bad you can't tell Kobe Bryant how you feel to his face or during the game, huh? Just call for the damn ball, especially during crunch time! Oh wait…
"It's mental," Howard said. "When I step up to the line in games, and I think so much about missing because everybody saying I can't shoot free throws."
Mental fortitude… not one of Howard's strong points.
"In high school I was 90 percent from the line."
Oh, so you're saying you still have upside from the charity stripe? 2013 FREE AGENCY, HERE HE COMES!!!
Seriously, Dwight Howard has lost me as a fan of his game, even on the defensive side where he's one of the best. It's hard to respect someone that seems to be two-faced and tries to please everyone. He needs to be more like Kobe and not give a damn about doing that, and let his game talk for itself. Even if the Lakers end up winning a ring this season, it won't be because of D12, it'll be because of Kobe. In the meantime, Howard should just shut his trap, stop pandering for the mass appeal he craves, and just play. Basically, he should shut his mouth and do what he needs to do on the court.