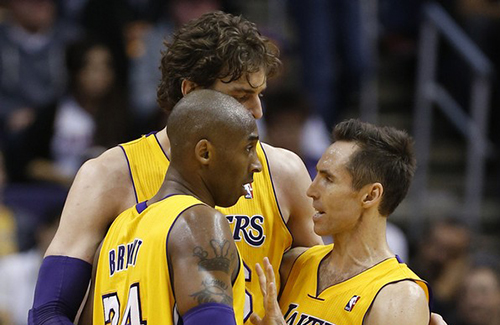 If the Los Angeles Lakers want to make a run at the NBA championship next season, they're going to have to do some rebuilding. Not all their players who are slated to return should, but they're on contract for at least one more season, so not much you can do there.
A couple of important things to keep in mind are that as much as Lakers fans don't like it, Mike D'Antoni is the head coach, and with the coaching staff he's likely going to have next season, his system won't change much. But to win with D'Antoni's system, you'd need to dump nearly everyone (save Steve Nash, of course), so if he comes back playing the same game, the team is in trouble.
Another consideration is money. The Lakers don't have a lot of it, and for every $1 they go over the luxury tax, the Lakers will be subject to the new incremental luxury tax penalty (per CBA FAQ):
Amount over tax threshold
$4,999,999.99 million or less will pay $1.50 for every $1.00
$5-9,999,999.99 million will pay $1.75 for every $1.00
$10-14,999,999.99 million will pay $2.50 for every $1.00
$15-19,999,999.99 million will pay $3.25 for every $1.00
$20 million+ will pay $3.75 for every $1.00 and increasing $.50 for each additional $5 million
And wait until the 2014-15 NBA season has the repeat offender tax, where $1.00 is added to the penalty fee above. Yikes!
Knowing all this, these are the seven guys the Los Angeles Lakers should bring back.
Kobe Bryant
This is a no-brainer. Yes, Kobe Bryant is old and injured, but he's still one of the best in the game. There's also no other leader on the roster who can will a team to win as much as he can. Numbers-wise, Bryant had one of his best seasons ever, tying his career-high average assists per game at six, and having his sixth-best shooting season. His $30.4 million contract is a hefty one, but it's far worse to amnesty Kobe and have him playing against you with a vengeance than having him on your side and trying to win a championship for you.
Steve Nash
What seemed like such an exciting signing last offseason turned into a bit of a mess. Steve Nash is on contract for $9.3 million this coming season and $9.7 million the following season. After a dismal year where he only played in 50 games and averaged 12.7 points, his sixth-worst season ever, Nash would seem like a pretty good amnesty candidate right about now. However, the Lakers have virtually no other option at point guard.
From the beginning, Nash was a liability on defense, and that became blatantly obvious last season, as did his age. The oddest part was that despite being the historically best shooter on the team, he didn't shoot nearly as much as he should have. Since they have no viable option to replace him, though, Nash needs to come back and stay healthy.
Pau Gasol
Don't freak out yet. Keep in mind that D'Antoni is still the coach, and of the Lakers' two big men (assuming Dwight Howard returns), Pau is the better choice for D'Antoni's system. Howard's skills are not optimized in an offense that emphasizes a "shoot-first" mentality. Gasol has more variety to his game, and a pretty decent jumper too. He's a mix between a big man and a Tim Duncan-esque power forward.
However, the coach and big man got off to a rough start last season when D'Antoni basically said that Gasol was unathletic. The unfortunate thing is that Gasol is owed $19.3 million next year, which is way more than he's worth at this point in his career. It would be worth trading him if they could get a younger player with a very similar skill set, but there's no one who really matches up to him salary-wise, whom a team would be willing to get rid of. So, Gasol is a lot like Nash and needs to come back by default.
Jodie Meeks
Jodie Meeks is an interesting case because he's got a team option for $1.5 million next season. The poor guy was stuck in limbo between former coach Mike Brown and D'Antoni, often sitting out for games at a time and not knowing why. Once he did play, Meeks was inconsistent at best, but where he holds a lot of value is on defense. The Lakers are far from young, so what Meeks brings to the table is athleticism and the ability to wear out defenders. Why D'Antoni didn't use him and other young guys, like Devin Ebanks, in this capacity is bewildering. For the money, you won't find a guy quite as young and malleable as Meeks.
Earl Clark
Earl Clark was the breakout star of last season who showed just how skilled he can be during significant stretches of the season. Last season he made $1.2 million, and is currently an unrestricted free agent, starting July 1st, but the Lakers should make a push to sign him. Clark went from having one start in a six-year NBA career to 36 starts; he shot 44 percent overall, 33 percent from three-point range, grabbed 5.5 rebounds and averaged 7.3 points per game. He's also young and pretty good on defense. If they can get him for around the same amount and work on building his confidence over the offseason, there's no way Clark wouldn't be a solid addition coming off the bench for the Lakers.
Andrew Goudelock
The Lakers had Andrew Goudelock hiding away in the D-League last year, which was a decision that was hard to understand. At the time it was between him, rookie Darius Johnson-Odom and Darius Morris. They kept Morris for money reasons, but it's still not clear why they chose Johnson-Odom over Goudelock. The Lakers called him up at the end of season where he slowly blew people away, finishing the season with 14- and 20-point games in the playoffs. He clearly has skills, but for whatever reason, he didn't make the team from the get-go last season. Hopefully the Lakers take a long hard look at him and get Goudelock back. He's young, fast, hard-working, and can help this team out in multiple ways.
Metta World Peace
This is a long shot, but Metta World Peace should be brought back to the Lakers under one condition: he re-negotiates his contract. Considerably. The forward is notoriously spacey, his name is Metta World Peace after all, so there have been different reports floating around about his future. Initially, World Peace said that he would take a pay cut to stay with the Lakers, but he's also said he's letting his agent handle everything. An agent's job is to make their client happy, but they're also paid on commission, so it's not likely that he'll seek less money for World Peace.
Currently he's due $7.7 million next season, which is why many people feel that he needs to be amnestied. World Peace has professed to be in the best shape of his life, and last year was definitely a physical improvement for him. However, that still isn't as good as other players out there who are available for way less money.