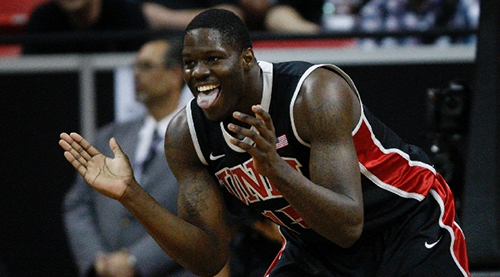 In the last few weeks, we heard or read that the choice for the Cleveland Cavaliers with the number one pick was between Nerlens Noel and Alex Len, but instead the franchise opted to take another injured player that didn't work out for teams in Anthony Bennett. Once again Chris Grant proved he is the smartest general manager in the league by selecting an undersized, overweight, power forward with a bad shoulder first overall in the NBA Draft.
With Kyrie Irving's injury history, and Anderson Varejao averaging twenty minutes a season, the Cavs obviously felt like they could use one more unhealthy player to carry this team to the playoffs in their 2013-2014 campaign. Great.
Then again, sarcasm aside, Charles Barkley was labeled as an undersized power forward right? At 6'6″ he is the shortest player to ever win the rebounding title. And, Blake Griffin entered the league with a knee injury that was way more of a concern than Bennett's torn rotator cuff on his non-shooting side. The weight needs to be addressed, but Shawn Kemp's leftover baby weight from several (known) children didn't stop him from contributing to NBA teams way longer than he probably should have.
Now, I'm not trying to say that Bennett will equal the accomplishments of those guys as they are truly incredible players, but if Blake Griffin can help take the Los Angeles Clippers to the playoffs, Bennett can too… if he loses twenty pounds.
Yeah, sarcasm was never aside. Kind of like dessert on Bennett's table.