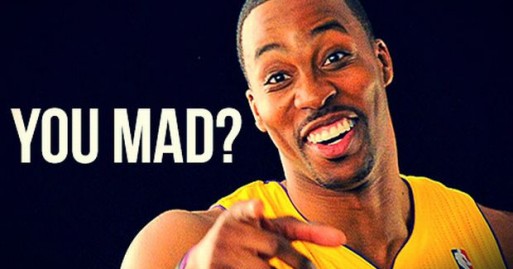 Image courtesy of MVPMagazyn.com
There's no question that the 2013 NBA free agency period has been less than exciting for the Los Angeles Lakers. Amidst a plethora of issues including Kobe Bryant's injury, the ownership of Jim Buss and the D12 dilemma, we still find ourselves with one big problem: unruly, uneducated fans. Regardless of how the Dwightmare ends, one thing is for certain, Lakers connoisseurs have done a pretty good job in making all of his other options seem quite appealing.
Sure there are valid criticisms that can easily be made when referencing his performance last year, but that doesn't change the fact that he still put up impressive numbers while coming off of a serious injury. Are we so emotionally erratic and dense that we'll scrutinize our best option at the 5, driving him out, potentially leading to a wash of a coming season? Although Howard's presence on the court wasn't all that fans had hoped it would be, he still managed to finish as one of the top three centers in the league. Yes, he missed more free throws last year than Steve Nash missed throughout his entire career, but he still produced an average stat line of 17.1 points, 12.4 rebounds and 2.4 blocks per game.
For every criticism Lakers Nation makes against the sensitive center, one can easily counter it with information derived from a tiny bit of research and a miniscule amount of critical thought. Los Angeles's general fan needs to be more responsible in their actions and analysis, deriving their assessments not from Hollywood-sized egos and smart phone searches, but from facts and history.
As Howard seems to be solidifying his home with the Houston Rockets, one can't help but examine the team's future without him. The thought of juggling Robert Sacre and Pau Gasol down low is a joke and imagining where most of the offense will come from while Kobe is recovering is a fearful notion to ponder. Because of our salary restrictions it's likely the team will not be acquiring anything too special in the offseason making Dwight Howard an obvious piece to try and hold on to, at least in the mind of a rational spectator.
We've lost the better portion of our bench and are now about to lose a three-time NBA Defensive Player of the Year, who is arguably the best true center in the league. We have been so quick to judge the 27-year-old phenom, pointing out his flaws and highlighting his every mistake that it's no surprise he's on his way out. As the tweets start to materialize and the #byebyedwight hashtags spread like wildfire I can't help but feel like an idiot. I too was among the mass amount of people spreading negative sentiments and talking D12 trash, but I realize now that we may have bad-mouthed our second most valuable player out of Los Angeles.
As everything begins to settle, the picture becomes quite clear. The team's ownership has declined massively in the hands of the doctor's son, Mike D'Antoni isn't going anywhere and we've lost several pieces of the roster. I wish we could have thought of the future when last season was underway so that we could understand Howard's importance and not sadden Superman so with our lack of support and ridiculously high expectations. Maintaining the emotional stability of a player can be frustrating for a fan. One would hope that the millions of dollars paid out to the athletes would keep them from being overly emotional, but apparently this is not the case here. Players are as human as you and I and if they're not feeling supported by the team's enthusiasts they will most likely pack their bags and head to a friendlier environment.
It's true, Howard was less than we expected, but what were we hoping for with the roster we had in place and the coach set to manage the team? Did we forget about his back surgery and that our lineup wasn't healthy all season? As a fanbase we're too extreme, too moody and too influential to be so careless in our fanatical behavior. I believe Dwight leaving has almost as much to do with the lack of backing from Los Angeles as a whole, as it does to do with the coaching, sharing Kobe's spotlight and the pressure that automatically presents itself when playing for a storied franchise like the Lakers. In the end, I can't blame him for getting out of Dodge.
Dwight Howard may have felt less affected by the negative sentiments if the majority of Lakers fans knew the numbers and could argue juxtaposing options, but for the most part, our criticisms are emotionally fueled with very few valid points. We scream, we shout, we let it all out, but the end results in a full circle decline back to our original set of problems. But hey, maybe we'll get Andrew Bynum back! Then we can look forward to dyed perms and 30-foot threes with an open Kobe and a full shot clock. I can see it now: #wewantbynum. May the Basketball Gods forgive us.