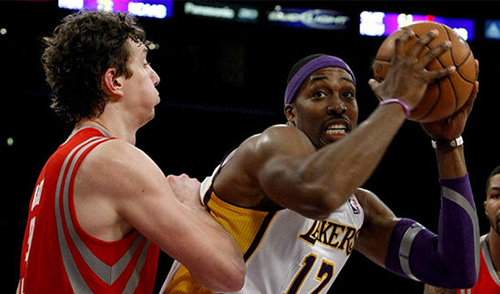 Dwight Howard is making his way to the Houston Rockets, signing for four years and $88 million, spurning the Los Angeles Lakers after only one powder keg of a season. The reaction to the free agency signing spans all spectrum of emotion, particularly from the respective teams' fans. The prevailing thought among the basketball community is that Howard just didn't have that drive to achieve big things in Los Angeles because his mental and emotional states couldn't withstand the pressure that being a Lakers big man brings. Wilt Chamberlain, Kareem Abdul-Jabbar and Shaquille O'Neal did it, but apparently D12 couldn't.
It's easy to get the thoughts of basketball experts and sports blog commenters in the NBA blogosphere, so for this first Baller Mind Frame podcast with myself, DV, as your host, I recruited my son (HV) and his good friend (HDW) to answer several questions surrounding the various elements of the Dwight Howard signing and give the perspective of 11-year-old kids.
Recorded 7.6.13 before the Josh Smith signing with the Detroit Pistons.