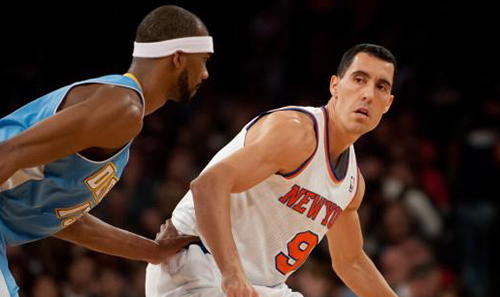 It's no surprise that over the past week, the NBA free agency conversation has been almost exclusively focused on Dwight Howard. By all accounts it's a perfect ESPN spin cycle story: best free agent available spurns the best team/player of the generation to team up with emerging superstar James Harden and the mildly Linsane Houston Rockets. Will Howard live up to his potential as a legitimate number one option? Can we expect a power struggle with Harden? Uh-oh, Ice Cube called him Dwight Coward?" Wait! Hold the phone! Kobe Bryant and Pau Gasol unfollowed him on Twitter? YOU'RE NOT HOLDING THE PHONE!!!"
Meh. It's decent "See? I know sports, work friend" conversation, but to the true basketball fan, this is not what makes free agency arguably more exciting than the regular season. I haven't even read a single Dwight Howard story. No, I've been more concerned with the little things. Like the fact that second-year player Chris Copeland not only left the New York Knicks, but signed with the increasingly frightening Indiana Pacers. The only thing that could console me was seemingly smaller news; that the Knicks resigned 35-year-old rookie point guard Pablo Prigioni, ensuring their chaotic franchise will have at least some semblance of stability on the court, if not in the front office.
Of course, I wouldn't expect non-Knicks fans to know much about either of these two guys. Fortunately, their significance in this context is not so much what they do as it is what they represent. To put it it simply, these are the types of players that elevate teams from good to great, and from great to champions.
I suspect this statement will draw some suspicion. The prevailing wisdom is that a "Big Three" is the one true indispensable quality of a championship roster. And while I try to avoid absolutes, it's pretty hard to argue with that point. Since 2007, there has been only one team to win it all without a big three. If it wasn't Ray Allen, Paul Pierce and Kevin Garnett it was Kobe, Pau and Andrew Bynum or Dwyane Wade, Chris Bosh and LeBron James.
And yet, none of those teams could have done it without the perfect mix of role players. Where would the Boston Celtics have been without Tony Allen? Certainly not in the NBA Finals – they haven't been back since he left the squad. And what about the Los Angeles Lakers, who last won a title in 2010? They wouldn't have done it without Metta World Peace, who as but a lowly Ronald scored 20 points in Game 7, including a clutch three down the stretch. Sure, they need a big three to get there, but as far as Phil Jackson was concerned, Artest was the Most Valuable Player of that game. Kobe acknowledged as much yesterday when he tweeted, "No game 7 without Metta!"
So by all means, feel free to only pay attention to the free agent signings that appear on the ESPN "Breaking News" banner. You'll be a hit at the water cooler. But if you want real insight into which team is going to make a run for the title next season, keep an eye on the MLE signings, the minimum contract guys that get picked up these next few weeks. Because when free agency is allegedly winding down, the real offseason is just beginning.