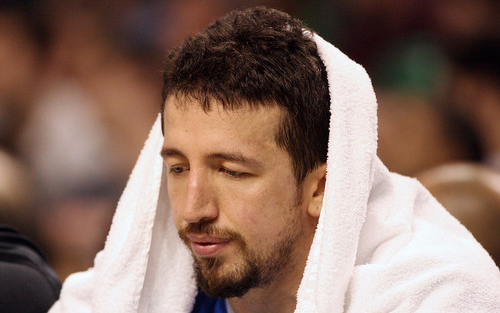 If you have been watching the Orlando Magic NBA Summer League games, you will know that they have about six players who should play significant minutes on the team next season. Hedo Turkoglu, on his second tour in O-town, has no future with the Magic and the team's front office is making progress in buyout talks with Turk. He's still on the same ridiculous contract that he signed with the Toronto Raptors back in 2009. Ironically, he joined the Raps after helping the Orlando Magic reach the NBA Finals that season. He was very popular around town and then became a pariah. That's both in Orlando and Toronto!
It was a bit of a surprise that Orlando traded for him back in 2011. I guess it was to keep Dwight Howard happy and see if any of that 2009 playoff run "magic" still lingered and could rub off. He only played 11 games with the Magic last season as the team started it's youth movement. I can't remember a single important moment he had last year. I do remember Carmelo Anthony accidentally breaking his nose when the New York Knicks were in town. That counts as important, right?
Right now, Turkoglu has $6 million guaranteed on his $12 million salary for the 2013-14 season. The Magic seemingly have no problem paying the $6 mil and waving goodbye to him. With Tobias Harris, Maurice Harkless and Andrew Nicholson around, keeping Hedo isn't exactly a top priority.
Once he is bought-out, the real question is… who will want him? It's been years since he has made a positive impact on a team. I guess the teams that don't sign the soon-to-be amnestied Metta World Peace, will be interested in Hedo. I could see the Brooklyn Nets, Los Angeles Clippers, San Antonio Spurs, Oklahoma City Thunder and Chicago Bulls, all take a look at signing the swingman forward to a cheap one-year deal.
As soon as the Orlando Magic dispose of Hedo Turkoglu, you can expect them to start looking for ways to part with Jameer Nelson, Big Baby Davis and Al Harrington in due time.