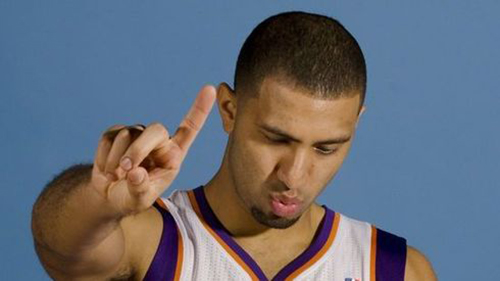 Here are three things we learned from watching the Phoenix Suns make it all the way to the Summer League Championship game.
Kendall Marshall can officially be ruled as a "bust"
Two years ago, the Suns squandered a first-round pick by selecting Marshall and hoping that he would take over for an aging Steve Nash. Marshall failed to live up to the Suns' expectations in 2012 and underperformed in the Summer League this year. He shot a pedestrian 38.7 percent from the field and posted a mediocre 2-to-1 assist-to-turnover ratio. Marshall simply did not have a strong grasp of the offense and failed to make smart decisions with the basketball in pressure situations. While the Suns are stacked at the guard position with Goran Dragic and Eric Bledsoe, they were hoping that Marshall could be used as trade bait, but it looks like his value has certainly decreased after his Summer League performance.
The Morris twins are a force to be reckoned with
Markieff and Marcus Morris led the Suns in scoring with 13.6 PPG and 14.3 PPG, respectively. Both brothers showed that they could stretch the floor and knock down mid-range jumpers. Markieff set himself apart from his twin by grabbing 6.4 boards per game in only 22.4 minutes of action, so Phoenix can expect him to secure at least eight rebounds a game if he gets significant minutes.
Defense still takes a backseat to the high-powered offense
New Suns head coach Jeff Hornacek has certainly made it clear that he wants to push the basketball and get more transition buckets. Hornacek gave the Suns' new first-round pick Archie Goodwin the green light in Summer League games and Goodwin failed to disappoint, averaging 13 PPG with 50 percent shooting from the field. Goodwin consistently attacked the basket and capitalized at the charity stripe with roughly seven attempts per game.
While the offense is coming along nicely, the Suns still lack an effective paint protector. Marcin Gortat is a far cry from a reliable post defender and Alex Len still remains a question mark due to his ankle issues and lack of physical toughness. On top of that, Phoenix does not have an all-around defender such as Metta World Peace that can defend the perimeter. Dragic and Bledsoe are average perimeter defenders at best. The Suns need to find a suitable replacement for Jared Dudley, who provided a spark off the bench with his toughness and hustle points. Phoenix desperately needs an enforcer down low and a defensive specialist who can consistently get stops against the league's top scorers. Hornacek needs to focus on improving his team's defensive skill set if he wants to make a playoff run this season.