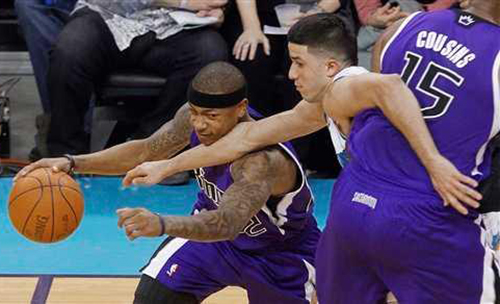 The Sacramento Kings came into the offseason hungry for fresh faces and, so far, have become gluttonous with them. They've augmented their roster using the classic formula of addition by addition, but are in need of some subtraction in order to balance the equation.
The offseason overhaul began with the new front office's targeted reformation of Sacramento's backcourt. General manager Pete D'Alessandro and company cheered when Ben McLemore fell into their laps in the NBA Draft and followed up the acclaimed coup by selecting Ray McCallum in the second round.
After the draft, the Kings quickly turned their attention toward dealing with Tyreke Evans, who was a restricted free agent. After failing to meet at a mutually acceptable figure, Sacramento decided to trade Evans for the New Orleans Hornets' Greivis Vasquez.
The moves have left the Kings with a crowded backcourt and head coach Michael Malone with decisions to make. Malone will have three or four options at point guard, depending on what position you view Jimmer Fredette as, without a clearly discernible talent differential between three of them.
Isaiah Thomas enters his third year with the Kings having to once again prove himself after two years of inconsistent playing time. He was able to secure a starting spot in the tail end of his rookie year, only to be usurped by Aaron Brooks the past season. Thomas has the experience and skill of a starter – at least for a team in the Kings' position – but may be better suited coming off the bench as an energetic, score-first point guard.
Vasquez, who's coming off a year in which he averaged nine assists per game as New Orleans' floor general, figures to be Thomas' main competition for the starting point guard spot in Sacramento. His size and tendency to distribute are enticing for a team that ranked 25th in baskets assisted. At 6-foot-6, his length and pass-first style of play stands in stark contrast to the speedy, 5-foot-9 Thomas, who is a better shooter and looks more often for his own shot.
Finally, while it's hard to imagine a scenario where McCallum is starting for the Kings in the upcoming season, his strong play in the Summer League displayed his ability to contribute sooner rather than later. Albeit against inferior competition, McCallum had a good showing in Las Vegas, averaging 12.6 points, 4.2 rebounds and 4.0 assists per game, including a few big scoring outings.
The position battle for Sacramento's starting point guard spot will be an interesting one to follow leading up to the season and whoever Malone taps to run the offense will be a strong indicator of the style of play he's going for. But ultimately, the Kings' depth at the position poses the dilemma that at least one talented player will be left wanting for playing time. Sacramento's crowd at power forward, though, makes its point guard battle look like a line at a water park in winter by comparison.
One of the Kings' biggest moves of the offseason was bringing back Carl Landry via free agency. Landry, an outside candidate for NBA Sixth Man of the Year last season with the Golden State Warriors, is primarily an offensive player, but has experience in Malone's defensive schemes. His value, though, lies in his good mid-range game (he shot 45.8 percent and 38 percent from 10-15 feet and 16-23 feet, respectively, and has a decent array of post moves inside the paint.
Jason Thompson is the incumbent starter, entering his sixth season with the Kings. Thompson's advantage in the position battle is his overall skill set; he's a jack-of-all-trades, but a master of none. Thompson has a versatile offensive game, with the ability to knock down midrange shots as well as a decent post-up game. Defensively, he's able to use his length and athleticism to provide serviceable, if not above-average, defense.
In the infamous Thomas Robinson trade, the Kings brought back multiple pieces with Patrick Patterson being the key one. Far and away, Patterson's strength is his shooting ability at the power forward position. His ability to stretch the floor with range that extends beyond the arc (he shot at 38.6 percent from three on 132 attempts the past season), makes him an ideal complement to a post-up big, a role that DeMarcus Cousins often fills.
Two other names that factor into the power forward position on the Kings' depth chart, though less so, are Luc Richard Mbah a Moute and Chuck Hayes. Mbah a Moute, the Kings' offseason acquisition, saw his fair share of playing time at power forward with the Milwaukee Bucks, but his defensive versatility will allow him to step in at small forward for Sacramento. Hayes simply isn't talented enough to contend with the aforementioned names for significant playing time at power forward. But depending on whether or not the Kings add a backup center, as Hayes has done in the past, he can provide relief and reliable defense there.
In the end, Thompson's talent and versatility make him the best bet to win out. Behind him, Landry's experience excelling off the bench makes him a strong candidate to back up Thompson, leaving Patterson the odd man out. His shooting ability gives him a chance to break into the rotation in certain matchups, but I'm not sure it's that much better than what Landry offers to make playing him enticing.
Ultimately, while it's not likely the Kings will be benching "can't miss" talent, it seems to be a bit of a waste to have such players as Patterson and one of the point guards riding the bench. Because the Kings have depth to spare at these positions, don't be surprised if one or two of the players mentioned above are moved to create balance, trim fat and make elbow room.