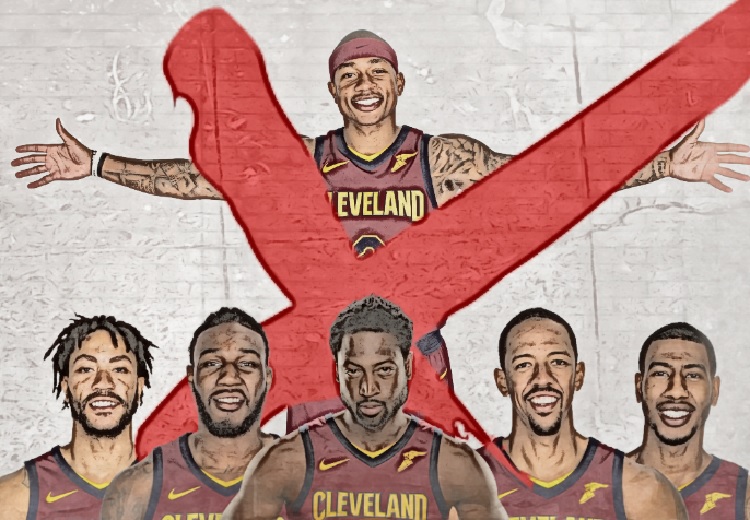 Instead of wasting several thousands of words making an easier-than-you'd-think case that the National Basketball Association is the best sports league in the entire world, I'll just present one relevant bit of information that supports my position: Even up against Super Bowl LII, the biggest sporting and social event in America, the NBA Trade Deadline has been the dominant sports story in the media for the last week and a half. Now sure, the hype train for Super Bowl LII was less powerful than that of Super Bowl's of years past for a variety of different reasons, but I'm inclined to believe one of those reasons is tied to something I wrote about back in November:
NBA fans are having conversations about Unicorns and Super Teams and GOAT's and petty player feuds and League Pass Alerts and fake trade proposals and Woj Bombs. Meanwhile, these are the secondary conversations that have been happening within NFL circles over the last six years, ever since the NFL ended their Lockout before any of the 2011 regular season had to be missed:
How long should Ray Rice have been suspended for for knocking out his girlfriend? Why are guys who smoke weed getting suspended longer than guys who beat women? 
Did Roger Goodell screw up Deflategate, just like he screwed up every other big event in his tenure as Commissioner of the NFL? 
Does this incompetent Commissioner really want $50 million per year AND a private jet? Does he not realize that NFL owners are fishing around about Adam Silver's interest in taking over as NFL Commissioner? 
Why do former players keep killing themselves in ways where their brains can be studied after they're dead? 
What's going to happen when we can diagnose CTE in living humans? And what's going to happen if a football player dies on the field after he got drilled in the head one too many times during a game? 
Do the player protests have anything to do with TV ratings being down? Or are TV ratings down because some fans know that Colin Kaepernick is being blackballed from the NFL and that pisses them off? 
Ever since the Los Angeles Clippers shocked everyone two Monday's ago by sending Blake Griffin — one of the five greatest Clippers ever and recipient of five-year max deal back in July — to the Detroit Pistons, all of the middle-aged white dudes who classify themselves as "experts" and former players who swear they come from an era of better basketball have been breaking down all of the trade rumors circulating the internet. Is DeAndre Jordan going to be traded out of Los Angeles next? What are the Cleveland Cavaliers going to do? If the Cavs aren't willing to dangle that Brooklyn pick, is LeBron going to take his talents elsewhere this Summer? What mid-tier Playoff team could elevate themselves a level by making a splashy move? What players will emerge as buyout candidates once the dust settles on deadline day?
Honestly, if you're like me — both a football and a basketball fan — isn't it a whole lot more fun to talk about a topic like NBA player movement than something like, I don't know, Rob Gronkowski possibly considering retirement because of an accumulation of head and back injuries? This illustrates the point I'm trying to make; even the off court stuff — i.e. the Draft, Free Agency, the Trade Deadline — is becoming a huge deal if you're an NBA fan. If you want to be in the know, you need to pay attention to this stuff, and on fortunately for us, it's not a huge bummer to have to talk about hypothetical off-season signings, scouting reports for draft prospects, and trade analysis.
That's why I'm here today … Trade Analysis. Even though the NBA as a whole is Winning like Charlie Sheen in 2011, there were both winners AND losers at the trade deadline.
Winner: The Cleveland Cavaliers 
As someone who tried their hardest to be optimistic about the Kyrie Irving trade back in August, I have no problem now admitting that I was very, very, very wrong in my analysis then. In my defense, I never underestimated and misunderstood what the Cavs were losing in Kyrie Irving. Back in October I wrote the following about Kyrie when I ranked him as the 15th best player in the NBA (which was higher than both ESPN and Sports Illustrated had him):
The best tough-shot making and taking Point Guard in the league … limited ability (or maybe it's willingness) in making teammates better … little effort or attention to detail defensively … the most dazzling over-dribbling sequences you'll see on a night to night basis in the league … a legitimately clutch and appallingly ballsy late game scorer. 
I stand by every word of my analysis of Kyrie. In his defense, he's shown to be a slightly better distributor and defender in Boston than he was in Cleveland. Still, my analysis went south because I expected that the Brooklyn pick would be moved by now, that Jae Crowder wouldn't show up and play like a Poor Man's Jae Crowder, and that Isaiah Thomas, nursing a bad hip at the time of the trade, would make his return from injury and have this sort of impact:
Final numbers on Isaiah Thomas as a Cavalier…

15 games (Cavs went 7-8)
406 minutes (Cavs outscored by 132 points)
36% shooting
25% from three

Of the 224 players who've played 15 games and 300 total minutes, his Defensive Rating (118.6) and Net Rating (-15.1), both rank last.

— Sean Grande (@SeanGrandePBP) February 8, 2018
They say a picture is worth a thousand words, and I think I believe that. It turns out an embedded tweet is only worth twelve words … The Cleveland Cavaliers were comically bad with Isaiah Thomas on the floor. I don't want to suggest that all of the Cavs issues were Isaiah Thomas' fault, but he certainly wasn't providing any solutions. The Cavs were 7-8 with Isaiah in the lineup and miles worse both offensively and defensively while he was on the floor. Without Isaiah the Cavs were 24-14 and playing like the same slightly flawed and completely disengaged Eastern Conference juggernaut we've seen each of the last few seasons.
The Cavs could've sent Isaiah (and Channing Frye) to Los Angeles for Jordan Clarkson and Larry Nance Jr. and called it a day knowing improvements were made, but instead they proceeded to arm Adrian Wojnarowski with an arsenal of Woj Bombs, turning Dwyane Wade, Iman Shumpert, Derrick Rose and Jae Crowder into George Hill and Rodney Hood, a duo that represents more shooting, more athleticism and a little more size in the 1 and 2 spots than they previously had.
Overall, I like what the Cavs did. The next few months will be rocky; time will have to be spent to learn about personalities and on-court tendencies and the coaching staff will have to figure out what line-ups work best. But this is an upgraded roster, and more impressively, Cleveland made these improvements without having to part ways with the Brooklyn pick.
Loser: Isaiah Thomas 
On a personal level, I feel bad for I.T.. He put together one of the most prolific small-guard seasons ever last year for the Celtics. He played hurt, he played after his sister tragically passed away, and he loved being a Celtic, and Danny Ainge rewarded him by trading him away in the offseason. A hip injury robbed Isaiah of training camp and pre-season reps with the Cavs, and when he was inserted into the Cavs starting lineup on January 6th, it was clear he wasn't the player he was in Boston. Throw in Isaiah's chronicled moodiness in the locker room, all of Cleveland's already existing issues and LeBron's, um, what's the word I'm looking for, stubbornness, Isaiah was an easy and somewhat deserving scapegoat.
Now he's in Los Angeles and there's no guarantee the Lakers will even have him back next year. How much money has Isaiah Thomas lost since last April? What team is going to sign him to a max deal, or anything remotely close?
Winner: The Detroit Pistons 
It's quite possible that no team made bigger strides in the past week and a half than the Pistons. Detroit had lost eight games in a row before winning five straight since flipping Avery Bradley (on an expiring deal) and Tobias Harris (if Tobias Harris is your second best player, are you going anywhere beyond the 1st Round of the Playoffs?) for Blake Griffin. Griffin's standing in the league isn't what it was even a year ago. Still, very few guys ever have averaged 22 points, 8 rebounds and 5 assists per game in a season, and Blake has been flirting with joining that club for about five years now.
Blake's game has changed over time. He's not the hyper-athletic, put-you-on-a-poster presence he once was. He's lost a few steps athletically, but his game has matured enough that it's still possible he can enjoy a few quality years in Detroit. He's accustomed to playing with a mammoth, offensively-limited Center, and Andre Drummond is far ahead of where DeAndre Jordan is or ever will be offensively. I'd bet that Blake, pending good health, will have some moments in Detroit and Drummond will continue to elevate his game closer to where Pistons fans thought he'd get.
Though they weren't nearly as splashy as the Blake Griffin deal, deadline trades for Jameer Nelson and James Ennis helped to tighten up the Pistons bench. Detroit was an iffy Playoff candidate ten days ago. Today I feel comfortable that they'll get a spot come April.
Winner: Dwyane Wade 
Wade is no longer in contention for a sixth Finals appearance now that he's not a Cavalier, but he's back in Miami where he became the most beloved South Florida athlete ever after 13 seasons and three titles with the Heat. D-Wade is past the "Flashpoint" in his career (get it?); he can't bring his A-game on a nightly basis, but he's still good enough to provide the Heat with some much needed vet leadership and a few flashes of vintage brilliance from time to time. He was steady coming off the bench in Cleveland, and really solid in select match-ups. That sort of 2nd unit consistency is needed in Miami.
Even: The Boston Celtics
The Celts were rumored to be in the mix for Tyreke Evans and even Lou Williams earlier in the week, and they have enough assets to put together compelling offers for any potentially-available star between this Summer and the Summer of 2020. Ultimately Boston stood pat at the deadline; it's a bet on a team that currently has a one-game lead in the Eastern Conference and will likely be without Gordon Hayward until the start of the 2018-19 season.
I appreciate that level of confidence and I support the stance that it would be foolish to give up a future 1st Round pick for what could turn out to be a six-month rental, though I will say that as someone with a rooting interest in the Cleveland Cavaliers, I was terrified that Boston could find a way to acquire Tyreke Evans. I also anticipate that the Celtics will be one of the contenders who pillage the buyout market once we see what names emerge there.
The Finals Window in the Eastern Conference is probably more open this year than it has been since LeBron's first Cleveland tenure, but the Celtics are not the only team trying to budge in front of the Cavaliers to squeeze through it this year. The Raptors have their best team in franchise history and the added bonus of some degree of continuity. The Bucks have the second best player in the Eastern Conference on their roster, and Jason Kidd isn't coaching anymore. And of course, the Cavs have LeBron James leading the way for at least the next three to five months and that's enough to qualify the Cavs towards Finals contention even if you and I were flanking him on the wings. It's going to be a fun, and very interesting few months in the Eastern Conference.
Winner: The Sacramento Kings
Almost four years ago, Fran Fraschilla proclaimed that Bruno Caboclo was "Two years away from being two years away." Well, if my math is correct, two plus two is four, and it's been four years, so congratulations to the Kings on trading for Caboclo, the next Giannis Antetokounmpo … or something like that.
[youtube]https://www.youtube.com/watch?v=OgmILBHk1D8[/youtube]
Winner: The Golden State Warriors 
Like the Celtics, the Warriors didn't make any deadline moves but they're expected to upgrade their already stacked roster soon via the buyout market. Additionally, no relevant teams made deadline moves that close the distance between themselves and the Warriors in a meaningful way. The two teams that pose the biggest threats to Golden State out west — Houston and Oklahoma City — were unable to make any deals that could be seen as game-changers. They were unable to make any deals period.
I'm on record saying that the distance between the Warriors and the next tier of contenders isn't as large as it's made out to be; as always, the rich got richer in the offseason, but the Warriors wisely recognized there was no need to rock the boat by doing anything other than trying to add pieces to their bench. The Thunder or Rockets have each beaten a fully-healthy Warriors squad within the last month, but it's still hard (not impossible, but very hard) to imagine either team being able to do it four times in seven tries.
Loser: Orlando Magic 
A brief (and depressing) look at the history of the Orlando Magic's 1st Round draft picks since trading Dwight Howard in the Summer of 2012.
2013: Victor Oladipo (2nd Pick) – Three years with Orlando, traded with Ersan Ilyasova and Domantas Sabonis for Serge Ibaka, who played 56 games in an Orlando Magic uniform.
2014: Aaron Gordon (4th Pick) – Still with the Magic, quietly shopped at the Trade Deadline because it was rumored that the Magic aren't crazy about paying big money to keep him in Restricted Free Agency this year.
2014: Dario Saric (12th Pick) – Traded by the Magic with a 2015 2nd round draft pick (Willy Hernangomez) and a 2017 1st round draft pick (De'Aaron Fox) to the Philadelphia 76ers for Elfrid Payton. We'll come back to Elfrid Payton.
2015: Mario Hezonja (6th Pick) – Averaging 6 points per game in 190 games with the Magic.
2016: Domantas Sabonis (11th Pick) – Traded on Draft night for Serge Ibaka. Currently averaging 12.5 points and 8 rebounds per game for Indiana.
2017: Jonathan Issac (6th Pick) – Averaging 5 points per game in 19 games with the Magic.
2017: Anzejs Pasecniks (25th Pick) – Hasn't played in the NBA. Nobody in the Magic organization knows how to pronounce his name.
And now we arrive back at Elfrid Payton, the polarizing big-haired 4th year Point Guard that the Magic just traded away to Phoenix for a 2018 2nd Round Pick. If you look really closely and track the progress of the pick carefully, you'll see that the Magic turned Dario Saric, Willy Hernangomez and De'Aaron Fox into a 2nd Round Pick. It's actually difficult to comprehend how the Magic have botched their post-Dwight rebuild. For all the shit everyone gave Sam Hinkie and the Sixers for sucking on purpose for four years, not nearly enough shit has been dumped on the Magic for failing to be even a little bit competent for six years.
Winner: Elfrid Payton
I'm an Elfrid Payton apologist. Maybe it's just the hair, but I think there's something to his game that's appealing. He's long, athletic, young (only 23) and his shooting his improved (From last year to this year, he's jumped from 47% to 52% from the field and 27% to 37% from three-point range) enough that I still believe he's salvageable.
Loser: Most of the Middle of the Pack Teams
Aside from the Pistons, most of the non-contending Playoff teams that opted not to A) Spend money, B) Move rotation players, or C) Trade away future picks. Unless the Clippers asking price was absolutely outrageous (and to be fair, I don't know with any degree of certainty what Los Angeles was asking for), I'm surprised that the Bucks, Trail Blazers and Wizards didn't try to get a legitimate and compelling offer in for DeAndre Jordan.
If you spent time playing around with ESPN's Trade Machine leading up to the Deadline, you know that there were avenues where trades revolving around Jordan were possible. They would've required any team to prepare package of a combination of expiring contracts, young assets and future picks, but the three teams I mentioned above could've done so, even if they required the help of a third team. The Bucks, Blazers and Wizards were all inquiring about DeAndre Jordan until the final minutes of the deadline, but no deals were all that close to going down.
Here's my big question: What is it that prevented any deal from getting done when it seemed like such a certainty for months that DeAndre was the one player who would definitely get traded by the Deadline? Were the Clippers simply asking too much for a 29-year-old lob-catching Center who has a player option this Summer? Could the Bucks have gotten DeAndre for Jabari Parker, Thon Maker and John Henson? Did the Clips insist on getting a 1st Round pick even if they were getting young assets back? Would a deal like that have gotten done if Khris Middleton was involved? And if you're Milwaukee, why would you gut your roster for possibly one or two years of DeAndre?
I suspect that the Clippers demands made it difficult to get a deal done, but it's entirely possible that all inquirers were paralyzed by the fear of going all-in and failing to move the needle. On one hand, I understand the hesitation about spending like crazy to bring in a Center who can't create his own shot. There's no guarantee that DeAndre takes any of these teams on the fringe to the next level. On the other hand, what's the plan to get there? If you're the Blazers, do you really feel like the Damian Lillard, C.J. McCollum and Jusuf Nurkic trio good enough to contend for a title? If not, what are you going to do to get to that level?
Winner: The Los Angeles Lakers 
I'm not saying that I believe that the Lakers will end up signing LeBron James this Summer, but I will say I think the Cavs might playing with fire by helping the Lakers open up two max contract slots this Summer by sending them two expiring contracts. The Lakers are one off-season Lonzo Ball trade from becoming the prohibitive favorite to sign The King.