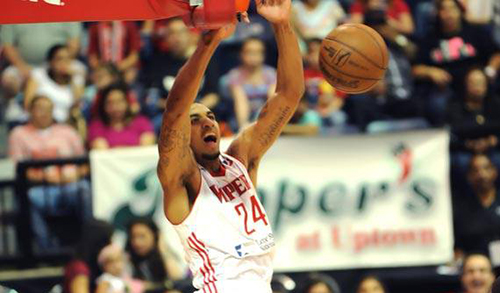 In this year's Summer League, Glen Rice Jr. showed that he can score consistently, displaying a good shot from outside and finishing around the hoop. It is likely that Glen Rice Jr. will head into the NBA this year as the backup shooting guard to Bradley Beal on the Washington Wizards. His story is quite phenomenal, having a troubled past at Georgia Tech, entering the D-League and getting drafted.
Let us dig a little deeper and see how Glen Rice Jr. got game.
He is the son of three-time NBA All-Star Glen Rice who scored 18,000 points and made 1,559 3-pointers in 15 seasons in the NBA. Glen Rice Jr. possesses the same sharp-shooting touch as his father, and the athletic frame and ability to become a viable scoring option in the league. Rice Jr. stands at 6-foot-6 and 215 pounds with a 7-foot wingspan, great size for a wing player. In the D-League playoffs he averaged 29 points, 11.5 rebounds, 4 assists, 3 steals, and 3 blocks per game, leadingthe Rio Grande Valley Vipers to a championship and was named MVP. However, not long ago, NBA scouts were barely aware that he was a candidate for the 2013 NBA Draft.
This past January he was hardly playing for the Valley Viper team, averaging just 6.6 minutes per game. At times the staff asked him to sit in the stands instead of suiting up, and as the D-League Showcase came and went, Rice Jr. hardly made an impact. On February 4, 2013 though this all changed. Two of his teammates were called up to the NBA, and another became hurt, giving Glen Rice Jr. an opportunity to start. In his first start of the season he scored 35 points in 40 minutes, hitting 6 3-pointers and pulling down 15 rebounds. He grabbed the bull by its horns and for the rest of the season he averaged 18 points, 8 rebounds, and 2.5 assists per game (not including the playoffs). In just a few months he went from not being known, to being considered a first round draft pick by many analysts. In the 2013 NBA Draft, Glen Rice Jr. was picked 35th overall by the Philadelphia 76ers, ending up in a trade to the Wizards.
His jump-shot, ability to shoot off the dribble, quick release and deep range will be an immediate asset to the Wiz this upcoming season. He pushes the ball well in transition and has a budding floor game that could eventually make him a versatile all-around threat on offense. An area Rice Jr. still needs a little improvement on though is being at the right spot defensively. Yet if he continues to progress at this fast pace, not only will his defense improve, but also his overall drive as a player. It has been a wild ride, but he is just getting started.
Glen Rice Jr. "He Got Game."
Do you think more players will take the D-League route before entering the draft after how Glen Rice Jr. did? Share your thoughts in the comments!
Also check out:
He Got Game: Otto Porter