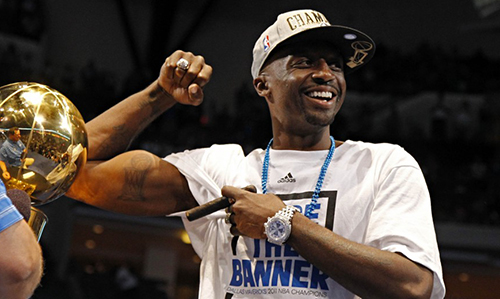 My life as a fan of Dallas pro sports teams seems to have been atypical. As a kid growing up in the northeast suburbs, I rarely, if ever, had the experience of attending the games of my favorite teams. My family attended a handful of Texas Rangers games because they were the coldest ticket in town, and I did manage to make one NBA game thanks to a friend's dad who knew I'd never been to one. In my latter teen years I attended one NHL game, too, but that was it. Never even sniffed Cowboys Stadium.
I definitely would not have scripted it that way. I'd have gone to every home game of every team had it been possible, but the simple fact was that my parents just didn't do anything to perpetuate a sports fan culture at our house. In hindsight, it seems like it just never occurred to them that I might want to go to a game (and frankly, going always seemed like something too big to ask for).
I left Dallas for college in East Tennessee in 1999, right after Dirk Nowitzki's rookie year. For what would end up being 13 years of living away from Dallas, I did what I could with my limited funds to make it to the odd road game of a favorite team if it was within a tolerable driving distance. For 13 years, every fan experience I had would take place in the opponent's venue.
One memory stands out above the rest. On January 15, 2002, three buddies and I road-tripped from our small college town near Chattanooga, Tennessee, four hours south to Philips Arena in Atlanta. None of us knew what to expect that night between the Dallas Mavericks and the Atlanta Hawks. This was only the third NBA game I'd ever attended to that point, so it took a while for it to sink in that what I was seeing wasn't normal. The Mavs were hitting three-balls like they were practicing free throws. Dirk alone attempted a whopping 15 that night, making six, and it doesn't seem at all in hindsight like he really missed nine. Every time he pulled up from the top of the key, we could see it splashing through before the ball even left his hand.
But it wasn't just Dirk. Steve Nash had five of his own that night, and he finished third on the team in threes. Remember Tim Hardaway? He was on the Mavs payroll back then, too. He matched Dirk's six. Toss in a charity trey from Adrian Griffin, and by the final horn, the Mavs had equaled a franchise record of 18 threes. To make it more satisfying, Dirk finished with 40 points, and Dallas walked away with a W.
Yet with all that fun, there was a nagging element to the experience that made it harder to appreciate until after we filed out of the arena. That nag was a Hawks player I was heretofore unfamiliar with. After all, how many Mavs fans really paid close attention to Arizona Wildcat basketball in the mid-late '90s? Count me among those who didn't. So as some guy named Jason Terry was torching the Mavs that night for what ended up being a Dirk-besting 46 points, I spent less time cheering the Mavs shooting clinic than I did throwing my hands up and yelling, "Who in the crap is this guy?!"
Little did I know it was that guy who would not only become a Maverick two years later, but would one day ink a magical tattoo that would set in motion my favorite team's first ever championship run. Not only that, but Terry himself would be the star in a game where Dallas would break that franchise record for threes, then go on to hit the filthiest three-ball of the 2011 Finals.
Thanks, Jet. Thanks for inking yourself into my consciousness one January night in 2002, and thanks for inking your arm in 2010.