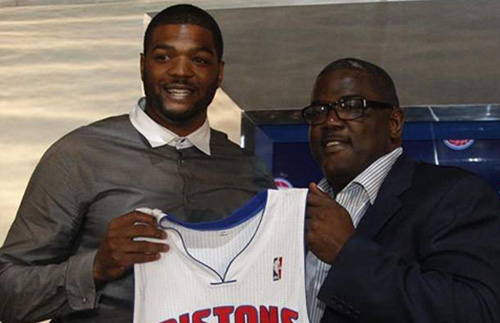 For the last few years, the Detroit Pistons' success in the regular season has been like a broken record. Although they have drafted some high-potential players such as Brandon Knight, Greg Monroe and Andre Drummond, the Pistons haven't made the playoffs in the last three years. These easily forgettable years have been marked by roster turnover and confusion from a lack of team identity. General manager Joe Dumars, aware of his team's lack of identity, has made some key moves this offseason that he thinks will help return the Pistons to NBA Finals contention.
Going into this year's draft, Dumars knew his team was lacking shooters. Kentavious Caldwell-Pope is the shooting guard the Pistons have needed for years, providing a deadly shot from long range and an inside game that helps keep his defenders honest. Even though some disliked the move, it made sense to draft him with the eighth overall pick. This move also solidified Brandon Knight's role with the the team as the starting point guard.
While Michigan point guard Trey Burke was available, Dumars chose to go with Caldwell-Pope and Knight at the 2 and 1 instead. Burke has huge upside, but by showing trust in Knight, Dumars is helping foster chemistry and confidence not only within Knight, but within the whole team.
Dumars' signing of forward Josh Smith to a four-year, $54 million contract not only gives the Pistons another option inside, it also helps the team control the growth and development of Andre Drummond, who may not be rushed into playing a starting role.
Many have questioned Smith's attitude and have thought that it may have a negative effect on the young and growing Pistons team. But the pressures of being a frachise player in Atlanta were premature and unfair. He'll be playing a large role, but not that of a franchise savior. Smith's attitude will also be kept in check by newly hired coaches Mo Cheeks and Rasheed Wallace.
Another pickup who will help control Josh Smith's emotions is veteran guard Chauncey Billups, who was released by the Clippers after a lackluster season. While some may see this signing as a "thank you" from the Pistons for all of the years and success Chauncey has given them, I think there is more to this deal. As a veteran, Billups gives experience while also helping form an identity in the locker room.
Overall, the players the Pistons acquired make them a better team than they were last year. With a young core in place, the Pistons now need to work on developing talent and acquiring veterans and other players who will help the the franchise return to its former glory.
Be sure to come back for the next installment of Rebuilding Motown, in which I will be taking a look at the coaches that Joe Dumars hired this offseason.
Read Detroit Pistons: Rebuilding Motown, part 1