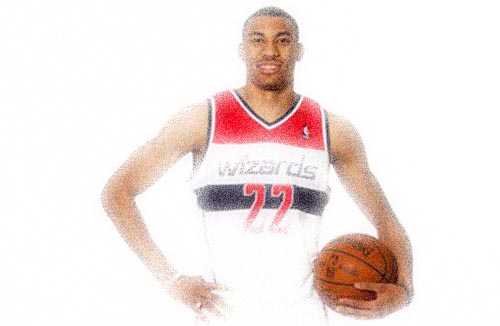 With the third pick in this year's NBA Draft, the Washington Wizards made out like bandits, selecting Otto Porter from Georgetown University. At 6'9″ and 200 pounds, Porter has the necessary size and quickness to compete and contribute in the NBA immediately. If Porter can add a few more pounds he may become a serious threat in the post, but for a rebuilding Wizard's squad, Porter is just what the doctor ordered. His size, well-built game and high basketball IQ could be that secret sauce the Wizards need next season to make a serious attempt at a playoff run.
At Georgetown, Porter was a standout in the Big East Conference. He was fifth in rebounds (7.5 per game), fifth in steals (1.8 per game) and third in effective field goal percentage (54.1 percent). He is a do-it-all athlete that won't take long to learn the pro game. Porter's wingspan is freakishly long and measures in at 7'2″. His gifted wingspan helps him chase down blocks when beaten off the dribble (0.9 blocks per game). Away from the ball, Porter is in constant motion – roaming the baseline, making backdoor cuts and setting into soft spots for shots. He is highly efficient in the mid-range and elbow areas, and uses the pump fake to create high percentage looks around the basket (16.2 points per game).
If Porter can bring those same skills to Washington he will have the opportunity to pile up some major minutes early on. Porter's versatility will make him a great third option on a young Wizards team led by guards John Wall and Brandon Beal. Can anyone say new big three?
Porter can shoot, pass, rebound and defend all areas that the Wiz can benefit from. Some basketball analysts have compared him to Tayshaun Prince who has enjoyed a nice playing career, winning a championship with the Detroit Pistons and re-defining himself with the Memphis Grizzlies. If the comparison holds true, Otto Porter's physical tools and work ethic will earn him a very good career in Washington. Otto Porter got game, and Wizard fans can't wait to see it.
[youtube]http://www.youtube.com/watch?v=OdMAPF0rvvU[/youtube]
What are your thoughts on Otto Porter and the rest of the 2013 NBA Draft class? Share your thoughts in the comments!