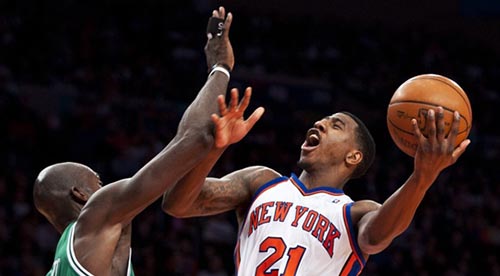 Chicago is a wonderful windy city full of culture, history and amazing people. With that said, growing up in Chicago may not always be as breezy. New York Knicks guard Iman Shumpert knows this all too well, and though still very early in his NBA career, the soon-to-be third year player has nearly paid his dues and is ready to reap the blessings of the basketball gods.
Many predicted that last season would be Shumpert's coming out bash, but a nearly devastating knee injury in the previous season's playoffs, sidelined Shumpert for much of the first half of this past campaign. When he came back, however, people soon remembered why his return was so anticipated and what he meant to this ball club. It took a few games to shake off the rust, but as the end of the season drew near, the flashes of explosiveness were returning. His defensive intensity and awareness was picking back up where it left off. Shump's athleticism was re-emerging as he gained more confidence in his surgically repaired knee.
Even more encouraging was the continued improvement in his outside game. It's evident that he had worked on his skills, and heading into the playoffs things were really starting to click. When the postseason arrived, Shumpert was even better. As J.R. Smith's injuries hampered his game and other scorers not named Carmelo Anthony faded into the wind in latter rounds, Shump continued to get even stronger and sharper, punctuated by an emphatic one-handed wham bam goddamn put back slam jam during an elimination game against the Indiana Pacers. We eventually lost the series, but his performance was a message to everyone that Shump was swaying again.
Unfortunately for us Knicks fans, we didn't have enough to get passed the Indiana Pacers and reach the Eastern Conference Finals to face the eventual NBA champion Miami Heat. But if we did, I think Shump would be the defensive presence that could have pestered the great ones, LeBron James and Dwayne Wade, to give us a chance at the upset (day dream… I fell asleep beneath the flowers…).
There was something else that stood out about Shump. He gets it, he really wants to win above all else. As his other teammates are giving the optimistic outlook of the past season, which really was a great step in the right direction with the Atlantic Division title and the first playoff series win in 13 seasons, Shumpert kept it real. This team was put together to win now, so a second round loss was not acceptable. He knows the Knicks are better than that. He wants more and he's shown he's willing to work for it.
Shump is a superstar in the making. From his early 90's high-top fade, to his fresh Knick theme songs, this guy has got the juice, and his game on the basketball court follows suit. He's been a hard-nosed defender ever since he was drafted out of Georgia Tech. Now he's been putting in the work to improve his offensive game and it's really beginning to show. The Knicks have a winner in Shumpert so next season expect Shump to sway heavy on the competition and to keep his high-top fade extra tight.
SHOUT OUT ALERT!!!
I'm giving a quick shout out to Queen Harrison (@GoQueenGo) for making the USA Track and Field team representing at the Outdoor Track and Field World Championships in Moscow, Russia Aug 10-18. Congratulations and good luck to Team USA. Set your calendars and tune in!!! #GoQueenGo #fastgirlsclub #TeamUSATF