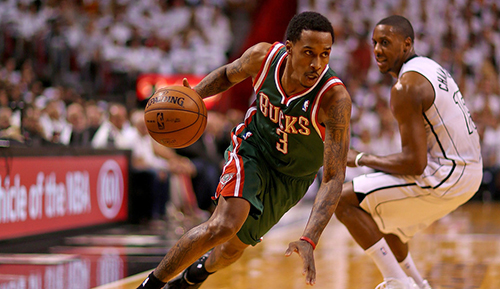 In 1981, Ervin "Magic" Johnson signed a 25-year, $25-million dollar contract with the Los Angeles Lakers. It was the richest contract in all of sports at the time, unprecedented in both its length and value, and there were rumblings in the media that athletes were starting to be overpaid for their services.
Little did they know, it was just the beginning.
In the decades since Magic's deal, the NBA has seen rapid and sustained growth in both popularity and revenue, with team budgets and player salaries ballooning to once-inconceivable levels. In 2013, another Laker great, Kobe Bryant, is now entering the final year of his contract with the franchise, and is set to earn $30.45 million for one season of work. Even for a player of his caliber, it's hard to believe that in just twelve months, Kobe will rake in $5.45 million dollars more than Magic earned over the course of his career.
It's a market-driven economy, though, and Bryant did sign his deal in 2010 at the apex of the NBA spending curve. Since the newest edition of the league's Collective Bargaining Agreement (CBA) was ratified two years ago, a league-wide trend toward more judicious spending has emerged. We're seeing teams more reticent to offer big-money and/or long-term deals to players they're not absolutely certain about, mostly for fear of incurring the wrath of the luxury tax, and also out of a desire to retain cap-flexibility for future, star-laden free agent classes.
Leaner budgets have also come hand-in-hand with a new era of player valuation that relies on advanced statistics and complex, algorithmic breakdowns of efficacy and player positioning on both sides of the ball. Certain skills, particularly team defense, basketball IQ, and three-point shooting, have risen in esteem amongst GMs and, consequently, motivated teams to seek out role players capable of contributing in at least a couple of those areas, while avoiding those who are horribly deficient in any of those dimensions. There is a reason Monta Ellis was available so late into free agency and ended up signing for only around $8 million per year, instead of commanding the $11 million he might've earned four or five years ago. While Ellis is a gifted scorer and passer, his defense is well below-average and his three-point shooting both highly inefficient and entirely too frequent (28.7% on 328 attempts). He is also turnover-prone and seemingly locked into his ways. With his particular weaknesses and in a league with a glut of above-average point guards signed to reasonable deals, Monta simply wasn't a very alluring asset.
So where does that leave Ellis' old backcourt mate, the 23-year-old Brandon Jennings? He's a young player with room to improve not only in terms of basketball fundamentals, but also intangible skills like shot selection, assist-to-turnover ratio and team defense. The mechanics of his game are generally sound, his decision-making less so. He is a league-average three-point shooter (35.4% for his career), but often takes ill-advised or contested attempts that not only drive his percentage down, but offer an easy out for the defense and generate long rebounds that turn into fastbreak opportunities. His overall field goal percentage is abysmal (39.9% this past season), largely because he is a sub-50% shooter inside the restricted area and takes far too many mid-range twos, a generally inefficient shot. He gets a nice number of steals, but a lot of them come as result of gambling and ball-watching, habits that leave him out of position on defense and put undue pressure on guys like Larry Sanders to clean up the mess. Inattentive D from guards often results in foul trouble for big men, which means your strongest interior presence is forced to the bench, which leads to your team getting out-rebounded, which leads to losing.
All that being said, if Jennings cleaned up his tendencies, focused on distributing the ball, nailing threes, and learning to attack the rim more effectively out of the pick-and-roll, he could turn into a very nice player. Not an NBA All-Star, but feasibly the third best player on a championship team. The question weighing on everyone's mind at the moment, and the reason Jennings remains unsigned currently, is whether Jennings can accept his fate as an overqualified role player. He has freewheeling habits and a cocky mentality, and tends to reach for All-Star status with skills that fall just below such a threshold. In his current role, Jennings is the quintessential "two steps forward, one step back" player, and liminal players of his order are precisely the kind of talent that keep teams mired in mediocrity–never quite bad enough to bottom out, but never good enough to contend.
So what is "fair" value for Brandon Jennings? It depends entirely on how he'll conduct himself. If he can recognize his weaknesses, focus on his strengths and accept a 15-25% cutback in responsibility, he might paradoxically be worth more money to the team that signs him than he would be operating in his current role. A refined version of BJ who is asked to score and create less while playing more efficiently might ultimately be worth $10 or $11 million dollars per year as a Ferrari-caliber role player, while at the same time, if Jennings insists on being an alpha dog, he will ultimately be regarded as underwhelming and overpaid. This is what makes his value nebulous and hard to assess in the here and now, for pundits and GMs alike. No one knows for sure what they'll be getting when they sign Brandon Jennings, and in today's leaner and more cautious market, teams are hesitant to take risks that tie up their cap space or put them near the luxury tax. I suspect ultimately a team will take a flyer on him for somewhere between $9 and $11 million (and if they don't, we may see him accept a 1-year, $4.5-million dollar qualifying offer from the Bucks, play out the season, and try his luck again as an unrestricted free agent in 2014). Whether locking down Jennings is lauded or mocked down the road depends entirely on his willingness to adapt, mature and pare down his game for the sake of the team.