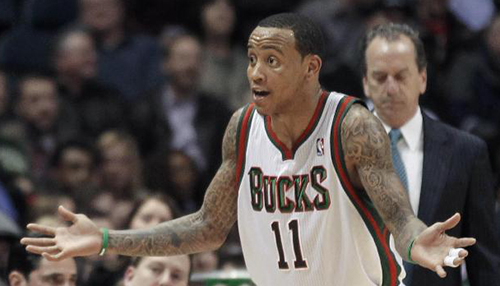 So here it was, the very beginning of July and the Dallas Mavericks made their pitch to Dwight Howard, franchise center and the top prize in the 2013 NBA free agency pool. Howard met with Mavs owner Mark Cuban and President of Basketball Operations Donnie Nelson, allowed himself to be wined, dined and wooed… and then announced days later that he had chosen the Houston Rockets to be his employer for the next four years. No surprise there as very few people actually expected Dwight to wind up in Big D.
But the Mavericks whiffing on Howard, as disappointing as it may have been to some, couldn't have possibly been their most pressing concern. Not when four free agents of their own, all playing out one-year deals, chose to walk rather than stick around in Dallas to help Dirk Nowitzki expedite a Mavericks rebuilding process.
First out the door was shooting guard O.J. Mayo, who inked a three-year deal with the Milwaukee Bucks. Mayo was only the Mavs best player the first half of last season while Nowitzki was sidelined recovering from offseason knee surgery. Next to go was Darren Collison, who started at point for most of last year; he opted to go to the L.A. Clippers to back up Chris Paul, his former teammate in New Orleans. When Chris Kaman and Elton Brand joined the aforementioned Dallas starting backcourt in the mass exodus, heading to the L.A. Lakers and Atlanta Hawks, respectively, even the most casual fan had to be wondering what was going on down at the American Airlines Center offices, how a proud franchise with a history of success and an NBA title in 2011 had suddenly become the place players were itching to escape.
Not only that, but as free agents were signing left and right in locales that weren't Dallas, the unmistakeable scent of panic began to creep in as a mad scramble ensued to fill the multiple voids left on the roster.
Then came the announcement that the Mavericks brought Jose Calderon aboard as their starting point guard. Good player, solid move, but not what the locals were clamoring for. The expectation was that the Mavs would land a beast, someone who could put the ball in the hole with regularity and give defenses someone to think about besides Dirk and an aging Vince Carter.
With the list of available players dwindling each day and just when it looked like the Mavericks were stuck, Cuban and Nelson swooped in, knocking out the Sacramento Kings and Hawks to reel in one of the most prolific scorers in the league: Bucks two-guard Monta Ellis.
At first glance, the addition of the 27-year-old Ellis seems to be just what the doctor ordered for the Mavericks – an explorer who sports a career average of 19.4 points who can get buckets in bunches and had a demonstrated propensity for hitting clutch shots with games on the line.
However, there is good reason for some skepticism as well; though a respectable 45 percent career field-goal shooter, Ellis is also a ball-dominant player who for his career has shot an anemic 31percent from three-point range, has a tendency to force the issue with questionable shot selection and is easily one of the NBA's worst defenders at his position; standing 6'3 with very short arms certainly doesn't help his cause on the defensive end of the floor.
There are very valid questions about how Monta will mesh with Dirk, given that he's never had to share the rock with a teammate of Nowitzki's stature. At age 35, will Nowitzki be willing to take a step back to allow Ellis a front-and-center role as the Mavs' go-to scorer? Will he be ok with sharing the game closer duties?
Of course, assessing the inclusion of Ellis will become easier over the course of the season as the Mavericks incorporate, once again, several new pieces on the roster. The often overused word, but very significant factor of "chemistry" will likely take some time to manifest. Or not.
To be sure, as Ellis and Nowitzki learn to play off each other, adjustments by both players will have to be made. And this is assuming that Dirk returns to form from his injury plagued 2012-13 season that saw him average 17 points, his lowest total since his second year in the league.
The overriding feeling here is that though this mix is very fragile and could easily go south, Dallas helped themselves by adding the best pure scorer available at the time and, arguably, the best scorer of the 2013 free agent crop. Would it be difficult to envision a year of Dirk and Monta struggling to find cohesion or having issues with shot distribution? Not at all. Or Ellis producing good numbers, but the Mavericks finishing around the .500 mark for a second consecutive year? Nope.
Basically, what Dallas did was trade Mayo for Ellis and from that perspective, the signing looks even better. Check the NBA standings in March in order to get a much better handle on Ellis' impact, but considering the alternatives available to them, the Dallas Mavericks front office might possibly have rescued their 2013-14 season from the proverbial toilet.