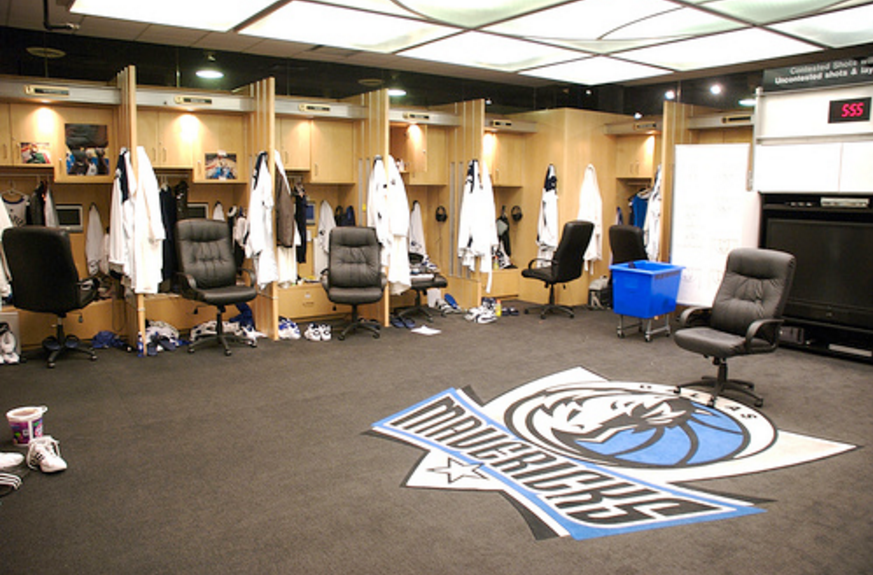 About 1,500 miles away from the Dallas/Fort Worth Metroplex, in the brownish/taupe haze of a small stretch of land that rests alongside Interstate-5 between the city of Bakersfield, California and the rolling hills of the Grapevine, falls a noxious smell. The smell itself rests somewhere between crimson-red raw and garbage sweet and floats alongside the road as travelers usually make their way to reach a much larger destination – either the city of Los Angeles, which rests beyond the Grapevine, or the long stretch of interstate that leads to Northern California. The smell steams from a large cow slaughterhouse you have to pass to make either destination. It's unpleasant in its brutal stagnation, almost wet and visible to the eyes as it briefly hangs in the air.
I was vividly reminded of this particular unpleasant odor late last night after a Sports Illustrated story by Jon Wertheim and Jessica Luther broke at 10 p.m. central time here in the Metroplex. Shortly before the chaos pierced, NBA Twitter was on a mission. The Dallas Mavericks had dropped a quick press release, "admitting" malfeasance in a roundabout way, without really admitting guilt, by alerting certain media outlets of particular accusations that were cast within the SI article. They were equivocating in their malfeasance for a reason – the reason being the article that was about ready to drop would expose a franchise bleeding to the bone with misogyny, sexism, harassment, and deep sexual prowling.
The first story centered around former team president and CEO, Terdema Ussery, and his blatant sexual overtures to the women in the Mavericks organization during his tenure. Numerous women stepped forward and gave statements to SI regarding their horrifying encounters with Ussery before he moved on from the Mavericks in 2015.
Despite the downright disgusting and appalling nature of the first story regarding Ussery, it was the second story that hit home directly with those of us who covered the Dallas Mavericks for years from inside the soft hue of the locker room.
—
There was no sign of maliciousness when he stepped through the heavy door of the Gentleman Jack Lounge, the bar that rests in the deep corridor of the Event Level in the American Airlines Center. The bar, swank in a Victory Park sort of way, overlooks one of the practice courts of the Mavericks and the loud sound of dribbling basketballs would often drift up and fill the bar. However, on the first day that I started covering Mavericks' practices back in 2014, the most piercing noise in the bar was whatever chromatic vest the Mavs.com Insider Earl K. Sneed was wearing. The regular beat writers, reporters, cameramen were all supposed to gather inside the bar minutes before being allowed onto the practice court for media availability, so noticing the pensive newcomer wasn't a high priority on the regulars' part.
But I noticed them. And I noticed him.
As a woman, I had always been taught to notice as much as I could regarding all of my surroundings in that first moment, so this particular time wasn't any different. At the time they didn't notice me until I was noticed by coach Rick Carlisle himself, who proceeded to introduce me to the small group of men with a protective, and fatherly, tone.
It should be noted that the man in the pretentious vest was almost overlooked by Carlisle during those introductions and had to be reminded by the insider himself with a simple clear of the throat, that he was even present in the minuscule group.
Even during those forgotten years, he relished in his self-proclaimed savvy fashion sense, the tone and texture of whatever vest he donned giving off a superficial importance that seemed to reflect the vapid vanity of a shallow man who simply wanted to be noticed. The torpid fool wanted so desperately to be a shark when he was only built to mirror that of a remora, his narcissism peaking with every tweet.
As reported by SI, Sneed was charged with domestic abuse during the 2010-11 season – the season the Mavericks brought an NBA championship home to Dallas. His girlfriend at the time was his victim and according to the police report, she suffered a fractured wrist and bruises on her arms and chest. Only a couple months later, Sneed was actually arrested AT the Mavericks facility and charged with assault. After all this, Sneed then turned his attention to a Mavericks colleague whom he started dating, one of whom many say he, allegedly, commonly beat.
And yet, he still had a job with the Mavericks organization.
Sneed, his audacity brimming, released a statement with The Dallas Morning News shortly after the SI article dropped, which basically stated that the report of his abuse was "not accurate." However, that wasn't the most damning part.
"I underwent much counseling after both situations, under the direction of [Mavs vice president of human resources] Buddy Pittman, and I feel like I grew from that counseling. I also signed a contract stating that I would not have one-on-one contact or fraternize with female employees after the inaccurately described incident with my female co-worker, who was a live-in girlfriend. I abided by the details of that contract for four years, and received counseling during that period to avoid future instances."
This is something we in the press were never told about. For four fucking years after the fact.
For four years, a handful of other women and me stood shoulder to shoulder with Sneed inside the locker room, on the hardwood of the practice court, on the bright cerulean logo donning the Mavericks' main court. For four fucking years after he laid his hands on, not one, but TWO women – one of which was supposed to be protected by the very organization that employed her.
Mark Cuban, the supposed "very hands-on" owner, claimed he had no knowledge of the inner workings of his own organization, an organization that commonly bragged about their keen awareness of the sexist battle women face on a daily basis in the sports world. This was the same owner that Sneed thanked for "his willingness to help facilitate that growth."
Two years ago, I wrote a piece explaining that after enduring the sexual abrasiveness of being a working writer in Hollywood where I was the victim of seemingly standard (and sad) sexual harassment/assault at the hands of so-called powerful men, that I finally found a safe space within the walls of the Mavericks locker room.
I was wrong.
We are living in a time where women are fighting for equality, inexorable in our right to be heard. I thought the Mavericks organization backed us in this desperately crucial mission. I thought we women in the sports world were finally making progress. And yet, as I type this, I'm receiving a handful of tweets from Twitter trolls:
This is supposed to be the price I pay for attempting to find solace in the sports world. The eyes of a reticent sports organization with a supposed Argus-eyed owner went blank in their haste to cover their tracks with both Sneed and Ussery as they attempted to dot their I's and cross their T's with a fucking chainsaw by conducting "separate investigations" into the matters.
The ignorance has got to stop.
This shouldn't be the price that women pay to gain ground in the world of sports. The women who were the victims of the hostile work environment deserve answers. The women of the Dallas Mavericks press deserve answers. Why was a man who was literally given a contract to ensure that he is never alone with a female co-worker still on staff?
And sure, that contract was put into place to laughingly "shield" the women of the Mavericks organization after they failed them so greatly, but what about those of us from different media outlets? Were we on our fucking own? On our own to work blindly side-by-side with a man who was arrested for assault? A man who wasn't even allowed into Canada because of his criminal history? And what would have been the outcome if he went red again and laid a hand on a woman who worked for a separate outlet?
Fuck you for failing us women in sports so heinously.
We want answers. We want actual action.
To the Maverick players, coaching staff, and others who knew absolutely nothing of what was going on and are as shocked as we are – you are the reason why we women in sports are going to continue this battle and stand our ground.
And finally, to the man who hides behind the fabric of a cheaply made kaleidoscopic vests: much like that noxious, garbage smell that brushed our senses briefly and caused us to cringe momentarily, you too will be considered just an unpleasant afterthought in the shade of our memories, and much like that disgusting smell hanging in the air, you too will be left to rot disregarded as those of us who once knew you continue on to our own destinations.