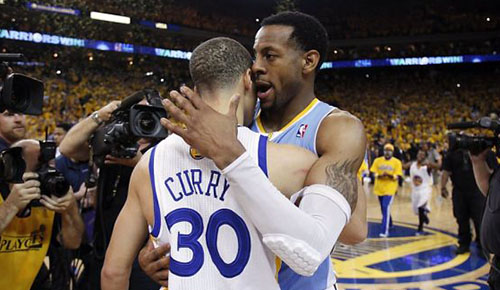 Lost amongst the excitement of the acquisition of guard/forward Andre Iguodala, the euphoria of a sensational playoff debut from Stephen Curry and the newfound defensive prowess of Klay Thompson, were two small transactions that went under the radar following the Golden State Warriors' surprising run into the second round of the NBA Playoffs.
Point guard Jarrett Jack and forward Carl Landry both opted not to return to the Warriors and found new homes in Cleveland and Sacramento, respectively, this offseason. Key contributors to the success of the Warriors during the 2012-13 season, Jack and Landry often played in the fourth quarter as rookie Harrison Barnes and forward David Lee went to the bench.
The duo brought toughness to Golden State, a team made up primarily of perimeter players lacking experience. Jack was among the top sixth men in the NBA this past season and logged almost 30 minutes per game, while averaging 12.9 points and 5.6 assists.  Landry, a rugged post player, averaged 10.8 points and 6.0 rebounds this past season.
The return of those two was all but ruled out with the sign-and-trade for Iguodala, whose salary made it impossible for Jack and Landry to re-sign. Thus the Warriors bid the two goodbye and in addition to Iguodala, they brought in journeyman point guard Toney Douglas, aging center Jermaine O'Neal and bigman Marreese Speights. All capable players, but none with the ball-handling ability of Jack or the post-defensive skill of Landry.
The Warriors hope Iguodala's ability to handle the ball from the forward spot will offset the departure of Jack, who was Golden State's primary ball-handler in the fourth quarter of games, with Curry often shifting over to shooting guard, Thompson sliding down to small forward and Harrison Barnes or Landry going to the power forward with either David Lee or Andrew Bogut at center.
Bogut, if he can stay healthy, will be a key for the Warriors in absorbing the loss of Jack and Landry this season as well. However, it would seem highly unlikely he will make it through an entire season unscathed, since he hasn't been injury-free during his rookie season. Bogut remains a big question mark, but not the biggest question for the Warriors when it comes to injuries.
Lee suffered a torn right hip flexor injury during the playoffs, however, he is expected to be healthy by the start of training camp. Backup center Festus Ezeli is out until at least December and likely longer after undergoing surgery to repair his medial collateral ligament and posterior cruciate ligament. While those will certainly give head coach Mark Jackson pause when the team enters training camp in October, it's the health of Curry that will be of utmost concern.
Burdened with notoriously bad ankles, Curry has been sidelined multiple times with sprains during his career. Thus, the absence of a quality backup point guard like Jack will put further pressure on Curry to stay healthy this season and log even more minutes than he did last season. If Curry were to go down for any extended period of time, it would be Iguodala or Douglas that would handle the point guard duties.
If the Warriors were to sustain any sort of injury to their starting five, the loss of Jack and Landry could come back to haunt them. Will the risk of one Iguodala be worth the price of two in Jack and Landry?