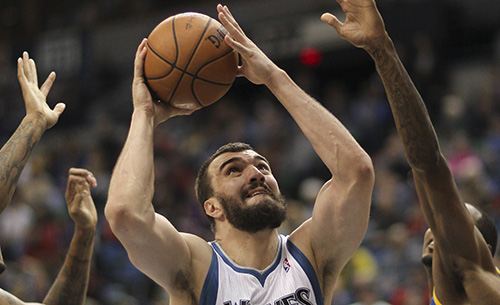 While the big names in this summer's NBA free agency are off the board, there are still a few second-tier gems that could make a lasting impact on an NBA team. Here are the top free agents still available:
1. Brandon Jennings
Brandon Jennings has the talent and skillset to become a top five-point guard in this league. If you don't believe me, check out this ridiculous highlight reel from his high school days:
[youtube]http://www.youtube.com/watch?v=Fz_F2s0vT9I[/youtube]
The kid is a flat-out baller, but has not developed into a reliable floor general down the stretch. Jennings' decision-making and shot selection are both questionable, as he barely shot 40 percent from the field last season. On the bright side, he posted career-highs in assists and three-point percentage with 6.5 assists per game and .375 percent from beyond the arc. Jennings has a lot of room for improvement and can thrive in a system that allows him to dictate the pace of the offense and handle the ball for an extended period of time. With proper coaching and guidance, Jennings can flourish into an efficient facilitator and perimeter shooter.
2. Nikola Pekovic
Pekovic is a force to be reckoned with on the low block. He proved last season that he could protect the paint and score at an efficient level. Pekovic secured a solid 8.8 boards per game and managed to crack John Hollinger's top ten ranking of centers with a PER (player efficiency rating) of 20.26, which is actually a point higher than Dwight Howard's rating. On top of that, Pekovic showed that he could convert from the charity stripe with a .744 shooting percentage.
The Minnesota Timberwolves have just scratched the surface with developing Pekovic as a dominant center with superior post-up skills. What Pekovic lacks in athleticism, he makes up with a wide frame and excellent coordination. He is one of the few centers in the game to have a refined post game and still remain an enforcer in the paint. While the Timberwolves are close to re-signing Pekovic, any team looking to strengthen their frontcourt should be willing to pony up and make a sizeable offer in case the deal falls through.
3. Mo Williams
Mo Williams is a seasoned veteran with plenty of playoff experience. He can still be trusted to run a team's offense and make the right plays down the stretch. Williams shot 38 percent from beyond the arc and averaged 6.2 assists per game with the Utah Jazz last season, so he should be classified as a productive role player that could contribute on a championship contender. The Heat should consider signing Williams and pairing him with LeBron once again, which can take some of the pressure off LeBron to bring the ball up and organize the offense. But for that to happen, Williams would have to be willing to take a vet minimum deal.