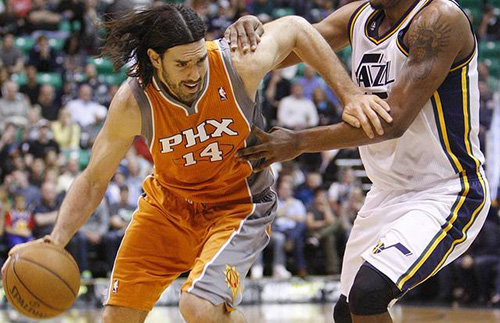 Luis Scola was just traded to the Indiana Pacers for Gerald Green, Miles Plumlee and draft picks. A career 14.2 points and 7.5 rebounds guy just made this team so, so much more dangerous than it already was. The way the Pacers destroyed the New York Knicks and competed with the Miami Heat in the 2013 NBA Playoffs was shocking to say the least. But amongst their success, I remember listening to ESPN radio and hearing that "even though the Pacers were playing phenomenal ball, home game crowds and fan support was lackluster at best." I have to ask, why is that? Are there just too many sports teams in Indiana and will the Pacers have the same crowd issues as last year with the addition of Scola, Chris Copeland, C.J. Watson and the return of Danny Granger to an already stellar line up?
My grandparents are from Indiana and I have spent quite a lot of time there. They are diehard Hoosier basketball fans, diehard fans. My grandma at the age of 82 still volunteers at the ticket window and can recite all the lineups from 1975 and on. They are also IU football fans and the Indianapolis Colts as well. But, they could care less about the Pacers.
I wrote my uncle, a long-time Indiana native and IU alumnus and asked him what the deal was. He wrote back, "People forget that Indiana touches Illinois and Chicago is right there. Michael Jordan owned the 1990s and IU basketball has five NCAA championships and Bob Knight was the real deal so why would I care about the Pacers?"
The older generations in Indiana have seen a lot of good teams around them and have left the Pacers on the side. The Pacers of the past had to compete with historically winning teams and sports icons. I'm not saying that the Pacers don't have diehard fans, but the organization is basically having to restart. By that I mean they are having to win the hearts of younger generations because the older ones already have their allegiances.
By adding Luis Scola the Pacers are putting together a squad that can flat-out win and compete with any of the upper-echelon teams in the NBA. They are not only getting a veteran guy who is consistent and will elevate their already spectacular half-court offense, but a guy who can rebound, defend and play team ball. If this current stocked Indiana Pacers team wins like many expect, they just may start turning the tide of how people in Indiana rank their favorite sports teams.