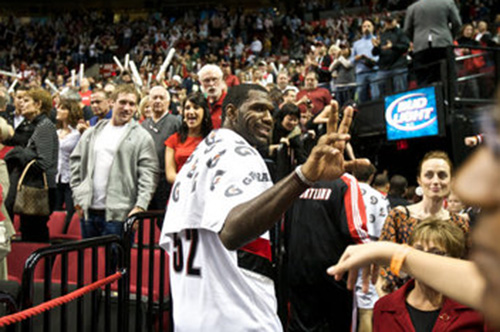 He's played in just 82 games since being drafted number one by the Portland Trail Blazers in 2007. He hasn't appeared in an NBA game since Dec. 5, 2009 due to numerous knee problems, and he underwent his third microfracture knee surgery in 2012.
Yet despite that, he has been holding auditions for numerous NBA teams, such as the San Antonio Spurs, Miami Heat, Sacramento Kings, New Orleans Pelicans and Atlanta Hawks, since the season came to an end in June.
He is Greg Oden.
The man who was supposed to lead the Portland Trail Blazers to numerous NBA titles and evoke the memories of the Bill Walton glory days when the Blazers were contending for championships. Instead, after several knee surgeries, Oden brought back the nightmares Portland fans had of another former top pick that was destined for greatness, Sam Bowie, and the player he was drafted ahead of, Michael Jordan.
For Oden, his "Jordan" is Kevin Durant, one of the league's best players and all-around talents. It seems unfathomable now, but before the 2007 NBA Draft, Oden was the consensus top pick, the man every team wanted ahead of Durant. An athletic seven-footer with the defensive prowess that reminded many of Bill Russell; Oden was deemed a lock for future stardom.
Yet, it all came crashing down prior to the start of his rookie season, as Oden underwent the first of many knee surgeries he would endure during his career. After undergoing microfracture surgery on his right knee prior to the start of his first year, Oden would go on to suffer a chipped left patella his second year, then a fractured left patella his third year and finally Oden would undergo microfracture surgery on his left knee in 2010. He hasn't appeared in a practice or game since.
It was the brief flash of skill, size and natural defensive instinct that Oden showed at Ohio State that has teams monitoring and working him out three years after he last appeared on an NBA court. That he has a handful of teams ready to throw money at him speaks more to the lack of quality centers in the league today rather than Oden's ability to be an impact player. But nonetheless, Oden is likely to get another contract this offseason.
The Heat and Spurs are believed to be the frontrunners for Oden, however the New Orleans Pelicans are in the mix as well, and have a meeting scheduled with Oden later this week. Neither of the three teams see Oden as a starter, and the Spurs and Pelicans have big men already in place in Tim Duncan and Anthony Davis, while the Heat prefer to go with a small lineup minus a traditional center for the majority of games.
Reportedly, Oden has looked good in his individual workouts with teams and is expected to make a decision in the upcoming weeks on where he'll continue his career next season. Oden will likely sign for the $1.1 million veterans minimum, but with three teams bidding for his services, he could command the $3.2 million mid-level exception instead. Not too far of a cry from the $3.8 million Oden made his rookie year.
Yet while the money might not be different, the expectations most definitely are. Once destined to fill the role of NBA superstar, Greg Oden is now just looking for a second chance to fill the role of backup.