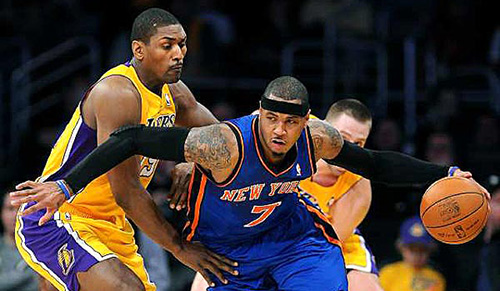 There's been a big hoopla over this year's free agency. Maybe not as much as the year of the "Decision," but with Dwight Howard, Josh Smith, Kevin Garnett, and a few other household names changing teams, there has been some real action.
The New York Knicks also got themselves very much involved early this offseason. As with every move the Knicks make, the new acquisitions have been dissected under the social media microscope and popular opinion has been less than supportive. With the marquee names scooped up by the crosstown Brooklyn Nets, the Knicks free agent additions have become the butt of jokes, the target of scrutiny across the tristate area and around the league. Well as you get to know me, I relish in the opportunity to play the advocate, and my take on these transactions is a bit more optimistic. Granted, the Knicks are working with somewhere around $3.48 million in salary cap space so there were no expectations of Super Duper stars, but what I see really isn't that bad.
Going into last season, the inside joke was that the Knicks were applying for Social Security benefits. Adding the likes of Jason Kidd, Rasheed Wallace, Kurt Thomas and Marcus Camby, though no doubt veteran leaders, they resembled the cast of the movie, "RED." There is no denying that these time tested warriors carried a bravado and earned respect, but with each one pushing 40, there was major risk involved with the potential reward.
We got a strong month from Sheed to jump start the season and get us off on the right foot. No pun intending, but that foot on Sheed ended his season and career. Kurt Thomas held his own. Looking back, Thomas actually saved the Knicks season. In the midst of a six-game losing streak, with star Carmelo Anthony injured, and on the road in Utah, Thomas delivered a back-to-the-future performance, including this incredible block (2:20 mark), that stopped the skid and brought us back to life. Unfortunately that would be the last game Big Sexy played, but he laid it all out for the Orange and Broadway Blue. J-Kidd was what we hoped for, a savvy leader with proven champion pedigree. His tutelage paid off and the results were evident with him on the floor.
However, Father Time is still undefeated, and as the season ended to the younger and hungrier Indiana Pacers, the Knicks AARP All-Stars ran out of gas. Kidd was pretty much the last man standing, though he couldn't make a shot in the wide side of the Hudson River. But the formula was not all bad. Winning the Atlantic Division is nothing to sneeze at, so all was not lost. They just needed veterans that were actually younger than the owners.
On paper, the recent additions are not bad at all, but championships are won on the basketball court, not paper, and that is the only definition of success around Madison Square Garden from here on out. Let's take a look.
Metta World Peace
The artist formerly known as Ron Artest (aka Tru Warier aka Queensbridge, muthasuckaaaaas). Though I'm sure it's hard to leave La La Land, World Peace couldn't be happier coming home to play in front of a faithful following that watched him put in work throughout high school and as a St. John's Red Storm player. They say home is where the heart is, and MWP plays with heart every night. His defensive Debo-ness and ability to stretch the floor with his outside game will be welcomed in coach Mike Woodson's system. He will bring his basketball IQ and intensity, which will resonate and rub off on his teammates. Plus, what a difference a home-cooked meal makes. Expect MWP to play a huge role in Woody's plans and who knows, he may return to Defensive Player of the Year status.
Andrea Bargniani
The Italian Icee will have plenty of fans just north of Canal street and in the many other predominately Italian neighborhoods in NYC. Sometimes a change of scenery is all a player needs to find his way. The former number one overall pick has shown flashes, but has never really showcased the talents that convinced the Raptors to choose him first. Injury aside, he can stretch the floor and flat out score. Coach Woodson will light a fire under him on the defensive end to get something, and with Melo shouldering the superstar role, Bargs can settle in as a complimentary weapon, either starting or off the bench.
Tim Hardaway Jr.
In my college days, I remember playing NBA LIVE 99 on Playstation against my cousin Shaun. He always played with the Miami Heat that year and when the fourth quarter came around, he would start to chant, Timmy Time…Timmy Time, meaning he was going to go off with Tim Hardaway (and he did go off). If Timmy Time 2.0 can have half the career accolades of his father then the Knicks have something special to work with. He has defensive capabilities, when focused, to combine with his athleticism, along with a pro grade shooting form and the range to match. He will be in good company working (and competing) with fellow youngster Iman Shumpert, so both of them, and the Knicks organization should benefit greatly.
With these new guys and bringing back a core group of guys that know they left bread on the table last season (good move re-signing Kenyon Martin), the Knicks will come strong. They kept the same formula that worked pretty well last year – vets around the star. This go-round, the vets are a little younger and won't run out of gas late in the season. The Knicks are tough, they have solid depth, length and range. Laugh if you want to, but be ready for this team. You may not understand now, but come next season, the NBA will get a better picture of what the Knicks were thinking.
*** Shout out alert" I want to give a shout out to a family friend and one of New York City's Bravest of the Brave, NYC Fireman Kenny Ruane of Ladder 16 in Manhattan. Kenny recently aged out as FDNY's most senior fireman serving 43 long and faithful years protecting this city. New Yorkers can't thank you enough for your dedication and sacrifice through these decades and I hope, Kenny, that you fully enjoy your retirement. Thank your for your service and good luck! ***