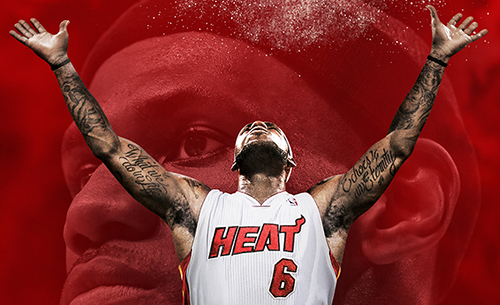 As the cover athlete of NBA 2K14, Lebron James has been entrusted with the sacred duty of selecting the game's soundtrack. And while I'd much rather see what tracks Mo Cheeks or Jeff Van Gundy would select, I don't even know how to end this sentence… how about… I want to know everything about Jeff Van Gundy's musical taste.
Here are the twenty songs hand-picked by Lebron James for NBA 2K14:
1. Blurred Lines – Robin Thicke, T.I., Pharrell
I gotta hand it to LeBron – this song screams just screams menu navigation. It's generic "we're having fun!" sound is rivaled only by the latest entry from The Black Eyed Peas. T.I., you're better than that.
2. Cool 2 Be Southern – Big K.R.I.T.
As someone who's neither cool nor southern, I can't say I'm in much of a position to comment here. Then again, LeBron isn't either. Could this mean he's planning on making a move to Houston? Let the speculation begin!
3. Paradise (On Earth) – Cris Cab
Thank you, Cris Cab, for specifying where paradise was. You have followed in a proud tradition of paradise specificity, started by Tupac in 2002 on the posthumously released, "Thugz Mansion":
"Ain't no place I'd rather be
chillin' with homies and family
sky high iced out paradise
in the skyyyyyyy."
4. Lost! – Coldplay
Is this really what LeBron listens to on those shots of him entering the arena? It is? Well, I'm still not comfortable admitting I kind of like it.
5. Get Lucky – Daft Punk, Pharrell Williams
Daft Punk are by far the most successful robots to ever enter the music industry. It may be overplayed, but that's only because it's catchy as all hell. Expect to hear this at house parties, weddings, and bar mitzvahs for years to come.
6. Started From The Bottom – Drake
This song perfectly describes the story of my 2K11 created player, Crispin Tallahassee. Drafted at the end of the fifth round by the last place Washington Wizards, he went on to become a 99 overall and win multiple MVP awards. I don't get out much.
7. Not Afraid – Eminem
An appropriately epic track for playing a video game in your parent's basement. The only thing you have to fear is fear itself and human interaction.
8. Long Run – Fly Union
If you're planning on purchasing NBA 2K14, odds are you won't be going on a long run anytime soon. Did I mention that you're pathetic? But seriously, all kidding aside, you're awful.
9. Clint Eastwood – Gorillaz
Really wish Clint Eastwood was an unlockable character in this; makes me nostalgic for dunking with BIll Clinton in NBA Jam.
10. Radioactive – Imagine Dragons
Anyone who watched the Knicks last season is familiar with this song, as Imagine Dragons seemed to be MSG's "featured artist" for three months. Of course, they'll never replace Lettuce and their legendary Friday Night Knicks intro.
11. Can't Stop Me – Jadakiss, Ayanna Irish
You think Lebron relates to this one? Now we know what was going through his head when he did this.
12. The Ruler's Back – Jay Z
Makes sense that the architect of 2K13's soundtrack would make an appearance on LeBron's list. After the disappointing "Magna Carta Holy Grail," it's refreshing to hear Jay in his prime.
13. Who Do We Think We Are – John Legend, Rick Ross
Hard to imagine playing basketball to this, but damn, John Legend can sing.
14. All Of The Lights – Kanye West
Kanye has referred to himself as the LeBron of rhyme, but I'm not sure that's accurate, because you'd be hard pressed to call LeBron the Kanye of basketball. Unless it's one of those "a square is a rectangle, but a rectangle is not a square" type deals. Anyway, good song.
15. Now Or Never – Kendrick Lamar, Mary J. Blige
As far as I know, this is the first bonus track to appear in a video game. The chorus sounds like an off-brand Jackson 5, but Mary J. Blige kills it as usual.
16. Can't Hold Us – Macklemore & Ryan Lewis
I'd be willing to bet all the money I make from writing here that this is going to be the song that plays when the game starts up. Again, I don't want to like it, but I do.
17. Hate Me Now – Nas, Puff Daddy
I'm sure we'd all prefer something off "Illmatic," but this is still a classic. Fun fact about Nas: He is the writer and performer of the Rush Hour 3 theme song, "Less Than An Hour."
18. In The Air Tonight – Phil Collins
If nothing else, this helps bring the experience of being in a pro arena into your living room. It also plays in a constant loop on Phil Collins hill.
19. Elevator – The Black Keys
There's a lot of good Black Keys stuff to chose from, so I'm not totally sure why LeBron made this pick. Seems like he's trying to tell us that he appreciates the deep cuts, which is totally unnecessary. We already think you're cool, LeBron.
20. Howlin' For You – The Black Keys
Wow, did not think The Black Keys would be the only group/artist to appear twice. LeBron, your musical taste is if nothing else, varied.