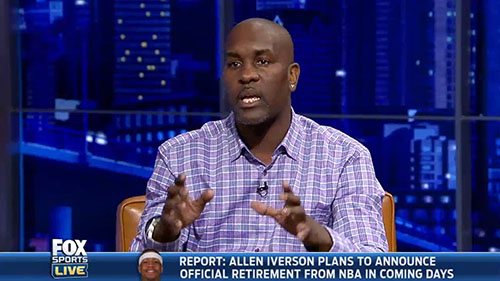 Blame it on the ah-ah-ah-ah-ah-ah-alcohol… and Gary Payton. Apparently, Allen Iverson's famous "Practice" rant can be blamed on The Glove and The Answer sharing a few brews. From Fox Sports 1's "Fox Sports Live" program:
Payton says he and Iverson were out one summer, having a good time and drinking, and Iverson asked Payton for his secret to keeping his body in good shape. Payton told Iverson that his coach with the Seattle SuperSonics, George Karl, kept him out of practice to preserve his body.

"That was it. I [told Iverson] 'you have to stop practicing!'" Payton recalled.

Payton says that conversation inspired Iverson's rant, though the former MVP guard got the intonations all wrong when he said the word "practice."

"I was like 'don't do it like that!'" Payton said with a laugh.
Watch the video below for a bit more about the situation and a Payton impersonation of Iverson:
Here's the (in)famous "Practice" rant:
http://www.youtube.com/watch?v=d29VsG35DQM
H/T to Larry Brown Sports