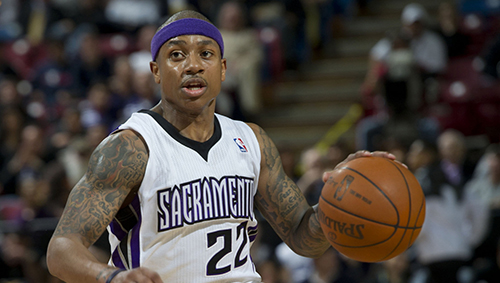 On the court, Isaiah Thomas zips around at a pace so frenetic it can be hard to keep up with at times. Off it, in just his first two years in the NBA, Thomas' career arc has been equally dynamic.
Two steps forward and one step back seems to be the pattern he has followed—though it's a curse rather than a choice. Thomas can't quite catch a break.
Thomas improved and made a big impact in each of his three years at the University of Washington, even leading the Huskies to a respectable season and tournament run in his final year. Despite putting up big numbers (16.8 points and 6.1 assists per game) in a strong conference his junior year, Thomas fell like an anchor through the draft before eventually being mercifully scooped up by the Sacramento Kings with the final pick in the draft.
Thomas would have his work cut out for him to prove that the label "Mr. Irrelevant" was an erroneous one.
He immediately cracked Sacramento's rotation, but his energy and success off the bench wasn't compelling enough for then-head coach Keith Smart, notorious for benching young guards, to start Thomas until halfway through the season.
Once Thomas's number was finally called, though, he answered emphatically. The final pick in that year's draft proved plenty relevant as a starter, a role in which he averaged 16.8 points and 5.4 assists per game. With the surging Thomas at point guard, the Kings breathed in new life, particularly on the offensive end. In the 29 games Thomas was coming off the bench, points came at a premium and Sacramento scored just 92.6 points a night. But after he took the reins of the offense, the team scored in bulk, averaging 103.6 points in his 37 starts.
Thomas's play seemed like a revelation at the time despite his being snubbed of a well-earned place on the All-Rookie Team.
Although he had proven to be one of the biggest steals of the prior year's draft, once the 2012-13 season rolled around, Thomas was forced to take a frustrating step back when Smart characteristically opted to go with experience over youth—choosing Aaron Brooks in favor of Thomas to start at point guard once the season began.
Brooks was an adequate performer in the role, but Thomas festered in his relegation to the bench. Making matters worse were the perplexing rotations Smart implemented, playing Thomas for sporadic stretches that didn't allow him to get into a rhythm or the flow of the game.
Ultimately, Smart's move looked rather foolish once Sacramento's front office thought the team would just be better off without Brooks, choosing to waive him. The second-year head coach's inconsistent rotations made it hard for Thomas—as well as just about every other player on the team—to settle in and make noticeable strides. Nevertheless, Thomas went on to capture the lead point guard role, starting 62 games.
Then the turmoil of the Sacramento-Seattle saga ensued. Thomas was in the unenviable position of being a fan favorite in Sacramento and a native of Tacoma, Washington. Kings fans rejoiced when it was announced the team would stay put, but different management meant more roadblocks for Thomas.
The new Kings front office didn't waste time before making changes to its roster, including a trade that sent Tyreke Evans to the Pelicans for Greivis Vasquez. The incoming 6'6″ point guard has his shortcomings, defense being chief among them, but he also started 78 games and averaged nine assists per game last season. His experience and recent success in a starting role could very well make him the frontrunner for Sacramento's starting spot this season.
Thomas has certainly done enough to earn a chance to begin the season as the team's starting point guard, but there is an entirely new coaching staff he'll have to impress between now and then, and maybe that's OK. You'd think by now Thomas would have gotten used to being put into a position where he needs to fight for his playing time—hell, it's all he's known in his short career. At least a staff with a clean slate means there will be a level playing field.
Nothing has come easy for Thomas and the next two steps forward won't either, but it looks like he may be due.