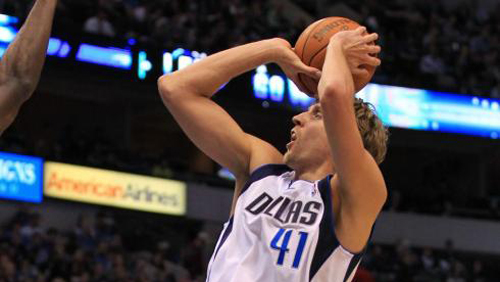 A month ago, I wrote about Mark Cuban's rebound after failing to lure Dwight Howard to the Dallas Mavericks. The article was a recap of the recent free agency period in light of what it might spell for Dirk Nowitzki's future with the Mavericks. The coming season is the final one under Dirk's present contract, and conventional wisdom among Dallas media types is that if Dallas' favorite German son is to re-up with the only team he's ever played for, the team needs to make a fairly significant leap forward this year in its ability to contend in the deathtrap that has become the Western Conference. The team's front office will have to do next summer what it's never accomplished before: entice a free agent that can turn a decent team into a consensus title contender.*
I expressed vague optimism at these possibilities previously, but it's time to do some out-of-body gut checking. No one outside of Dallas thinks any of the above is going to happen. And while I truly believe the Mavericks will surprise this season (stay tuned for my upcoming Mavericks season preview), the sheer volume of factors that have to break Dallas' way in order to give Dirk another title shot is just too much to justify serious optimism. Fan optimism? Yes. Real optimism? Not so much.
Consider the landscape. I referred to the West as a death trap, and I don't think that's an exaggeration. If the key players on the West's better teams were all to avoid injury this year, we could seriously be looking at an entire Western Conference playoff field sitting between 50 and 55 wins at the close of the regular season. I, for one, expect the Mavs to be in that group, but I'd give them no better than sixth-best odds to make it as far as the Conference Finals. This means that Mark Cuban's argument for Dirk sticking around after this year will rely on hooking that elusive big fish next summer.
So who are the big fish? In my opinion, there are only three free agents that could give Mark Cuban footing in trying to retain Dirk's services after this season. Firstly, we need to rule out all guards on the market. Dallas just acquired Jose Calderon, Monta Ellis and Devin Harris, and they already have Vince Carter and promising first-rounder Shane Larkin.
I believe the only sure deal-closer for Dallas (and Dirk) is therefore one of the remaining superstars: LeBron James and Carmelo Anthony. Let's go ahead and scratch LeBron off the list, partially for obvious rivalry reasons, but also because, barring a career-ending injury to Dwyane Wade, I don't see LeBron is going to walk away from Miami next summer. That means that the Mavericks' best hope of retaining Dirk and contending for one more title before lapsing into all-out rebuilding mode rests on Carmelo.
Honestly, I shivered as I wrote that. Ever since Anthony's "Slap-and-Run" on former Knick Mardy Collins a few years ago, I've had no respect for the guy. Okay, I never respected him in the first place, but I digress. Some people question whether Melo will be loathe to walk away from the cameras and lights of New York, but I think if the guy has any championship ambitions whatsoever, he knows the Knicks are the wrong ship. With the prospective Dallas roster for 2014-15, I think Dallas should be legitimately attractive to Anthony and, apart from Cuban's unimpressive free agent record, Mavs fans wouldn't be too crazy to keep their fingers crossed.
While I'm tempted to say that the Mavs will enter next summer in Melo-or-bust mode, I think there's one dark horse option. And by dark, I mean the deepest, darkest pitch. That would be the venerable DeMarcus Cousins. His name has been mentioned at different times and in different contexts by various personages in Dallas sports media, and the continued questioning of whether he'd be a good fit for the Mavs could become moot if his current employer, the Sacramento Kings, make him a qualifying offer before next July. Even so, most NBA know-it-alls agree that the only thing standing between Cousins and greatness is his pea-sized common sense. There are few coaches in the league who stand a real chance at coaching Cousins past his mental issues, and Rick Carlisle is one of them. If Dallas can put together an impressive season in 2013-14, DeMarcus Cousins, in addressing the most vanilla roster situation the Mavericks currently have, might be enough to persuade Dirk Nowitzki to give Mark Cuban the final years of his career.
But like I said earlier, this is supposed to be a gut-check. For that reason, if I'm honest, I don't see Carmelo even considering a city so devoid of glitz as Dallas. I'd also bet good money that Sacramento's decision makers aren't finished trying to get the most out of Cousins yet and will probably make that qualifying offer. The only thing stopping me from casting aside all hope of Dirk playing his final career game as a Maverick is Dirk himself. He has consistently shown the kind of franchise loyalty that only the likes of Kobe Bryant and Tim Duncan possess. Has anyone really ever envisioned either of those guys in unis other than the only ones they've ever known? And what about Paul Pierce with the Boston Celtics? Oh, wait…
Dirk is infamous for his horrendous renditions of Queen, Bruce Springsteen and The Rolling Stones, and we Mavericks fans don't want to even think of him adding The Clash to  his résumé. All I can say is that, next to the 2011 NBA Championship, nothing would make us happier than to lay claim to every last drop of Dirk Nowitzki's NBA sweat, and in that final home game, whenever it comes, stand and give the man an ovation for the record books.
*If you think Tyson Chandler met this description, comment below and I'll be glad to correct you.