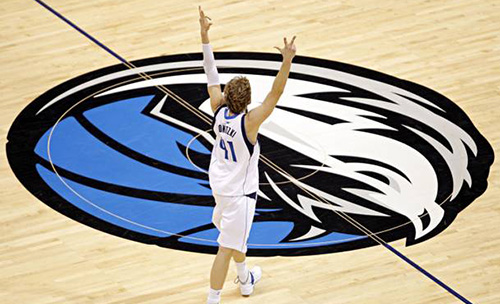 Once upon a time, a fledgling NBA franchise owner took an NBA Draft day flyer on a tall, awkward German kid who seemed not to have been told that bowl cuts were out. Fifteen years hence, fans of the Dallas Mavericks have something no one in this city could've imagined in 1998: a cherished son in the same pantheon as Emmitt Smith and Nolan Ryan. Unlike the majority of his NBA contemporaries, Dirk Nowitzki has played his entire career not only with true fidelity to one city, but without ever hiring an agent, even taking pay cuts down the home stretch of his career in the sole interest of his team's title hopes.
Dirk has been public about his desire to compete for a title while singing his swan song, and the Mavericks front office has affirmed its plans to make that a reality. It's therefore been a point of debate in Mavs Nation whether owner Mark Cuban's decision to blow up the title team (in light of the new collective bargaining agreement) was the best first step in those plans.
For many of us—including myself—Mark did right. First and foremost, he did right as an owner. Anyone with clear eyes in 2011 could see that Dallas' title run was pure lightning in a bottle. No one expected the Mavs to do that in the first place, and when one considers that a lockout was looming, a new CBA had yet to be drafted and Jason Kidd was fast running out of usefulness, a serious title defense was never a realistic dream.
But that reality notwithstanding, if you agree that math "talks," Cuban did right by Dirk as well. The plan, famously referred to now as "Dry Powder," was to chop the roster down to a handful of cap-friendly contracts over two seasons, setting up Dallas as top contenders for free agent Dwight Howard, with the subsequent plan to add one more "big fish" the year after.
But as the Twitter hashtag #Dwight2Dallas was gradually replaced by #Dwightmare, Dallas fans (and most certainly Mark Cuban) began to experience a painful paradigm shift. Mavs writers started noting on Twitter that the Golden State Warriors had just accomplished in a couple of days what Cuban and Co. had taken two years to do. Obviously, Dwight ended up going to the Houston Rockets anyway, but that only prompted the further realization that in today's NBA, cap space isn't quite so sexy to free agents as are the guys who wear the jerseys. Put another way, Houston met with Dwight and said, "We've got a team full of young, great talent all signed to long-term deals, and they're just a 'Dwight Howard' away from being contenders." Dallas met with him and said, "We have an aging icon, a great credit score and the hope of a better future." Any wonder why Dwight ended up a Rocket?
So where are we now? Is Dirk going to sing that swan song (which, thank God, is a figure of speech) in a packed stadium or at a dimly lit karaoke bar? Surprisingly, it remains to be seen. What looked like a corpse two weeks ago has gained a low pulse in the form of Jose Calderon, Monta Ellis and unsung rim-controller Samuel Dalembert. All three of the aforementioned are position upgrades from last season's team, which only narrowly missed the playoffs despite Dirk being a virtual non-entity until roughly May. Add to that the potential signings of Devin Harris, wildcard big man Greg Oden and a possible top free agent in 2014, and I for one find myself raising The Eyebrow of Guarded Optimism.
Will Cuban's Dwightmare recovery scheme ensure a soft landing spot for Dirk? Far too early to tell, but the tall baller from Germany is no spectator of the process. The man can still play, and given that he and Mark brought us our first championship trophy a mere two years ago, perhaps we Mavs fans can scrape together another 12 months' worth of trust.