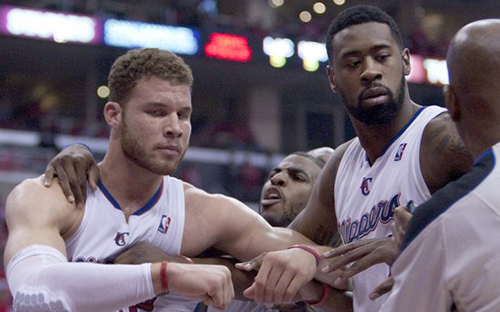 The upcoming NBA season will be here faster than you can say YO MTV Raps. We've covered everything from what the players need to focus on, to what the franchise needs to do as a whole to get to the next level. Now let's explore the top ten things Clipper Nation does not want to see a repeat of this season.
10. Blake Griffin whining to the refs. Clipper Nation's most highly-coveted pride and joy at times couldn't be any less joyful on the court after hard-nosed trips to the rim result in a no-foul call. End result being an easy bucket for the opposition as Griffin chooses to complain to the refs over getting back on defense. Hey BG32, we know you take physical punishment on offense, but would you mind getting back on defense every possession?
9. DeAndre Jordan repeating his miserable 38.6 percent from the free-throw line. He started out 3-for-4 from the charity stripe in last week's Team USA scrimmage, and I among other Clipper fans were buzzing on the hopes that we can finally trust DAJ in the fourth quarter. Unfortunately, he ended up 4-for-8 and that buzz turned into a more familiar sting. Is 60 percent from the line asking too much?
8. Another Grammy trip with injuries. The 2013 Grammy trip was a monumental bummer to say the least with Chauncey Billups still out from an injury earlier in the year, Chris Paul missing five games, Blake Griffin missing two and Jamal Crawford and former Clipper Caron Butler each missing one. Injuries are going to happen, but that's at the worst time of the regular season.
7. A 15 percent increase in ticket prices. Andy Roeser and Donald Sterling's latest attempt to keep the majority of die-hard fans in the nosebleeds.
6. Ryan Hollins almost fouling out in one quarter. Last season Hollins averaged one foul every 10 possessions, and Clipper Nation equally averaged one huge sigh of disappointment for every Hollins brain-fart.
5. Lob City at the expense of wins. Clipper Nation is over the flash and thrill of the fast-paced high-flying style of play that has made the Clippers so popular. If the Clippers could win 73 games with no dunks, we'd take it.
4. Los Angeles Lakers bombs at Clipper games. Those groups of guys that have nothing better to do than to scream, "Clippers suck" behind the telecast (even when the Clippers have compiled more wins than the Lakers). These guys show up in their dingy Kobe Bryant jerseys, scream how they're die-hard purple and gold, but usually can't recite the Lakers starting five. Go home guys and wait patiently for 2014.
3. The Wave. Some fans and players detest it, and although it's primarily started in the 4th quarter with a big Clippers lead, the wave has the ability to distract players, distracts fans and is just flat out lame. Cut it out.
2. Clipper Darrell. Clipper Nation has been giving this guy a pass for years, but the growing sentiment is that Clipper Darrell Bailey is a drama queen and becoming more of a nuisance at games than the low-rent mascot or "superfan" some fans have come to love. He sells merchandise on his site, asks fans to pay for pictures with him, fake cried on television and met with Mark Cuban on the possibility of becoming "Mavs Darrell." Need I say more?
1. Another first-round exit. If we have to withstand numbers 2-9 just to avoid this one I'm certain all of Clipper Nation will take it. Last postseason, Clipper Nation saw a calamitous meltdown of immense proportion that would leave Dr. James Naismith scratching his head. To be up 2-0 and lose the next four in a row left a sour taste in the mouth, and we're ready to quickly wash it out. Wait a minute, the Clippers have Doc Rivers at the helm now; everyone remain calm and watch this team reach the NBA Finals!