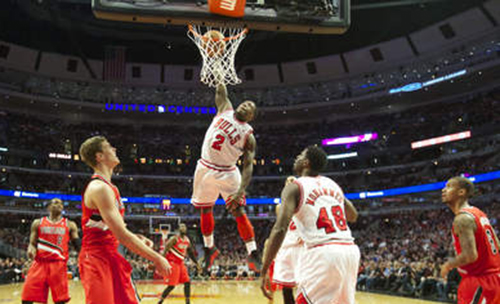 Nate Robinson and Bill Murray don't share the same birthday. They're not from the same city, don't have an alumni connection and most likely don't socialize in identical circles. However, they share a bond with the groundhog. Bill Murray's classic flick ("Groundhog Day") about an arrogant weather reporter in a time-loop repeating the same day over-and-over has been Nate Robinson's career story after leaving the bright lights of New York City and the New York Knicks. Robinson recently signed on to his sixth team in eight seasons, making the Denver Nuggets his fifth since 2005.
It's like he's been chasing his shadow for some time, being, arguably, the greatest athlete the NBA has ever seen with the greatest chip resting on his 5'9″ shoulders. Robinson has dunked and rebounded over everyone, shown flashes of point guard dominance and inexplicable power forward aptitude, jumped over Spud Webb and Dwight Howard and just like the groundhog – still can't seem to jump over his own shadow that's loomed like a dark cloud over his career.
To one-up the groundhog, it's more fair to say that Nate Robinson's nomadic career has been overshadowed with poor decision-making, inconsistent defense, nude shower tackling and scoring in the opponent's basket. Most would agree that in a starting lineup of Nate Robinson, Michael Jordan, Larry Bird, LeBron James and Wilt Chamberlain, Robinson would average 25 points and 1 assist (from being forced to pass out of a triple team).
It's a fantasy scenario that mirrors his on-the-court reputation, one that has been repeatedly trampled by head coaches who haven't been able to reign in his talent, improve his focus and produce positive consistency from him. Any way you criticize him, Nate has always been a fan favorite and as much as crowds cheer his intensity, freakish athleticism and huge heart, they've also cringed at the habitual sight of a double-figure game that comes at the expense of team production and, at times, team wins.
Who can blame him? It's become mentally satisfactory to Nate that every drained three, jaw-dropping slam dunk and double-double performance inches him closer to the respect, contract and team role he yearns for – and to his detriment that thought process has pushed him further away.
We've become accustomed to root for the underdog and make a spectacle of the guy playing with a chip on his shoulder. Nate Robinson's chip is razor sharp and has increased in mass like a malignant teratoma, eating away at his decision-making and pushing for impulsiveness and the desire to outshine everything in the arena, from the competition to the mascot. Although he sports career averages of 13 points, two rebounds, four assists and a 12 percent player impact rating, consistently having to prove his worth has in turn increased the difficulty in trying to find a coach and crowd-pleasing median between team wins and garnering the respect he deserves. It's this self-destructive cycle that's been unbreakable and unavoidable, as the same work ethic and persistence that got him into the league is the same thing that makes some cringe at times. Every sub-in the game for Nate becomes another chance to increase his value in the eyes of NBA personnel. But, will he be a wild card to cheer for, shake our heads at or actually play under control?
There's been an elementary impediment to coaching Robinson that's been widely accepted in the league, and Nate gave his best effort to push the Chicago Bulls over the hump while dispelling those notions. In the 2013 postseason, as a starter, Nate Robinson carried the Chicago Bulls, averaging 16 points, four assists, three rebounds and one steal. He put up seven points more than Mario Chalmers (starting point guard for the NBA Champion Miami Heat), two points more than Raymond Felton (starting point guard for the Knicks) and three more points than Brandon Jennings (starting point guard for the Milwaukee Bucks) during the postseason. Robinson might not have the relentless focus of Michael Jordan, or a chastising death stare like Kobe Bryant, but his 2013 playoff performance proved him deserving of an opportunity to demonstrate his belonging as a starter, or at least a premier sub for a contending franchise.
If there's one player that's most deserving of the opportunity, it's Nate, and while some might squirm at the idea of him running an offense with starter minutes, there's a greater upside that suggests the emergence of those positive attributes being put on consistent display. The same positive attributes that created our love/hate relationship with him from day one – he's an underdog, fearless and can become a dynamic spark easy to cheer for.