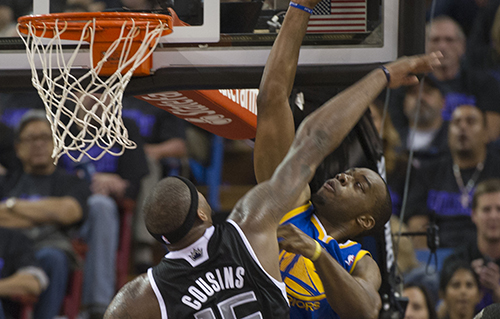 It's been seven years since the Sacramento Kings ended a season above the .500 mark, and after finally settling their city, GM and head coach situations, the watchful eyes of the Sacramento faithful will all be focused on five key players that will decide the franchise's fate this season. Fresh faces like Ben McLemore, Luc Richard Mbah a Moute, Carl Landry and Greivis Vasquez joining DeMarcus Cousins and Jason Thompson in Sactown should be what the Kings need to surprise naysayers that already have them finishing 32-50 on the year.
1) DeMarcus Cousins
Fans all around the NBA know that the play of center DeMarcus Cousins will either help the Kings make a run at an unforgettable season or simply leave them in the Pacific Division's cellar. Last season, Cousins led the team in points (17.1), rebounds (9.9) and steals (1.4), and there is no legitimate reason that the big man can't duplicate, if not improve, on those numbers during the 2013-14 NBA season. If the former Kentucky Wildcat can stay out of trouble and focus in the paint on both offense and defense, he will be destined to reap the benefits of his new supporting cast and potentially add to the 2.7 assists per game he put up last season.
2) Ben McLemore
Incoming rookie guard, Ben McLemore, is one player that easily has the ability to make a huge impact on a young team like the Kings. A solid Rookie of the Year candidate, McLemore already has the respect of his peers after being voted the best shooter of the 2013 rookie class in the NBA.com Rookie Survey.
McLemore was able to put up nearly 16 points a game while snagging 5.2 rebounds in his only year with Kansas en route to a Sweet Sixteen appearance in the 2013 NCAA Tournament. Because of his smooth shooting, players will look to smother McLemore farther out on the perimeter, but the former Kansas Jayhawk has the ability to create for himself, with the explosiveness to get around any defender, or simply dish it off to one of his big men in the paint.
3) Luc Richard Mbah a Moute
Mbah a Moute comes to Sacramento via trade with the Milwaukee Bucks and brings a defensive presence that the Kings lacked last season. The Kings' defense ranked dead last in 2012-2013, allowing opponents to drop 105.1 PPG. Mbah a Moute has guarded the likes Oklahoma City Thunder superstar, Kevin Durant, and the New York Knicks' Carmelo Anthony, proving he can hang with and has the desire to contain the best of them.
Despite only averaging less than a block (0.4) and a steal (0.9) a game, Mbah a Moute has the ability to frustrate opponents and force them to alter their shots, something the Kings obviously didn't do well at last year. On offense Mbah a Moute comes in averaging 6.9 PPG throughout his career and an added 5.3 RPG.
Greivis Vasquez
With the departure of Tyreke Evans to the New Orleans Pelicans, Sacramento fans were left wondering how the team could possibly replace a player that averaged 18.2 PPG for the Kings last year. Enter Greivis Vasquez.
Vasquez averaged 13.9 points a game last season in New Orleans, falling short of Evans' mark, but added nine assists and four rebounds in just over 34 minutes a game. The court vision that Vasquez brings will surely help open the court for both McLemore to put up some shots and DMC to dominate in the post.
Carl Landry
Carl Landry may have come off the bench in 79 of his 81 appearances last season with the Golden State Warriors, but he has the skill set to be in the starting five in Sac Town. The power forward averaged 10.8 points in 23 minutes and shot 54 percent while snagging six rebounds a game. With numbers like that, the Kings' Jason Thompson, who started 81 games at power forward last season for Sacramento, has to know that if his play starts slipping, Landry won't have a problem filling his shoes. Thompson's numbers aren't as impressive when you see that he nearly doubled Landry's minutes, but only managed similar numbers in points (10.9) and rebounds per game (6.7). Landry's presence plays an important factor that can only help the Kings get to where they want to be in 2013-14.