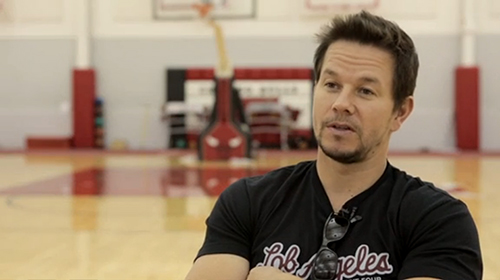 Academy Award-nominated actor Mark Wahlberg was in Chicago a little over a week ago to shoot scenes for "Transformers 4: Age of Extinction," and just happened to drop by the Berto Center to check out the Chicago Bulls.
Born and raised in Boston, Wahlberg is cut from a green cloth, and bleeds green for the Boston Celtics, although he does show support for the Bulls because he has an admiration for talent and greatness. He definitely admired the dominance of Michael Jordan and the 1990s Bulls dynasty, as well as respecting the skills and heart of former NBA MVP Derrick Rose and the current team.
"I'm so happy that Derrick Rose is back to see what you guys can do. I think he's [Derrick Rose] arguably the best player in the league. I'd put him up there with LeBron. Hopefully somebody will beat the Heat," Wahlberg told Bulls-TV.
Wahlberg rolled up with his entourage, and planned to play some 2-on-2 basketball. What he wasn't expecting was to go up against Jimmy Butler, one of the defensive-minded beasts for the Bulls. They ended up playing a game of full-court 3-on-3. Wahlberg, standing at 5'8″ drained some long distance three-pointers from well beyond the arc, avoiding the 6'7″ 220 pounds of the defensive wall that is Butler.
The A-list actor has some skills, as you can see from some of the game footage from the interview. Yes, his dribble is kind of high at times, but his shot isn't too shabby. Wahlberg showcased his athleticism in films like "The Fighter," "Pain and Gain," and "Basketball Diaries." The actor usually visits teams and athletes that he admires, like boxer Manny Pacquiao or the Michigan Wolverines football team.
Wahlberg can usually be found courtside watching the Los Angeles Clippers or the Los Angeles Lakers, but he still has his Celtics pride, and recognizes the greatness of the Bulls. He even mentions that he likes the Bulls' chances to take home the trophy this year. Wahlberg told Bulls-TV his NBA Finals prediction: Chicago Bulls vs. Oklahoma City Thunder.
Of course, this means that Wahlberg is looking for the Bulls to beat the Heat. With Rose back, a healthy roster, an excellent coach in Tom Thibodeau and the hunger to climb to the top, it just might happen. The Bulls are looking for their first championship in over a decade, and the Heat are looking to be one of a select few NBA teams to three-peat. We'll see how big their appetites are when both teams start off the season on October 29th and possibly end the postseason still going head-to-head on the big stage.