2013-14 NBA SEASON PREVIEW CONTENT LIST
Atlantic: Celtics | Nets | Knicks | 76ers | Raptors | Division Preview 1 and 2
Central: Bulls | Cavaliers | Pistons | Pacers | Bucks | Division Preview
Southeast: Hawks | Bobcats | Heat | Magic | Wizards | Division Preview
Pacific: Warriors | Clippers | Lakers | Suns | Kings | Division Preview
Northwest: Nuggets | Timberwolves | Thunder | Trail Blazers | Jazz | Division Preview
Southwest: Mavericks | Rockets | Grizzlies | Pelicans | Spurs | Division Preview
Top 10 by Position: PG | SG | SF | PF | C
Top 10 Lists: Sixth Men | Sophomores | X-Factors | Intensity | Under 25 | Comeback | GMs | Europeans | Overrated | Contenders | Wild Predictions
Fantasy Basketball | NBA Fandom Games | League Preview | Ultimate Season Predictions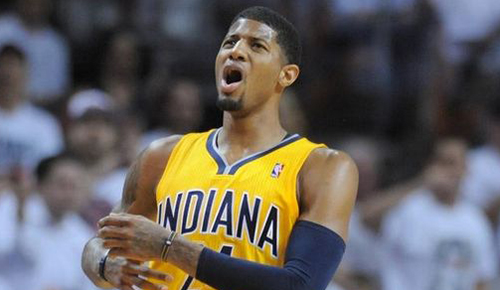 10. J.R. Smith, New York Knicks
Last year, Smith was the league's best sixth Man and that isn't going to change this year. Not only is he the best player off the bench, but he is probably the Knicks' second best player period. Should he be higher on this list?
Maybe, but let's think about this for a second. Yes, he had a fantastic season, and, yes, the landscape of the NBA is changing. The sixth man isn't what it used to be and having a good/great one is key to winning, but at the end of the day, if he was really that good he would be starting, wouldn't he?
Smith is what he is – the leader of the second unit. He's the best in the game at that and that's totally fine because 18 points is 18 points, and you take them however you can get them.
9. O.J. Mayo, Milwaukee Bucks
O.J. Mayo has been a bit of an enigma. Coming out of high school, the highly-touted recruit scored a big payday at USC and has sort of played in obscurity ever since. Sure, he has shown flashes of brilliance in his five years as a pro, but it wasn't until last year we started to see that maybe Mayo could be a star in the league.
Milwaukee is the perfect situation for him, he is playing alongside Brandon Knight who is a human highlight reel, (for whoever he is guarding at the time) and a nice player in Larry Sanders who can defend well and score a little when needed. If young O.J. can step in and take the ball and make things happen the Bucks can possibly fight for a playoff spot.
8. Monta Ellis, Dallas Mavericks
The Mavericks have failed at everything the have tried to do in the offseason. They missed out on Dwight Howard, never had a real shot at Chris Paul and failed gambling on Andrew Bynum, but they got a pretty nice consolation prize in Monta Ellis.
His play style is throw crap at a wall and see what sticks, essentially. He is terribly inefficient, but he can also go off for 20 points in his sleep and I'll take that.
The Dallas Mavericks have launched this semi-rebuild campaign to get Dirk Nowitzki another championship before he dies from natural causes and they signed Ellis to help the old man cross the street. But is Ellis even looking both ways or does he have tunnel vision?
7. Joe Johnson, Brooklyn Nets
I don't think there has been a more underrated player in the NBA in the last ten years than Joe Johnson. He has been a six-time NBA All-Star, but he never got into the conversation of being a top ten player in the game. Maybe he should, maybe he shouldn't be in that conversation, but one thing is for sure this 32-year-old can still ball at a high level.
I think in a starting five of Brook Lopez, Kevin Garnett, Paul Pierce and Deron Williams, Johnson could really benefit because he's going to get wide open looks. He probably won't exceed his average of 16 points a game from last year, but if he could match that the Nets will go deep in the playoffs.
6. Klay Thompson, Golden State Warriors
Klay Thompson could teach God how to shoot jump shots. He is the best shooter in the game right now and he's not going to stop being the best for a while.
With the addition of Andre Iguodala, Golden State went from being last year's surprise Cinderella team to being a threat to be a powerhouse in the West. If Thompson can improve his above-solid season from last season, there's no doubt that he will be on his first of many NBA All-Star teams.
5. Dwyane Wade, Miami Heat
Dwyane Wade is at the point in his career where he's getting by on name alone. Which still ain't bad because he's got a pretty good name, and paired with the fact that he is playing with the best player of his generation, Wade can pretty much go off at any given moment, which is scary.
His best days are behind him, but that shouldn't matter because so were Clyde Drexler's and that didn't stop him from helping a team win a championship. If Dwyane Wade is essentially a glorified role player, he is the best role player in NBA history.
4. Eric Gordon, New Orleans Pelicans
This year is going to be the Year of the Pelican. They are going to be a surprise team and Eric Gordon is going to finally bust out of that "underrated" shell of his as long as that silly goose doesn't get hurt again.
When the NBA announced the name change from the Hornets to the Pelicans, I declared quite loudly that the uniform should be a big plastic bubble that only Gordon should wear, and honestly, nobody cared that I declared it because I was alone by myself at three in the morning watching SportsCenter when I heard of the name change.
Everybody knows Gordon is a good scorer, but I don't think anyone knows how good. For his career, Gordan has averaged 18 points (granted it's only been like, 13.5 games), but it's been the quietest 18 points I've ever seen. Playing with future superstar Anthony Davis and NBA All-Star point guard, Jrue Holliday, the Pelicans are going to be the team of the future, and Gordon should play a significant role for them.
3. Kobe Bryant, Los Angeles Lakers
Kobe is the second greatest shooting guard ever, a first ballot Hall of Famer and a top ten all-time player. Which is why even though he is 35 years old, coming off an Achilles tear and probably won't be ready for the season opener, Bryant is still number three on this list.
After what was arguably the most disappointing season (and offseason) in franchise history, we can only hope that the Black Mamba is going to fully recover from his injury and he's going to show the Association that even an older, broken down Kobe Bryant is still a Kobe Bryant and they don't make them like him anymore.
2. Paul George, Indiana Pacers
This guy is an absolute animal. He's clutch, he plays defense, he has two first names and he's got so much ice in his veins that if you gave him a hug you'd get hypothermia. Last year, the first-time NBA All-Star had a coming out party, averaging 17 points and seven rebounds a game and that's only going to increase.
Each year, George has improved his scoring average from 7, 12, and finally, 17 points, respectively. That's five points a year, and I know that, because I can add things. In last season's playoffs, George averaged 19 points, including a 28-point performance in Game 4 of the Eastern Conference Finals all while being guarded by some dude named LeBron.
1. James Harden, Houston Rockets
Coming out of Arizona State, who thought this guy would be THIS good? There is nobody in the NBA today that plays the shooting guard position better than James Harden. Period. If you don't believe me, look at that beard. It holds the secrets of Nimh, if you stare at it too long it will transport you to the magical land of Narnia and on the right night, when it's quiet, if you listen really carefully you can hear it sing, "Ave Maria."
Last year, Harden was fifth in scoring, averaging 25 points, trailing only Carmelo Anthony, Kevin Durant, Kobe Bryant and LeBron James – and the word around the campfire is that those guys can play basketball a little bit. It was Harden's first year being "the guy" on his team and he produced like "the guy" should! He went from being a pretty strong supporting character on The Kevin Durant and Russell Westbrook Show to having a spinoff that is going to be just as good, if possibly not better. James Harden could be the "Frasier" of basketball.