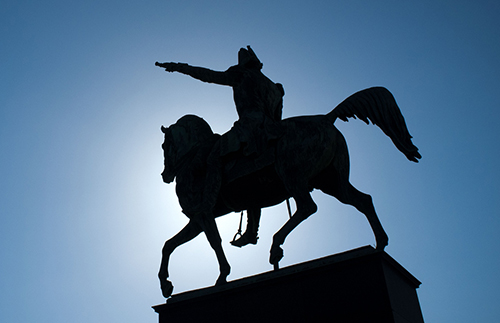 LeBron James is no longer interested in cold winters. Sorry, Cleveland. Unless Cavs owner Dan Gilbert can convince Mother Nature to lend more warmth for the league's best player, the rumors that James would opt-out of his contract with the Miami Heat after the 2013-14 season and return home are certainly debunked.
This leaves James with a few options and the Heat with even fewer. Miami has overpaid Mike Miller ($6.6 million) Udonis Haslem ($4.6 million) and Joel Anthony ($3.8 million). Combined with LeBron, Dwyane Wade and Chris Bosh opting into their contracts, the Heat would be well over the cap with only six players owed $76 million and a good amount of roster spots to be filled. Alternatively, if Bosh and Wade opt-out, the Heat can keep LeBron and have close to $40 million to throw into free agency. Neither Wade nor Bosh will opt-out simply because both have no chance to net max contracts anywhere else in the league.
To fully shut the door on the Eastern Conference, in addition to James' wish to no longer reside in a cold climate, NBA general managers rarely complete sign-and-trade deals within their own conference. A Bosh and Wade duo is still capable of reaching the postseason at a lower seed, and facing LeBron James at the pinnacle of his career for the next four to five seasons in the same conference isn't very desirable for the Heat.
All of the aforementioned factors point to Los Angeles as the next city where King James will claim his throne, and although the Lakers can easily afford him, the Clippers will have the flexibility to add James and be an even greater championship contender. A Big Three of Chris Paul, Blake Griffin and LeBron James are younger, more athletic, and can be kept together for the next four years. A temporary lineup of LeBron James, Kobe Bryant and (maybe) Pau Gasol do not have the same amount of promise, in addition to the fact that once Bryant retires it'll be another rebuilding effort all over again which is something James will want to avoid.
For the Clippers to have a shot at landing James they'll need to clear cap space, and fortunately they're in a great position to do just that. Before you begin to conceptualize King James in a Clippers uniform, you have to rule out the trade for equal value concept. Trying to find equal value for the league's most talented player will be almost impossible, and Miami's best hopes rest in clearing cap space and completely retooling in 2015. If the Clippers shed their 2014 non-guaranteed contracts they'll lose Brandon Davies, Willie Green and Jamal Crawford (who can also be involved in a sign-and-trade), which clears a little under $8 million. They will have one restricted free agent in Maalik Wayns, and one trade exception from the Eric Bledsoe trade, which bumps that total closer to $12 million. Considering Clippers newcomers Byron Mullens and Nick Collison will opt-in after this season, the Clippers will need another $8 million at the least to make this happen.
Bringing in LeBron at small forward will leave the Clippers stacked at the 3, so that makes Dudley's $4.25 million and Matt Barnes' $3.3 million expendable in a sign-and-trade situation. That gets the Clippers closer to where they need to be, and as an alternative, Miami can elect to sign-and-trade for DeAndre Jordan's expiring contract of $11.5 million, which will give them flexibility in 2015.
To recap, at max talent leaving LA, the Clippers lose Jamal Crawford, Jared Dudley and Matt Barnes, which is a small price to pay for James. Miami would receive flexibility in Barnes and Crawford's non-guaranteed contracts, in addition to Dudley's ETO. Then again, Miami can elect to make things simpler and trade for DeAndre Jordan who is an unrestricted free agent in 2015. That leaves the Clippers with two possible nucleus: Chris Paul, J.J. Redick, LeBron James, Blake Griffin and DeAndre Jordan or Chris Paul, J.J. Redick, Lebron James, Blake Griffin and an unnamed center. Not too shabby.
Miami's best floor scenario would include Mario Chalmers, Dwyane Wade, Jared Dudley, Chris Bosh and either Birdman or Joel Anthony, a team that's still capable of making the postseason. That's definitely not equal value, however, receiving equal value is only an option when there's equal talent and unfortunately there isn't. This leaves the Miami Heat with one more year in the sun as championship favorites. They'll have to get it while the gettin' is good.
Photo courtesy of Paul Dantanus/Flickr