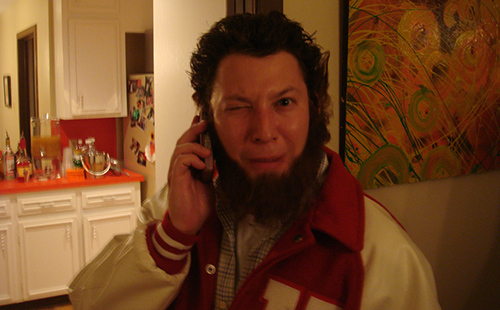 10. Jesus Shuttlesworth, SG/SF, "He Got Game"
Draft Selection: Fifth overall in the 1998 NBA Draft
Team: Golden State Warriors
Strengths: The son of the once-great Jake Shuttlesworth, Coney Island prodigy Jesus can play point guard through forward. He finishes strong at the rim, always makes the simple pass and is an excellent outside shooter.
Weaknesses: Doesn't handle pressure well, and has more daddy issues than a stripper.
9. Antoine Tyler, SG, "The Sixth Man"
Draft Selection: Second overall in the 1997 NBA Draft
Team: Philadelphia 76ers
Strengths: Antoine Tyler made history by being the first ghost to be selected in the NBA. Philadelphia 76ers executives were comfortable adding another "missing being" to their roster, as they were already familiar with Allen Iverson's ghostly practice habits. Tyler can do it all, and his greatest strength is the ability to not be seen.
Weaknesses: Tyler is a bit of a locker room distraction, primarily due to being a ghost. NBA scouts question his seriousness, and decision-making when using his ghoulish powers. He puts up monster numbers every Halloween, and average numbers throughout the rest of the season. The word "possession" has a completely different meaning to Tyler.
8. Jimmy Chitwood, SG, "Hoosiers"
Draft Selection: 16th overall in the 1986 NBA Draft
Team: Doesn't matter… He'll end up on the Indiana Pacers somehow.
Strengths: One of the best knock-down shooters basketball has seen on any level.
Weaknesses: Generally doing anything with the basketball besides shooting.
7. Matthew Lockhard, SF, "Heaven Is a Playground"
Draft Selection: Sixth overall in the 1991 NBA Draft
Team: Dallas Mavericks
Strengths: Apparently being able to make change for a dollar at the top of the backboard only nets you as the sixth pick, but after Matthew destroyed "The Truth" in a tough one-on-one game, he returned to playing big-time basketball. He's a tough defender, great rebounder and has an impressive mid-range game.
Weaknesses: Has the tendency to be a quitter. If he can stay focused, he'll give the Mavericks big time production.
6. Saleh, PF/C, "The Air Up There"
Draft Selection: Second overall in the 1994 NBA Draft
Team: Dallas Mavericks
Strengths: Saleh is very coachable and shows extreme athleticism at his position, as well as being a great shooter from every spot on the court.
Weaknesses: Adjusting to the NBA game from playing in Nigeria. Saleh is a project pick, but will eventually turn into a dominant force in the league.
5. Sidney Dean, SG, "White Men Can't Jump"
Draft Selection: Fourth overall in the 1992 NBA Draft
Team: Dallas Mavericks
Strengths: Straight from the courts of Los Angeles, Sidney Dean got his start when Michael Jordan suggested he should play summer pro ball. After refusing multiple times, claiming it would "screw up his game," Sidney finally obliged and had an impressive performance. He's got devastating quickness, great ball-handling ability and a knack for getting inside the head of his opponent.
Weaknesses: Refuses to play without a gold chain around his neck.
4. Butch McRae, PG, "Blue Chips"
Draft Selection: Third overall in the 1994 NBA Draft
Team: Minnesota Timberwolves
Strengths: Great size and athleticism at his position. Works hard every possession.
Weaknesses: His most glaring weakness is his mother Lavada McRae who serves as his agent/manager/publicist and personal assistant, but more of a nuisance to front office personnel.
3. Thomas Shepherd, SF, "Above The Rim"
Draft Selection: Second overall in the 1992 NBA Draft
Team: Charlotte Hornets
Strengths: Thomas Shepherd AKA "Ole Shep," entered the draft as an unknown, but impressed Charlotte scouts with his passion for the game, height and athleticism, toughness, outside shot and ability to play down low. He's a versatile forward with a good touch from mid-range who would give Charlotte that versatile player they're lacking.
Weaknesses: Shepherd has the tendency to prefer playing without a ball, which suggests severe psychological issues.
2. Neon Boudreaux, C, "Blue Chips"
Draft Selection: First overall in 1994 NBA draft.
Team: Milwaukee Bucks
Strengths: Straight from the backwoods of Algiers, Neon Boudreaux had one stellar season at Western University before being drafted as the first overall pick. He's a dominant force in the paint and would give the Bucks the size they're lacking while opening space on the floor for shooters.
Weaknesses: Horrible from the free-throw line! Not sure, but he reminds us of another center. Hmm…
1. Scott Howard, PG/SG/SF/PF/C, "Teen Wolf"
Draft Selection: First overall in 1985 NBA Draft
Team: New York Knicks
Strengths: Scott Howard aka Teen Wolf would've brought the Knicks the championships Knick fans had been waiting for. As a 6'7″ small forward, Teen Wolf can play and defend every position on the floor, plays above the rim and does everything great offensively with unmatched athleticism. He's pretty much the werewolf Lebron.
Weaknesses: No basketball weaknesses, however with the Knicks' luck they'd draft Teen Wolf and a pimply faced, skinny Scott Howard would suit up on opening night.
Photo courtesy of D.L./Flickr