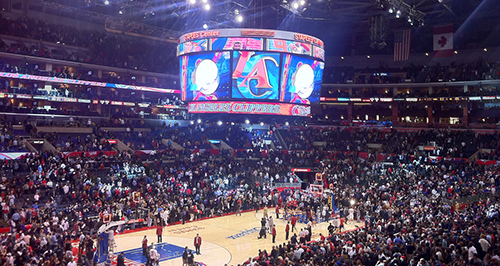 Until now, the Los Angeles Clippers-Los Angeles Lakers rivalry has only existed in the stands and on social media. As the Clippers have grown from pretender to contender, fans have increasingly shown more enthusiasm in the "Hallway Series," although both teams have never met in the NBA Playoffs. One thing has been absent from this "rivalry," and quite possibly it's the most important factor – the players and coaches. When tempted to fuel the rivalry and match the energy of fans, players and coaches alike have been unenthused and nonchalant, usually responding with "it's just another game."
It's safe to say that all of the momentum leading up to the rivalry the fans have wanted to see has been stifled by a total reversal of circumstance. Matt Barnes accused Blake Griffin of flopping, Lamar Odom and Blake had a small tussle and both of these beefs dissipated once Barnes and Odom became Clippers. David Stern gifted LA's most exciting team with Chris Paul, then Steve Nash landed in Laker Land and everyone forgot. Every bit of rivalry impetus seems to have gradually vanished, and Clippers head coach Doc Rivers intends to be the impediment to that cycle.
When Doc Rivers was introduced as the Clippers new head coach, he couldn't help but to be nostalgic about his part in the Boston Celtics/Lakers rivalry that lasted close to a decade. Seemingly still haunted by the Lakers' 2010 Game 7 win over his Celtics, Rivers showed enthusiasm towards the four times he'll face off against the purple and gold saying, "The fact that we can have four of them (games) during the regular season in the same building is absolutely wonderful, I can't wait for that." Clippers fans can't wait either, and injecting a bit of "Celtic pride" into a west coast rivalry might be just what the "Doc" ordered.
The Clippers have already beat the Lakers this offseason with incomparable free agency activity, stealing the Lakers first choice as lead assistant in Alvin Gentry, and adding former Lakers guard Tyronn Lue (now assistant) to Rivers' bench. These small feats, in addition to capturing the Pacific Division title, and compiling more wins in the previous season don't measure up to the history of Lakers championships, and probably aren't enough to be mentioned on the same scale – but it's definitely a start.
Doc Rivers has been known to be vocal in his contempt for certain opposing teams and players, showing a manly pride in not giving too much praise to an opponent in defeat, nor enthusiasm when on the winning side of the ledger. However there are certain teams that just get under your skin – the Lakers being one of them. As a former player from a time when the NBA was still tough, Doc Rivers has carried the same sense of competitiveness from his playing days to his coaching career. His presence is huge inside of any locker room and, the qualities that made him tough on the sideline will hopefully spill onto a Clippers team who has been too nice. Doc Rivers is one of few coaches who will flat out say, "we don't like them" without any remorse, and will take every measure to win in convincing fashion; measures with which this rivalry will be beset and a culture that Clippers fans are waiting to see.
Photo courtesy of David Jones/Flickr