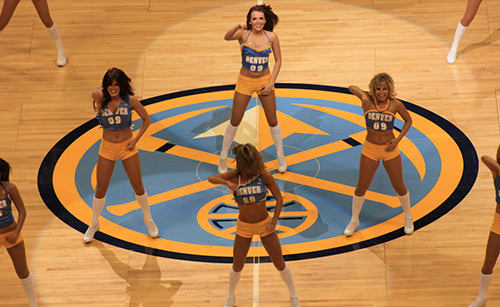 Whereupon an NBA free-agent fan sets about selecting a team to root for during the 2013-14 NBA season.
Hypothetical Fandom Games competitions of previous years have proven to be a useful reference point during this inaugural offseason exercise. It was worth noting, for example, that had the NBA Fandom Games existed prior to 2013, the Utah Jazz would certainly have made deep and frequent runs, earning the franchise the benefit of the doubt. The Greatest Show on Court era of Sacramento Kings basketball would undoubtedly have borne Fandom Games fruit, contextualizing the franchise's recent state of despondency. And the Denver Nuggets, today's NBA Fandom Games elimination, were without question the frontrunner in the imaginary Fandom Games of 2012, knowledge that makes clear just how big a difference a year makes.
The Summer of 2013 has been a catastrophe for a franchise that has demonstrated an absurd lack of regard for its fans, and the Nuggets only lasted this long because the franchise's collapse was so sudden and so unexpected that it took this long to process it.
This time last year, the Denver Nuggets employed the NBA's most prodigious general manager in Masai Ujiri, one of the game's great elder statesmen in head coach George Karl, and a roster of diverse and compatible talent. This squad was one of the NBA's rare unique structures, a truly gifted and dangerous roster built not around a single extraordinary talent, but rather, a balanced collection of unselfish, coachable players. One that, under the guidance of Karl, was one of the NBA's most eclectic and menacing threats: deep, talented and unconventional.
Those Nuggets looked like a potential postseason threat after a 57-win season and an incredible 38-3 record at home. But then they ran into the white-hot Golden State Warriors in the first round of the playoffs, an underdog that shot 53 percent from the field and a ridiculous 42 percent from deep in four stunning victories, and just like that a magical season in Denver was cut devastatingly short.
That bit of disappointment was certainly stunning enough for one year. But this summer's sudden and dramatic unraveling of the Denver Nuggets brought the discussion to a whole new level, leaving fans scrambling to not only figure out what this team has become but, worse yet, who they've been for the last year.
The first pin to drop in this summer's saga was the departure of Ujiri. After three seasons operating as the NBA's most dynamic and forward-thinking executive, Ujiri returned to the Toronto Raptors, the franchise he'd left for Denver three years earlier. Ujiri's considerable pay increase might help explain Denver's decision to let Ujiri walk, as would the propagation that running the Raptors was Ujiri's "dream job," but questions still remained. Did the Nuggets ever put themselves in the hunt to retain Ujiri? And if not, then why? Ujiri's vision was one of the most thrilling and distinctive in the modern NBA. Was he not worth the pay bump? Or, maybe worse, did he have no desire to remain in Denver?
This was followed very shortly thereafter by the news George Karl would not be brought back to coach the 2013-14 season. No head coach since Dolph Schayes in 1966 had been voted the NBA's Coach of the Year and then fired that very same summer (Mike Brown, Rick Carlisle, Sam Mitchell and Byron Scott are recent winners who squeezed an extra year out of their jobs before getting canned), and yet Karl was let go, with one year left on his deal. If Ujiri's departure was a prototypical letdown for a small-market franchise, with locally-grown talent departing for greener pastures, the Karl firing was the demoralizing smackdown by out-of-touch ownership living in its own self-contained, fanless world.
So a franchise that had won 57 games, and both the Coach and Executive of the Year awards, one that appeared diverse and deep enough to remain a factor for many years to come, suddenly saw their entire identity disrupted and dispersed with nary an explanation for the whole sad story. It's painful to write.
The summer has progressed much how one might expect after such a dramatic shakeup. The team's sole draft selection, Erick Green, appeared to be a steal with the 46th selection until Green opted to play in Europe rather than battle the glut of guards in Denver created by the unneeded additions of Randy Foye and Nate Robinson. Andre Iguodala, the team's best defender and the owner-decreed top offseason priority, jetted for Golden State despite a reportedly better offer to stay in town, likely due in some part to the upheaval up top. Advanced-stat darling (and JaVale McGee insurance policy) Kosta Koufos was shipped to the Memphis Grizzlies for no decipherable reason and J.J. Hickson was then overpaid to beef up the front line. Corey Brewer, the team's second-best defender, signed elsewhere.
Needless to say, this bizarre change of course is not what fans of a 57-win team had bargained for, and it leaves the Denver Nuggets not only a far less formidable threat in 2013-14, but a less desirable destination for NBA players for the foreseeable future.
George Karl shared with the Denver Post that, on his way out the door, he'd let ownership know that the sudden change in course was "very stupid." He went on to say, "Continuity, consistency, togetherness all are so much more valuable than what they have on their priority list." This is the stuff that the NBA Fandom Games is made of, and what made the Denver Nuggets a franchise worthy of its fans. Instead, Denver prepares for an unprovoked transition year, an unforgivable affront to the franchise's fans.
Almost no matter what the Nuggets manage to accomplish this year, it's a lost season, because they disbanded one of the franchise's great teams for reasons that elude us all. Fandom Games sin, I tell you.
NBA Fandom Games Eliminated Teams List:
New York Knicks
Boston Celtics
Washington Wizards
Charlotte Bobcats
Golden State Warriors
Milwaukee Bucks
Utah Jazz
Philadelphia 76ers
Houston Rockets
Portland Trail Blazers
Toronto Raptors
Sacramento Kings
Detroit Pistons
Phoenix Suns
Oklahoma City Thunder
Atlanta Hawks
Cleveland Cavaliers
Denver Nuggets
Photo courtesy of David Herrera/Flickr