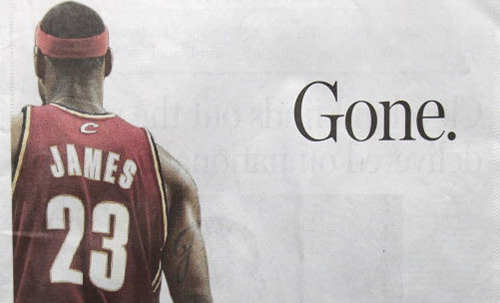 Whereupon an NBA free-agent fan sets about selecting a team to root for during the 2013-14 NBA season.
A microcosm of the relationship between the Cleveland Cavaliers and LeBron James can be found in the recent revelation that the franchise, when creating "The Cava-List: All-Time Cavs, By the Numbers" for its website, initially gave the No. 23 slot to Tyrone Corbin. This despite the fact that James' reign as Cleveland's No. 23, from 2003 to 2010, left him as the franchise's all-time leading scorer, in the top five of nearly every major statistical category, and almost certainly the best player in Cleveland Cavaliers history. In the meantime Tyrone Corbin lasted shy of 14 months in a Cavs uniform and averaged just a touch over six points per game.
This isn't to criticize that obviously silly choice, because this isn't an easy situation. The departure of James was certainly the worst moment in franchise history, an outcome they can't simply forget, and one that will remain a burden for at least as long as James is the NBA's greatest player (and more likely a great deal longer). Are the Cavs better off denying that James ever played there, as they attempted with that Corbin pick? Should they instead give James his rightful recognition and revel in the ensuing misery of his absence? Or are they better off just shutting out the past altogether so as to avoid reminders of their one-time superstar?
The team is in largely uncharted territory here. Of the undeniable all-time NBA greats, only Kareem Abdul-Jabbar, Moses Malone, and Charles Barkley spent more than five years in one city and then left before turning 30. Malone was a vagabond who never truly belonged to one team and so can't really be compared. In the case of Abdul-Jabbar, his forced departure was motivated by an incompatibility with the city of Milwaukee itself, a particular dynamic the Bucks have struggled to shake in the decades since. As for Barkley, any old-time Philadelphia 76ers fan can let you know exactly where they stand on that Phoenix trade, a bitter pill to this day. And that's really it. The Orlando Magic's loss of Shaquille O'Neal isn't a bad comparison, but Shaq cleared out much sooner than LeBron did, and Orlando just isn't Cleveland.
So it isn't as if the Cavaliers are working with a successful road map here. Escaping the shadow of James is about impossible at this point, given the King's absolute and unwavering rule over the NBA. They don't want to forever be the city that wasn't good enough, like Milwaukee, or the one whose star's departure left decades of bad feelings behind, like Philadelphia. And they certainly don't want to be the one who raises eyebrows by placing Corbin above James on a list of franchise greats. So what's a spurned team to do?
It would seem the Cavaliers may be plotting their own particular course: they want to bring LeBron James back.
The notion that the Cleveland Cavaliers could be setting themselves up to bring LeBron James back to town is almost too much to handle. The level of desperation required to chase James, after the free agency hostage situation of 2009-2010 and the Decision debacle and the Comic Sans wielding rant and the burned jerseys and the insane irrational anger and resentment, it's too much. How could they dare? And how could they consider risking it, given what James did to them last time? LeBron James is quite clearly a different person than the one who fled Cleveland in 2010, and a superior talent, but the risk of being rebuffed a second time would seem too terrible to consider.
And yet the summer of 2013 can potentially be explained by Cleveland's commitment to leaving the door open for James' return to the franchise in 2014.
The Cavaliers came into the summer with $20 million or so in cap room, enough to make a half-hearted run at Dwight Howard, or a full-throttled pursuit of Josh Smith, Paul Millsap (ultimately signed to a shockingly-low deal by the Atlanta Hawks), or Andre Iguodala. None of this is to say that the Cavaliers should have signed these players, but that they could've, and for a team with a strong young core and an urge to get to the playoffs, any of these signings would've been defensible. Iguodala, in particular, seemed an obvious fit for a team with a need for perimeter defense and some holes at their wing positions. Instead, the team spent low on Jarrett Jack and threw some highly-conditional money at Andrew Bynum, and remain key players in next summer's market.
This could be explained any number of ways. Maybe the Cavs want to see how the prospects develop before throwing their money around. Maybe they just didn't like the looks of this year's market. But, maybe they're looking to avoid the fates of the Milwaukee Bucks, the Philadelphia 76ers and the Orlando Magic by undoing the damage of losing James in the first place. No NBA franchise has solved that particular conundrum before. Anyone have a better idea than simply bringing the player back?
The Fandom Games take kindly to bold new approaches, particularly those that are redemptive for fans. What cuts Cleveland's 2013-14 run short is the sheer audacity of the tactic. If James opts out of his contract in 2014, the Cavs make a genuine run at him, and he chooses a different city again, the franchise will have piled misery on top of misery. It's an insane gamble, but maybe the best move they have available.
NBA Fandom Games Eliminated Teams List:
New York Knicks
Boston Celtics
Washington Wizards
Charlotte Bobcats
Golden State Warriors
Milwaukee Bucks
Utah Jazz
Philadelphia 76ers
Houston Rockets
Portland Trail Blazers
Toronto Raptors
Sacramento Kings
Detroit Pistons
Phoenix Suns
Oklahoma City Thunder
Atlanta Hawks
Cleveland Cavaliers