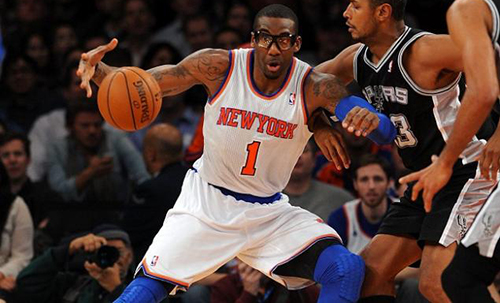 A lot of people don't know this, but the apostrophe in Amar'e Stoudemire's first name actually stands in for the letters k-n-e, making his full name Amarknee Stoudemire. If nothing else, this stands as a testament to the foresight of his parents, Carrie and Hazell Stoudemire, who believed in their hearts that someday their son would go on to be a vastly overpaid professional basketball player, despite the fact that his knee caps are made of old Fruitopia cans.
With training camp only a week away, Amar'e faces what is likely a make or break-your-legs-forever season, and with that in mind, we figured now is as good a time as any to share our thoughts on the hard working, hard lucked Knicks power forward.
As we all know, the 30-year-old Stoudemire has been placed on a strict 20-minute limit this season in order to keep his knees fresh and intact. But what you may not know is that when Yao Ming turned 30, he was placed on a similar, albeit four minutes longer limit to reduce the strain on his chronically injured feet. Sadly, it did not work out very well for Mr. Ming. Yao played in a grand total of five games before missing the entire 2011 season due to a stress fracture from a previous injury (sound familiar?). He went on to retire after the season.
That won't happen to Amare, right? Right?! Gulp.
Going off this Yao note, has anyone ever successfully come back to full strength after playing on any type of minutes limit? John Wall appears to have set a precedent, proving that it's possible for younger players – he was limited to 25 minutes per game upon returning last January – but the jury is still out on the older, more weathered gents in the Association. Derrick Rose is only a year older than the 23-year-old Wall, and he outright refused to play on a minutes limit, even if it meant giving his team a shot to knock off the Miami Heat and compete for a title. Despite the backlash he got from some Chicago fans, it's hard to argue with his logic: Even if you only play 20 minutes a game, you're still exerting yourself at full capacity in an incredibly physical sport with angry giants.
So, yeah, pretty skeptical about the benefits of a minutes limit, but if anyone knows more than me, please leave a note in the comments. I just want to learn.
Getting back to Amar'e, I can't help but notice how similar he is to Jake Taylor from the 1989 cinema classic, "Major League." As you may recall, Jake also had problems with his knees and as such, was forced to spend a lot of time in the Mexican leagues.
Amar'e may never have played in Liga Nacional de Baloncesto Professional – go UIC Wild Geese! – but he has spent a decent amount of time in USA's neighbor to the north, assistant coaching the Canadian Open Men's Basketball Team at the 19th Maccabiah Games in Israel this past summer. His experience holding mysterious papers on the Knick's sidelines didn't seem to help very much, as Canada failed to medal after losing to France, who also failed to medal. Can't say it's all that surprising given Canada's basketball history.
While we're loosely on the subject of Israel, I feel an obligation to my future corny old Jewish man self to repost a, "Hey, Amar'e Stoudemire is Jewish" joke I tweeted over two years ago. Oy.
It's appropriate that New York's finest Jewish athlete has fucked up knees and wears goggles.

— Nick Greenberg (@nickthefast) August 9, 2010
Yeah, that felt wrong. I like myself even less than usual.
But all terrible jokes aside, we, the good people at Baller Mind Frame, wish Amar'e nothing but the best this upcoming season. He is probably among the hardest workers in the game today, is a flat-out nice dude and deserves to have success in whatever he pursues. He can't help it if he has awful knee genes.