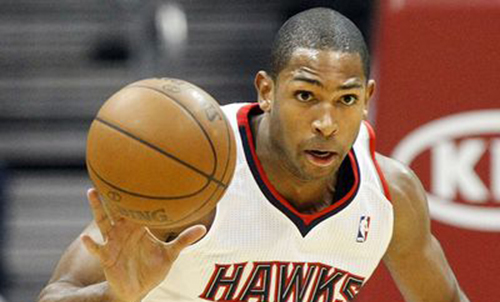 Whereupon an NBA free-agent fan sets about selecting a team to root for during the 2013-14 NBA season.
Danny Ferry, in his capacity as General Manager of the Atlanta Hawks, has been turning an incredible trick since he was hired in June of 2012: he has deconstructed a team on a five-year playoff run with little to show for it, a decision that has already had a negative impact on the win column with more regression likely forthcoming, and yet has been widely, almost universally praised for the moves.
Ferry's transactions are all of the type that brainier fans feel an executive should pursue. He shed the contract of Joe Johnson, arguably the NBA's most excessive, bringing cap flexibility to Atlanta several years earlier than anyone reasonably expected. He used his 2012 first-round pick on the draft's best shooter and turned two years of a decent Marvin Williams into one year of a decent Devin Harris. His second draft night was active and well-reviewed. He let Josh Smith and his lousy reputation leave town and, with his hard-earned cap space, re-upped sharpshooter Kyle Korver and brought internet-darling Paul Millsap to the Hawks on a manageable deal.
And now, despite all the cap-friendly contracts, safe-bet draft selections, and financial flexibility, the Atlanta Hawks are almost certainly a worse team than when Ferry was hired.
The Johnson contract was a menace to the team's salary cap, yes, but Johnson is also one of the five best shooting guards in the game and yet the Hawks received  little of note for unloading him. Moving Williams for what was essentially a one-year rental of Harris helped create some financial flexibility this summer, as did allowing Smith to walk versus trading him somewhere along the way. This allowed the Hawks to enter the summer as potential destinations for franchise-altering stars Dwight Howard and Chris Paul. But this is precisely the problem with building an entire organizational strategy around cap room: if the stars don't come, the alternative isn't so pretty, and a lot of painstaking transactions were made for what became a losing gamble. Now that Howard and Paul are locked in elsewhere, are the Hawks really so much better off without Johnson?
To Ferry's credit, after it became clear that Howard and Paul wouldn't be coming to Atlanta, he didn't panic and overpay for sexier names like Brandon Jennings or Andrew Bynum. He kept his cool and used his unique leverage as one of the summer's only remaining spenders to sign Millsap and Teague to very agreeable contracts, and is looking at further financial flexibility in 2014. But the NBA isn't some bargain-basement exercise, and shopping the sales only makes sense if the main ingredients are in-hand. The Hawks maybe weren't there with Johnson and Smith, but they're absolutely not there now.
In his defense, Ferry's approach is far from one of the more insulting roster developments of the last several years. It isn't Danny Ainge dumping Boston Celtics legends for scraps, and it isn't the new brain trust of the Philadelphia 76ers trotting out a glorified D-League team. The Hawks are a likely playoff squad who signed a series of defensible contracts and hired famed assistant Mike Budenholzer of the San Antonio Spurs to become the coach. Of all the egregious strategies adopted by NBA teams under the new Collective Bargaining Agreement, Atlanta's is far from the worst.
It's just hard to know at this point where the Hawks can take it. A core of Korver, Millsap, the newly-extended Jeff Teague, and the perpetually-underrated Al Horford is by no stretch a contender, and the $10 million salary the Hawks can offer next summer won't deliver a player who can get them there, either. Every salary on the books is highly tradeable, and so it remains possible that some real creativity will turn the existing structure into a more formidable one, but nothing in Ferry's history suggests he's capable of that level of ingenuity.
The Hawks opted to remain competitive this summer, versus bottoming out along with the other half-dozen or so franchises who have adopted this profane strategy, and deserve some credit. But recklessly dismantling a well-regarded and spirited core because it wasn't likely to win a championship seems foolish unless it yields an even better squad. And the new-look Hawks simply aren't that.
NBA Fandom Games Eliminated Teams List:
New York Knicks
Boston Celtics
Washington Wizards
Charlotte Bobcats
Golden State Warriors
Milwaukee Bucks
Utah Jazz
Philadelphia 76ers
Houston Rockets
Portland Trail Blazers
Toronto Raptors
Sacramento Kings
Detroit Pistons
Phoenix Suns
Oklahoma City Thunder
Atlanta Hawks