2013-14 NBA SEASON PREVIEW CONTENT LIST
Atlantic: Celtics | Nets | Knicks | 76ers | Raptors | Division Preview 1 and 2
Central: Bulls | Cavaliers | Pistons | Pacers | Bucks | Division Preview
Southeast: Hawks | Bobcats | Heat | Magic | Wizards | Division Preview
Pacific: Warriors | Clippers | Lakers | Suns | Kings | Division Preview
Northwest: Nuggets | Timberwolves | Thunder | Trail Blazers | Jazz | Division Preview
Southwest: Mavericks | Rockets | Grizzlies | Pelicans | Spurs | Division Preview
Top 10 by Position: PG | SG | SF | PF | C
Top 10 Lists: Sixth Men | Sophomores | X-Factors | Intensity | Under 25 | Comeback | GMs | Europeans | Overrated | Contenders | Wild Predictions
Fantasy Basketball | NBA Fandom Games | League Preview | Ultimate Season Predictions
Media Day: Lakers | Clippers | Kings | Knicks | Bucks | Suns | Pacers
FANTASY BASKETBALL POSITION TIERS
POINT GUARDS | SHOOTING GUARDS | SMALL FORWARDS | POWER FORWARDS | CENTERS
ARTICLES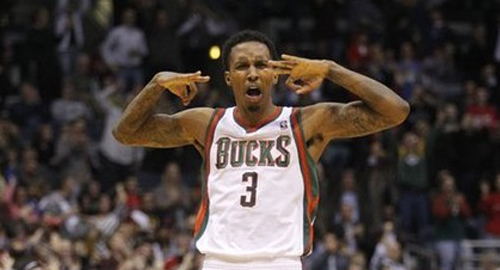 Are you sick of getting made fun of every year? Sick of losing your entry fee, season after season?
I hope you are – I would be if I were you.
I'm going to show you some of the reasons why you're probably losing – and how you can avoid these mistakes this coming season.
I sincerely hope no one from my yearly league is reading this…
3.) Bad Luck.
You draft LeBron James, and he blows out his knee before even playing a game – you pick up a steal late in your draft in Kyle Lowry only to have him traded to the Clippers to play behind Chris paul. You have just officially been screwed over by the fantasy gods.
Obviously these are hypothetical – but scenarios like these occur every year. (Think about those unlucky owners who drafted Kevin Love last year, or even worse – Andrew Bynum) If that was you, you probably didn't get very far in your league.
I don't want to hear that you get last pick (or even middle pick) every year in your draft – this is not about that. I firmly believe that because of the snake format, draft position matters much less than if the players you drafted can stay healthy. Of course it'd be awesome to get Kevin Durant every year in your draft – but I'd much rather own a Kevin Martin who plays all 82 than a Kevin Love who plays in just 2.
Because of that fact; you need to be very wary of drafting highly injury prone players. Because of that, I highly recommend that guys like Andrew Bogut and Chris Kaman be on your *DO NOT DRAFT UNDER ANY SITUATION* list. They are the classic examples of high-risk low-upside that I do not want to draft – even in the last round. Let some other owner deal with the headache.
2.) Not taking enough risks.
This is a concept that typically only the most seasoned managers know and practice.
I want to be clear: I am not espousing the idea of you haphazardly drafting Victor Oladipo with your 2nd pick, or dropping a solid consistent producer for a Tyrus Thomas-esque prospect.
But I am telling you that the risks that you need to take in order to be successful are calculated ones. For instance: you are a middling team, somewhere in 7-9th place in your league getting near the 3rd quarter of the season – what are your options? You could probably make the playoffs keeping your team exactly the same, but the chances of you winning or placing in your league are slim to none. Too many times I've seen these managers simply ride their position into the playoffs, only to get knocked out in the first round.
If you find yourself here, you need to do everything in your power to pull off a blockbuster trade. This could mean trading your first rounder, for 2 solid producers – or trading 3 solids for 2 studs. And although, you could possibly get the short end of the stick, and miss playoffs altogether, if you hadn't made the trade you would have probably lost in the first round anyway. Nothing ventured, nothing gained.
1.) Overvaluing the importance of your early rounds & undervaluing the importance of your mid-late rounds.
Very few championship fantasy teams are built in the first 4 rounds.
Why? Well, it's hard to mess up here. Unless you're playing in a very beginner-ish league, most people know not to take Manu Ginobili with their 2nd pick.
Because through the first 4 rounds you'll have mostly players who are household names, it doesn't matter THAT MUCH if you make a slight mistake here. I would wager that I would be able to build a championship caliber team while auto-drafting through the first 4 picks.
But many losing managers dont understand this and still put too much emphasis on who they draft early on. After round 5 goes out the window, they get confused, start tanking their whole draft clock – and have no idea who to take anymore.
Almost every year there are one or two managers who leave the draft early only to have the AI autodraft their last couple of rounds – you can bet these guys almost never win.
I want to encourage you to stay through your whole draft.
You never know when you might land a diamond in the rough!
Here are a few examples of players that I drafted in the middle-late rounds that have literally WON me my fantasy league.
2012-13: 6th round – Stephen Curry
2011-12: 6th round – Andrew Bynum
2009-10: 12th round – Brandon Jennings
It is very important when devising your draft plan, to have a good end-game in mind.
Personally, I am most proud of my Jennings pick back in 2009 during his electric rookie year. And Yes, I've either won or placed 2nd-3rd every year in the past 6 years of playing fantasy basketball. And I don't plan to stop this year either.
Bring it on BMF league!
AK out.