2013-14 NBA SEASON PREVIEW CONTENT LIST
Atlantic: Celtics | Nets | Knicks | 76ers | Raptors | Division Preview 1 and 2
Central: Bulls | Cavaliers | Pistons | Pacers | Bucks | Division Preview
Southeast: Hawks | Bobcats | Heat | Magic | Wizards | Division Preview
Pacific: Warriors | Clippers | Lakers | Suns | Kings | Division Preview
Northwest: Nuggets | Timberwolves | Thunder | Trail Blazers | Jazz | Division Preview
Southwest: Mavericks | Rockets | Grizzlies | Pelicans | Spurs | Division Preview
Top 10 by Position: PG | SG | SF | PF | C
Top 10 Lists: Sixth Men | Sophomores | X-Factors | Intensity | Under 25 | Comeback | GMs | Europeans | Overrated | Contenders | Wild Predictions
Fantasy Basketball | NBA Fandom Games | Baller Mind Frame Ultimate Season Predictions
FANTASY BASKETBALL POSITION TIERS
POINT GUARDS | SHOOTING GUARDS | SMALL FORWARDS | POWER FORWARDS | CENTERS
ARTICLES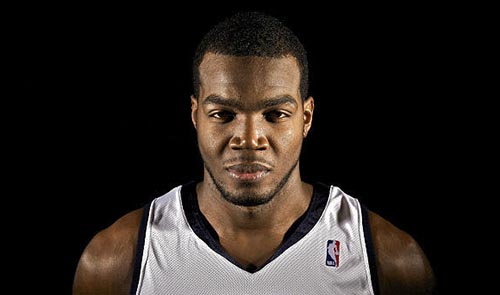 In fantasy basketball you look for a good return on your investment from two main sources, players who will break out that season or from players who will bounce back from a previously disappointing season. If those picks pan out, Ideally, you draft a combination of these players, taking the ones with the least risk and that project to give the highest returns.
Either way, you have to pick your spots. When it comes to break-out players, it boils down to timing. On the other hand, when scouting for players you expect to bounce back, you have to know (project) if they have anything left in the tank. Who would have thought that Tim Duncan would rise from the ashes and catch fire once again and return first-round value in 2012-13? On the other hand, I can still vividly recall those times I counted on a post-Phoenix Suns Shawn-Marion bounce; but like the tofu pizza I ordered from KFC, it never arrived. It's tough, but you have to figure the difference between a player having "just a bad season" and an actual downward spiraling career.
Here are five players who had disappointing 2012-13 seasons and whom I project to do well in 2013-14.
5. Paul Millsap, PF Atlanta Hawks
He finished the 2012-13 season just outside of fantasy's top 50, which was a huge letdown considering Paul was flirting with second-round value between in 2010-11 and 2011-12. He didn't suffer any major injuries. In fact, he played in an acceptable 78 games. His decline can be attributed to the rise of Derrick Favors, who competed with him for playing time and opportunities to shine. Millsap averaged 14.6 PPG, 7.1 RPG, 1.3 SPG and 1.0 BPG. His drop in scoring and steals were what dragged down his value. He previously provided fantasy owners with the unique service of supplying steals from the power forward position. Paul averaged a career-high 1.8 SPG in 2011-12.
Now that he's signed with the Josh Smith-less Atlanta Hawks, Millsap finds himself in an ideal situation and environment to produce at a much higher level. The Hawks are in desperate need of someone, anyone, to step up and bear the responsibility of putting points on the board. I project that a concerted effort will come from Al Horford, Jeff Teague and Paul Millsap to deliver the goods.
4. Dirk Nowitzki, PF Dallas Mavericks
Recovery from arthroscopic knee surgery forced him to begin his 2012-13 season on December 23. It was a procedure that he needed to undergo in order to address the soreness he was experiencing in his knees towards the end of the 2011-12 season. In January 2013 he suffered an abductor muscle strain injury. Dirk was only able to play in 53 games in 2012-13.
Those injuries were the result of wear and tear on the 35-year-old All-Star's body. The good news is that he didn't tear or break anything. Word is that he's been in the gym this off-season, hard at work to get himself into solid shape before training camp.
While we shouldn't expect him to return to his first-round fantasy form, he still will be able to do some damage. On a per game basis, his averages last season put him at late-second round value. Due to his missed games, his cumulative wins see him bumped down by at least two rounds. Aside from 2012-13, Dirk has managed to be one of the more durable players in the NBA, often playing through sprained ankles and letting them heal while on the go. He averaged 17.3 PPG, 6.8 RPG, 47.1 FG%, 86 FT%, 1.2 3PPG and 1.3 TO in the 53 games he managed to play.
We should also consider his style of play. He doesn't hang around the paint to bang and get banged up by the other big men in the league. This makes him inclined to get nailed less by contact-related injuries during the season.
On the plus side, the additions of Monta Ellis to help ease the scoring burden on Dirk and Jose Calderon to efficiently get him the ball at optimal times, only point to Dirk doing better than he did last season. Expect a dip in scoring, but at the end of the day that's a small price to pay for a solid scoring PF with great FT% who can deliver 70+ games played.
3. Pau Gasol, F/C Los Angeles Lakers
He played in only 49 games in 2012-13, mostly hampered by knee tendinitis that lingered throughout the season. He scored a career-low 13.7 PPG along with subpar rebounding numbers of 8.6 RPG.
He underwent a procedure to clear out scar tissue that would damage healthy tissue in his knees. He also received stem cell injections to hasten the regeneration of good tissue.
Gasol also had to deal with sharing the paint with Dwight Howard as well as initial conflicts with his utilization by coach Mike D'Antoni. Both of those factors were thorns in the side of his fantasy basketball line.
This upcoming season is an opportunity for Gasol to get a fresh start and bounce back now that Howard is gone and that he's been showered with constant words of support from teammate Kobe Bryant. It does bear some weight that the team's heart and soul trusts you implicitly and explicitly.
Worst case for Pau is that he receives a thirty to thirty five minute cap per game to preserve his health. Owners needn't worry that newly acquired Chris Kaman will pose a threat to his production. Really, I meant that, but in the kindest light possible on Captain Caveman.
Aside from last season's poor free-throw shooting percentage of 70.2%, Pau has been long known to be one of those big men you can count on to not hurt your fantasy team in that department. If he does manage to begin the season at 99 percent health or better, Gasol should be able to average 18.4 PPG, 9.8 RPG, 1.4 BPG, to go along with solid shooting percentages.
2. Derrick Rose, PG Chicago Bulls
Derrick Rose sure took his sweet time to return from surgery to repair his torn ACL. Those people who gambled on his hoped for, post-all-star break return in 2012-13, were left with nothing but bags of disappointment and regret. Rose opted to take a conservative approach to his recovery, taking a long-term perspective while also not wanting to return "if he was not his old explosive self."
I received Rose's approach with both respect and admiration. It showed maturity on his part, as well as a deeply rooted competitive drive that gives him the vision that he will compete for a championship as soon as he is able to.
While it might be a bit of stretch to expect the youngest M.V.P. award winner in NBA history to bounce right back into his former top-five fantasy value in his first season back in action, Rose will be in the thick of things and should post a fantasy-friendly line nonetheless. The Chicago Bulls are a dark horse to challenge the Miami Heat's dominance in the East this season, and they will be relying heavily on Rose's production. Expect him to bring 20.1 PPG, 7.5 APG, 1.3 3PPG, and 1.2 SPG on a nightly basis.
So yes, even if N'Sync did get back together before Rose returned, it will all be worth it in the end. And so there isn't any confusion, I'm referring to Rose's return as being worth it and not N'Sync's reuniting.
1. Kevin Love, F/C Minnesota Timberwolves
Kevin has fully recovered from his broken hand, which he fractured twice. First, before the 2012-13 season began while doing knuckle push-ups, and then fractured it again in a game against the Denver Nuggets in March 2013. He also underwent arthroscopic knee surgery to remove scar tissue from his left knee in April.
If he, and his fantasy owners, could just pretend his 2012-13 season didn't happen; I'm sure they would happily do so.
Finally, Minnesota fans will get to see Kevin Love and Ricky Rubio both healthy and playing alongside each other. *Knocks on wood, hoping not to jinx it* Let's not forget, Love is a former league leader in rebounding (2010-11) and has brought us some fantastic, eye-popping lines back in 2011-12. Kevin should be able to re-enter fantasy's Top 10, possibly Top 5, this season and should be drafted accordingly.
As a reminder, Love averaged 26.0 PPG, 13.3 RPG, 1.9 3PPG, with 44.8 FG% and 82.4 FT% back in 2011-12. While his shooting numbers regressed in 2012-13 to 35.2 FG% and 70.4 FT%, we can easily chalk up that decline to his injured shooting hand, which was never really at a hundred percent during the season. With a solid training camp and a good regimen to keep him in shape, Kevin should be the easiest candidate to project for a bounce-back season this 2013-14.
This article was originally published in Points in the Paint. Check it out for more fantasy basketball