2013-14 NBA SEASON PREVIEW CONTENT LIST
Atlantic: Celtics | Nets | Knicks | 76ers | Raptors | Division Preview 1 and 2
Central: Bulls | Cavaliers | Pistons | Pacers | Bucks | Division Preview
Southeast: Hawks | Bobcats | Heat | Magic | Wizards | Division Preview
Pacific: Warriors | Clippers | Lakers | Suns | Kings | Division Preview
Northwest: Nuggets | Timberwolves | Thunder | Trail Blazers | Jazz | Division Preview
Southwest: Mavericks | Rockets | Grizzlies | Pelicans | Spurs | Division Preview
Top 10 by Position: PG | SG | SF | PF | C
Top 10 Lists: Sixth Men | Sophomores | X-Factors | Intensity | Under 25 | Comeback | GMs | Europeans | Overrated | Contenders | Wild Predictions
Fantasy Basketball | NBA Fandom Games | League Preview | Ultimate Season Predictions
Media Day: Lakers | Clippers | Kings | Knicks | Bucks | Suns | Pacers
FANTASY BASKETBALL POSITION TIERS
POINT GUARDS | SHOOTING GUARDS | SMALL FORWARDS | POWER FORWARDS | CENTERS
ARTICLES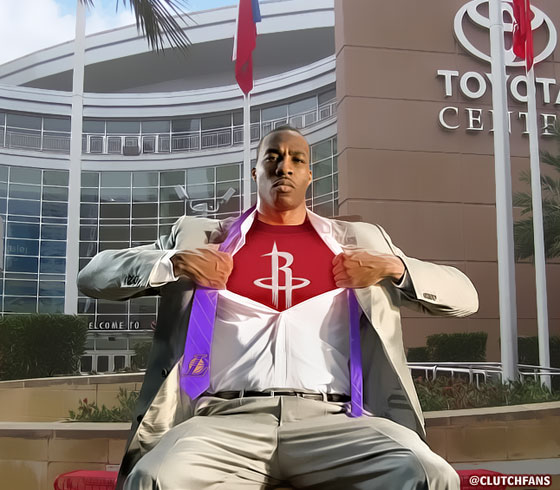 Like him or not, Dwight Howard remains one of the most dominant centers in the NBA and in fantasy basketball. He can score, rebound and block shots very well. The glaring drawback he has in the game of fantasy basketball is his career 57.7 FT% at 9.3 attempts. That's enough of a volume of attempts and misses to drag down any fantasy team's free-throw percentage category into the gutter and kick it in the nuts, twice.
We know what he does well, and what he doesn't. Choosing to draft Howard means you are effectively committing to punt the free-throw percentage cat, since you will lose it anyway. Now the question asked by many drafters ask themselves is, "Do I draft Howard for my fantasy basketball team?"
The answer to that is "yes" AND "no." In rotisserie-format leagues, no. In head to head, yes you can, but DON'T HAVE TO.
In leagues running the rotisserie format, I ALWAYS make sure that I place Howard on my "exclude list," to prevent any possibility of him somehow landing on my team.
Just say no to punting: Because of the way a roto league calculates its scores, it is very difficult to completely punt a category and still win. In fact, show me someone who talks about punting a category in their Roto league and I'll show you someone who is probably not going to win their league.

This is due to the fact that if you punt a category in a 12-team league you are committing your team to a single point in one of the categories. Now instead of competing in 9 categories – where an average team in the league would get 6.5 points per category (the midpoint of the 1-12 scale) – your team will be competing in only 8 categories and will now have to average over 7 points a category simply to keep pace with an average team. –  excerpt taken from: Rotisserie Draft Strategy, "

Guts Make Teams Real

"
That was just a little bonus from the book I co-authored. If you want to really immerse yourself in sound, solid and winning fantasy basketball strategy, I highly recommend you grab yourself a copy, A.S.A.P. (shameless plug!)
Now, when it comes to the Head-to-Head format, where you only need to win "most of the categories," losing one (in this case, FT%) is acceptable. Deciding to punt one or two categories allows drafters to focus their picks on players that maximize their chances of winning in the categories they want to dominate or compete for.
Assuming you filter out FT% and just count the eight remaining categories, Dwight Howard is a Top Five (5) player! That creates a great divide between his (9-cat) O-rank in Yahoo!, where Dwight is at a distant #43. As of the writing of this post, he was clocking in at an average draft position of 28.2. That's a clear sign that there are a good number of people picking him much sooner than 43rd.
If you're committed to punting free-throw percentage, it's acceptable, in fact customary to pick Dwight in the first round (second at the latest).
Now I've been playing the game of fantasy basketball long enough to say I've tried drafting around a first-round Dwight Howard pick and I've also had drafts where I've passed on him to preserve my team's competitiveness in FT%.
I've drafted him in a 12-man Experts League and finished second and in an 18-man league, but traded him away before the trade deadline. Here are some things I've noted about my experience with drafting him early:
If you're not careful, Howard can lead to a two-category punt scenario, due to his career 3.1 turnovers per game. That being said, it's better to take him and punt FT% if you're playing in an 8-cat (no turnovers) league.
You're pressured to win the "other categories," because you're already behind in one (or two). You need to be careful about who you draft to supply your team's 3PTM. Most of those shooters have poor FG%. Even Dwight's career 57.7 FG% (11.2 FGA) may not be enough to offset their misses.
Just because you've got Dwight, it doesn't give you the license to be complacent about your team's projected weekly totals of rebound and blocks.
It is difficult to set pre-draft rankings around a Howard 1st-round pick. If you commit to punt FT% and draft as if it were "taken out of the equation," then other players also merit personal ranking upgrades.
If you do decide to punt FT% here are some players whose values rise with that filter in place:
Tim Duncan, Josh Smith, Larry Sanders, Blake Griffin, Rajon Rondo, Andre Iguodala, Andre Drummond, Derrick Favors, Omer Asik, Javale McGee
Is it viable to draft around Howard in H2H? Yes, it is. You just have to be on point during the draft and have a clear road map to guide you as you make your subsequent picks.
Do I think Howard will do well now that he's with the Houston Rockets? Yes, I do. I think he'll show improvement from last season's numbers of 17.1 PPG, 12.4 RPG, 57.8 FG%, 1.1 SPG and 2.4 BPG.
Just as a matter of preference, I am personally not going to draft Howard early this season. I am keeping him ranked somewhere in the 40-ish range and given his current ADP, I am not likely going to own him this season. I'm going to try to avoid punting as long as possible, hopefully giving me a bit more flexibility in drafts. I'm leaning towards trying out low-profile, roto-friendly guys this season, focusing on preserving my teams' shooting percentages as best as I can. I may leave the door open to an early commitment to punt FG% if I draft a player like James Harden, Russell Westbrook or Paul George in the first round.
This was originally published at PointsinthePaint.com. Check it out for more fantasy basketball awesomeness!