2013-14 NBA SEASON PREVIEW CONTENT LIST
Atlantic: Celtics | Nets | Knicks | 76ers | Raptors | Division Preview 1 and 2
Central: Bulls | Cavaliers | Pistons | Pacers | Bucks | Division Preview
Southeast: Hawks | Bobcats | Heat | Magic | Wizards | Division Preview
Pacific: Warriors | Clippers | Lakers | Suns | Kings | Division Preview
Northwest: Nuggets | Timberwolves | Thunder | Trail Blazers | Jazz | Division Preview
Southwest: Mavericks | Rockets | Grizzlies | Pelicans | Spurs | Division Preview
Top 10 by Position: PG | SG | SF | PF | C
Top 10 Lists: Sixth Men | Sophomores | X-Factors | Intensity | Under 25 | Comeback | GMs | Europeans | Overrated | Contenders | Wild Predictions
Fantasy Basketball | NBA Fandom Games | League Preview | Ultimate Season Predictions
Media Day: Lakers | Clippers | Kings | Knicks | Bucks | Suns | Pacers
FANTASY BASKETBALL POSITION TIERS
POINT GUARDS | SHOOTING GUARDS | SMALL FORWARDS | POWER FORWARDS | CENTERS
ARTICLES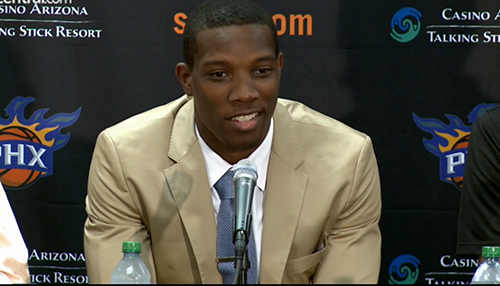 It's the time of year when everyone is looking to uncover those hidden gems ready to bust on the scene. Well look no further because the trusty fantasy heads at Baller Mind Frame are here to help you with that endeavor by bringing you a list of breakout fantasy players. While these breakout candidates come in with different levels of hype, or lack thereof, the one thing they do have in common is being positioned for bigger roles coming into the 2013-14 season. To put it simply, these guys are ready to make the jump to everyday fantasy contributors in standard-sized leagues.
Markieff Morris, PF
Phoenix Suns
Markieff opened a lot of watchful fantasy eyes with a quality April last season, averaging 11.8 points, 6.9 boards, 1.5 blocks, 1.4 steals and 1.6 threes on 46 percent from the floor. His other shooting percentages were off the charts for a power forward, coming in at 92 percent from the line and 65 percent from downtown. While I wouldn't expect that type of stellar shooting for a whole season, it definitely makes him an outside shooting threat. With Luis Scola being traded to the Indiana Pacers, it looks like Markieff will have the starting power forward spot all to himself this season with his brother from the same mother backing him up. He's a solid late-round pick with huge upside, don't get caught sleeping on him.
Alec Burks, SG/PG
Utah Jazz
With the Utah Jazz in a full-blown youth movement, and his only real competition for minutes being Brandon Rush, Alec looks to be locked into a starting role. The Jazz seem to be set on rolling out rookie Trey Burke as their starting point guard, but also have the luxury of sliding Alec over due to his play-making ability, if the youngster should falter. With the Jazz fielding an extremely young roster and Gordon Hayward being the only returning starter, Burks will be expected to take on a much larger role in the offense. Per 36 minutes, he averages 15.2 points, 4.8 rebounds and 2.5 assists—that's a pretty accurate forecast of what to expect for the upcoming season.
Jimmy Butler, SG/SF
Chicago Bulls
This one is a no-brainer. Butler has the Chicago Bulls starting shooting guard spot all to himself for 2013-14 and is a lock for big-time minutes. With Jimmy you get above-average rebounding production from the shooting guard position and the across-the-board production every team needs. Not to mention he comes with huge upside, possibly even star potential.
Kelly Olynyk, C/PF
Boston Celtics
Being the only rookie to make our breakout list, expectations are high for the former Gonzaga star. After taking the NBA Summer League by storm (18.0 PPG, 7.8 RPG), Kelly seems like a lock for big minutes holding down the middle for the Boston Celtics. He will have to compete with Kris Humphries and Jared Sullinger for playing time, but with the Celts in the midst of what looks to be a rebuilding (tanking) year, my money is on the rookie to win out the lion's share.
Wilson Chandler SF/SG
Denver Nuggets
I freely admit to Wilson Chandler being one of my favorite NBA players, but you have my word I will not let it skew my fantasy prognostication. With the departure of Andre Iguodala and Danilo Gallinari being out for at least the first month (most likely longer) of the season, Wilson has a firm grasp on the starting small forward spot for the immediate future. Chandler only received the starting nod eight times in 2012-13 but certainly thrived in the role, averaging 18.9 points, 5.6 rebounds, 1.4 steals and 2.3 three-pointers on 52.5 percent shooting. With Wilson flying under the radar a bit we have the makings for a big-time draft-day steal in the later rounds.
Nick Young, SF/SG
Los Angeles Lakers
Nick Young, or "Swaggy P" as the kids say, seems to have found a soft landing spot in the Lakers' now-Metta World Peace-free small forward rotation. I actually think this is the year Nick starts to play more team-oriented basketball and reins in his shoot-first all-the-time mentality. It's either that or face the wrath of the dreaded Kobe Bryant stare. Look for Nick to take on the role of the Lakers' third scorer with the possibility of a career year on the horizon.
Tobias Harris, SF/PF
Orlando Magic
Fresh off arriving in Orlando as the centerpiece in the deal that sent J.J. Redick, Gustavo Ayon and Ish Smith to the Milwaukee Bucks, Tobias Harris instantly put the league on notice that he was for real with a 14-point, 6-rebound, 3-block performance in just 25 minutes. Tobias hit the ground running with the Magic and started the final 20 games, looking outright dominant at times while setting career highs on a nightly basis. As with all young players, he did experience some growing pains in the form of poor shooting nights, but he still turned out to be a fantasy powerhouse to the tune of 17.3 points, 8.5 rebounds, 2.1 assists, 1.4 blocks and 1.0 threes per game. Harris will hold down the starting power forward spot with Glen "Big Baby" Davis still on the mend and most likely even when he returns. It's not hard to see the star potential Harris possesses and I just can't fathom any reason the Magic would want to stunt his overall growth by sitting him. My best fantasy advice regarding Tobias Harris, DRAFT HIM.
Maurice Harkless, SF/SG
Orlando Magic
Maurice might seem like an afterthought with all the hype surrounding the aforementioned Tobias Harris, but trust and believe the buzz on Harkless is very real. While former the St. John's player is a bit of an enigma, standing at 6'8″, 210 pounds with the build of a small forward and the skill set of a hybrid power forward/shooting guard, he is unique to say the least. On the offensive end Moe is still a work in progress, but even at young age of 19 the Magic found him skilled enough to start 59 games last season. Rumors out of Magic camp have Hedo Turkoglu possibly being bought out and headed to Turkey and Arron Afflalo on the trading block. Compound that with talks of playing Maurice at shooting guard, as well as manning down the starting small forward spot, it's easy to see the Magic want to give him all the minutes he can handle. Simple fantasy equation: young player + bad team + unlimited minutes = fantasy goldmine.
Enes Kanter, C
Utah Jazz
The Utah Jazz frontcourt player that gets the most buzz is none other than Derrick Favors, but with both he and Enes being unleashed from the bench and handed starter's minutes, it just might be Kanter that steals the show. Check out the numbers from his two starts, he only averaged 20.5 points, 15 boards and a block. Not too shabby. While he may not be able to sustain those numbers for a full 82 games, the talent is there for him to be a formidable starting fantasy center for years to come. What more can you ask than a starting caliber fantasy center in the final rounds of the draft?
Eric Bledsoe, PG/SG
Phoenix Suns
All signs point to "Lil LeBron" starting alongside Goran Dragic for the lowly Suns and he'll be given every chance to succeed. It has been overly stated that Phoenix was elated to land Bledsoe and see him as a star in the making. I'm not one to put a huge amount of faith in per-36 stats, but his averages of 14.9/5.4/5.2 look to be on point with what to expect in a full-time gig. If you are targeting Bledsoe, be fair-warned the hype machine is in full effect here so you may have to reach a bit if he is on your must-have list. Fantasy Fun Fact: Eric Bledsoe led all point guards in blocked shots last season with 0.7 per game in just 20.3 minutes of play.