2013-14 NBA SEASON PREVIEW CONTENT LIST
Atlantic: Celtics | Nets | Knicks | 76ers | Raptors | Division Preview 1 and 2
Central: Bulls | Cavaliers | Pistons | Pacers | Bucks | Division Preview
Southeast: Hawks | Bobcats | Heat | Magic | Wizards | Division Preview
Pacific: Warriors | Clippers | Lakers | Suns | Kings | Division Preview
Northwest: Nuggets | Timberwolves | Thunder | Trail Blazers | Jazz | Division Preview
Southwest: Mavericks | Rockets | Grizzlies | Pelicans | Spurs | Division Preview
Top 10 by Position: PG | SG | SF | PF | C
Top 10 Lists: Sixth Men | Sophomores | X-Factors | Intensity | Under 25 | Comeback | GMs | Europeans | Overrated | Contenders | Wild Predictions
Fantasy Basketball | NBA Fandom Games | League Preview | Ultimate Season Predictions
Media Day: Lakers | Clippers | Kings | Knicks | Bucks | Suns | Pacers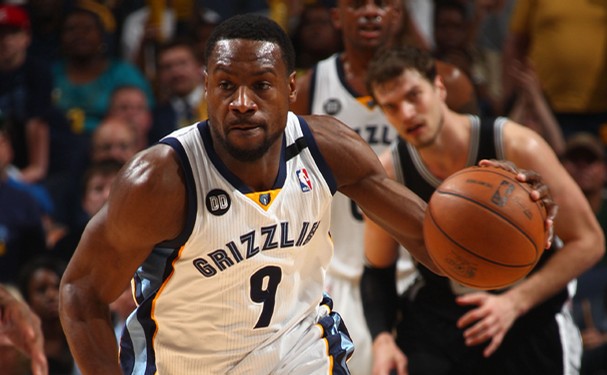 This is a man's game, and the NBA is the league where this game is at its highest level. The winners are the ones who want it more than the other guy and are willing to do any and all things necessary to get it. Sometimes they may be labeled "dirty," but never will they be labeled "soft." Here are my top ten list of the toughest and most intense players going into next season.
10. Joakim Noah, PF, Chicago Bulls
Joakim Noah wears a ponytail, yeah, but don't let that fool you. When it comes to intensity you won't find a tougher center in the league, anywhere. He goes uber-hard every play and doesn't think twice about it. His hustle stats just prove that point. If I had to choose the best true center in the game, I'd go with… not really, but he's absolutely the toughest.
9. Rajon Rondo, PG, Boston Celtics
Where do I begin? Was it the 2011 NBA Playoffs series against the Miami Heat when he nearly had his arm ripped off by Dwyane Wade, but he came back in the game and still did work? Was it the torn ACL against the Atlanta Hawks where he still played 13 more minutes afterward? Rondo has one speed, and that's GO! I guarantee he'll stay in top gear until the wheels fall off, and even after.
8. Iman Shumpert, G, New York Knicks)
21 Shump Street is in full effect. Iman Shumpert came into the league as a rookie with a mean streak. Maybe it's from growing up in Chicago, it's rough out there. Maybe it's from playing in New York City, it's rough out here. Whatever it is, he approaches the game with "good" bad intentions. Coming off a season truncated by recovery, believe that this coming season, Shump will be even tougher than his tough-ass flattop.
7. Tony Allen, SG, Memphis Grizzlies
The Grindfather made his reputation on toughness and intensity. As one of the premier perimeter defenders in the game, it's no wonder he is always in talks for Defensive Player of the Year. He sticks his nose in every play, won't ever back down from a challenge and brings it every night. Keep Grinding.
6. Nate Robinson, G, Denver Nuggets
"Napolean" Nate Robinson. Call it a complex if you want to, I call it effing toughness. He may be a jokester off the court, but come game time, Nasty Nate is all business. He's got the athleticism to back up his attitude and Denver will be more than happy to welcome him to the altitude.
5. Chris Paul, PG, Los Angeles Clippers
This guy doesn't like to lose at all. He wears a grimace on his face for the hell of it and his play matches his intensity. CP3 is one of the most intense players in the league, bar none. Don't try to touch his head either. Now maybe he can share some of that mean streak with Blake Griffin.
4. Russell Westbrook, PG, Oklahoma City Thunder
On the basketball court, Russell Westbrook looks angry, and he plays like it also. Off the court he's a stylish individual with a smile on his face, but once he laces up the Nikes, then he's a mean machine. Westbrook plays with such ferocity you don't know whether to guard him or protect yourself. Do both.
3. Kevin Garnett, PF/C, Brooklyn Nets
Kevin Garnett plays tough defense 'til the last whistle blows. He plays defense even after the whistle blows. Try to shoot after the referee blows the play dead and Garnett is still tossing that weak ish outta here. He's going to be right at home on the Brooklyn streets, and I haven't even touched on his trash talking reputation. Honey Nut Cheerios, anyone?
2. Kobe Bryant, SG, Los Angeles Lakers
Kobe Bryant strikes fear in his opponents and teammates alike. If you drive an NBA All-Star/All-World caliber player out of town because he couldn't deal with how tough you are, then you'd make this list too. Black Mamba strikes venom to everyone equally, regardless if you're an opposing two-guard or a two-year-old on the biddy basket, he's trying to slay you. Don't think this Achilles business is going to stop him. Bean goes hard!
1. Metta World Peace, SF, New York Knicks
Metta World Peace has been known to go H.A.M. (Hard as a mu'sucka) every given second. If you foul him hard he may throw an elbow. If he fouls you hard, he may follow it up with an elbow for good measure. If he dunks on you, he may just throw an elbow because he was in the mood. Bottom line, the man named himself Peace because he knows how intense Ron Artest was. Don't be fooled, Ron Ron is still in there waiting for some elbow space. He's going to be bringing his talents back home next season, to the excitement of old school New York fans. Let's go Knicks!
Honorable Mention
Chris Anderson, Kevin Durant, Ivan Johnson, Reggie Evans, Dirk Nowitzki, Matt Barnes, Lebron James, Dwyane Wade, Derrick Rose, Anderson Varejao