2013-14 NBA SEASON PREVIEW CONTENT LIST
Atlantic: Celtics | Nets | Knicks | 76ers | Raptors | Division Preview 1 and 2
Central: Bulls | Cavaliers | Pistons | Pacers | Bucks | Division Preview
Southeast: Hawks | Bobcats | Heat | Magic | Wizards | Division Preview
Pacific: Warriors | Clippers | Lakers | Suns | Kings | Division Preview
Northwest: Nuggets | Timberwolves | Thunder | Trail Blazers | Jazz | Division Preview
Southwest: Mavericks | Rockets | Grizzlies | Pelicans | Spurs | Division Preview
Top 10 by Position: PG | SG | SF | PF | C
Top 10 Lists: Sixth Men | Sophomores | X-Factors | Intensity | Under 25 | Comeback | GMs | Europeans | Overrated | Contenders | Wild Predictions
Fantasy Basketball | NBA Fandom Games | League Preview | Ultimate Season Predictions
Media Day: Lakers | Clippers | Kings | Knicks | Bucks | Suns | Pacers
FANTASY BASKETBALL POSITION TIERS
POINT GUARDS | SHOOTING GUARDS | SMALL FORWARDS | POWER FORWARDS | CENTERS
ARTICLES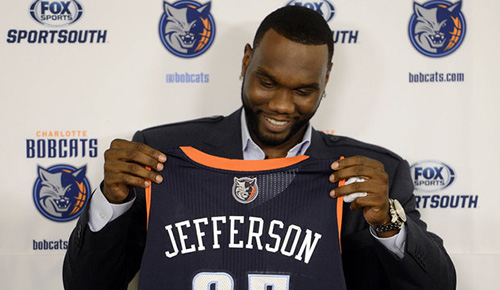 Tier One
Al Jefferson (CHA)
Going into his 10th year in the league, Jefferson finds himself in a familiar situation, after three years with a team he is moving on to be the Man on the next team, left Boston to be the man on the T-Wolves and left to be the man on the Jazz. He has always had a better season after moving to the new city, so now the Charlotte HORNETS hope that Big Al becomes their Man, and we don't see him disappointing to the tune of 22.0 ppg and 12 rpg with about 1.5 bpg.
Marc Gasol (MEM)
The reigning Defensive Player of the year's owners expectation should be same old, same old of about 18.0 ppg, 8.0 rpg, 2.0 bpg and 1.0 spg but owners are hoping that the .848 from the Free Throw line was not a one season thing and that .494 from the field creeps closer to his career mark of .520 again. Bottom line, you know what you're getting from M.Gasol, no major surprises there, as opposed to . . .
Tier Two
Dwight Howard (HOU)
Owners drafting Howard early hope that the combination of both Coach Kevin McHale and "Centers" Assistant Coach Hakeem Olajuwon signal the commitment of the Rockets to giving the ball to the big guy inside, A LOT, which would be a disaster to owners of James Harden. With that said we are just giving a range for D12 for points at 17.0-22.0 ppg, but 12.0 rpg, 2.5 bpg and 1.5 spg should be there regardless of what offense Houston runs.
Brook Lopez (BKN) Al Horford (ATL) and Chris Bosh (MIA)
Talk about being interchangeable, these three centers will give you 13.0 ppg, 8.0 rpg and about 1.5 bpg, which isn't really a bad thing, but there isn't much of an upside to their upcoming seasons either. Lopez and Horford are having a shrinkage of roles with personnel moving into their teams more demanding of the ball (KG and Paul Pierce for the Nets and Paul Millsap for the Hawks) and Bosh, well he has those other two.
Joakim Noah (CHI)
One of the benefactors of the return of Derrick Rose. Look for an uptick in Noah's numbers to about 13.0 ppg, 10.0 rpg and 2.0 bpg BUT all of these with a threat of downtime due to injury, averaging only 60 games in the past four season.
Tier Three
DeMarcus Cousins (SAC)
A complete overhaul of the Kings lineup has Cousins penciled in as the "Go To" guy in Sacramento, with a pass first PG, a rookie SG and two blue-collar forwards that don't mind not getting the ball. This season will be Cousins' finest, if he can handle the pressure and the media attention that goes along with being the guy. Look for a 21.0 ppg, 11.0 rpg and 0.8 bpg season from him.
Roy Hibbert (IND)
Owners beware of Roy Hibbert. Don't think that the '12-'13 playoffs will translate into similar numbers in the 2013-14 season. Not only will he be nowhere near his playoff average last year (17.0 ppg and 9.9 rpg with 1.9 bpg), it would be below his 11.9 ppg, 8.3 rpg and 2.3 bpg stat line from the regular season mostly because the Pacers are DEEP this season and with Danny Granger coming back, there will be less touches for Hibbert in the offense.
Larry Sanders (MIL)
Sanders burst out of the scene in 2012-13 season will an incredible triple double (10 points, 12 rebounds, 10 blocks) in late November and became a FA pickup God and by the All-Star Break, he began to play more and become a bigger part of the offense, all of which are good things. I see this trend continuing this year especially that Milwaukee is taking this season off . . . to concentrate on next year's draft (ahem . . .)
Nikola Vucevic (ORL)
Dwight Howard he was not, but he did give the Magic faithful something to cheer about. Throughout the season, he got more comfortable with the offense and was averaging 18.5 ppg and 15.3 rpg in April. I see a continuing of this trend this year until Victor Oladipo takes over the team.
Anderson Varejao (CLE)
Talk about a rock and a hard place. Let's face it, they really should have traded him when the Cavs got Andrew Bynum. The only way Varejao can play is if Bynum doesn't, they can't slide him to the PF spot because Tristan Thompson has that gig locked up. Owners familiar with handcuff players should get Varejao if they draft Bynum. Speaking of which . . .
Tier Four
Andrew Bynum (CLE)
I for one drafted him in the first round last year and rewarded me with NOTHING, bitter and jaded I am for 2013 but also a sucker for the upside. Where else can he go but up and back to the first round . . . maybe. The Cav's roster is choc-full-o-talent already and they decided to roll the dice with Bynum to the tune of $24M for two years, that's a lot of hope riding on those rickety knees . . . IF and it's a IF (see what I did there?) Bynum plays, he's ceiling is about 21.0 ppg, 12.0 rpg, and 2.0 bpg.
JaVale McGee (DEN)
His minutes will improve to about regular starter minutes this year, and you know what they say, "with great responsibility comes great power" (numbers) 13.0 ppg, 10.0 rpg and 2.5 bpg, with FG% and FT% close to about .550 which will make you smile and cry at the same time.
Tyson Chandler (NYK)
A neck injury (or I believe "a pain") prevented Chandler to do what Chandler does in playoffs (insert punch line here) but with the offseason rest, he will be back this year and counted as an intimidating defensive stopper and killer pick and roll partner, 10.8 ppg, 10.0 rpg and 1.0 bpg. He might lose some minutes with Andrea Bargnani (a taller Steve Novak) early in the season as he will be posing as a center for the Knicks in their second unit but after a few weeks of that and the pressure of the NY media, they will "rethink" that strategy and give Chandler back his minutes.
Andre Drummond (DET)
GM Joe Dumars has a very nice lineup for the Pistons this year and it features a very big, athletic and defensive minded front line with Drummond, Greg Monroe and Josh Smith and you might think that Drummond might be in for a low rebounding year, but here is where Dumars is a genius, he trades for Brandon Jennings, a career .394 shooter, everyone is going to get their rebounds, not their points mind you and his numbers would shape up like this 12.0 ppg, 9.8 rpg, 2.5 bpg.
Nikola Pekovic (MIN)
Pekovic waited anxiously for his time to sign, not like the Twolves had something brewing (seriously), but he parlayed a three year pedestrian career into a $60M five-year contract. Not bad considering he wasn't even the top rebounder in the team, nor the first, second or third option on offense so a minor stat correction should be in order after signing the aforementioned BIG contract, 14.5ppg, 8.0 rpg and 0.7 bpg.
Marcin Gortat (PHO)
Last year was a down year for Gortat on a really bad Suns team which is never a good sign fantasy-wise, bad player on a bad team, pass. BUT . . . with the departure of Luis Scola to Indiana and the Sun getting more perimeter players Eric Gordon and Caron Butler someone has to rebound, so while Gortat will have a dip in his scoring to about 10.0 ppg, but an increase in boards to about 10.5 rpg with the usual 1.5 bpg and 0.5 spg. All of this assuming he plays more than his yearly average of 61 games for Phoenix.
Tier Five
Jonas Valanciunas (TOR)
The Raptors finally gave up on Andrea Bargnani and traded him to the Knicks paving the way for Valanciunas for the starting Center and he served notice in the summer league averaging a double double which might be a preview of his stats for the 2013-14 season, albeit to the tune of 12.0 ppg, 9.0 rpg and 1.3 bpg.
Andrew Bogut (GSW)
Sporadic was the word to describe the 2012-13 season of Mr. Bogut but then again he was coming back from is nth injury. His playoffs, now that's another story and unlike Hibbert's situation with the Pacers, Bogut is now primed to get a bump this season but not much, to about 10.0 ppg, 9.5 rpg and 2.0 bpg.
Enes Kanter (UTA)
Free agency took care of the log jam in the Jazz front line and they are scrambling to pick up the pieces after the departure of Jefferson and Millsap for the greener pastures of Charlotte and Atlanta. Four of the top five leading scorers (Mo Williams and Randy Foye also) have left and someone has to score and rebound for Utah why not Kanter? 12.0 ppg, 10.0 rpg and 0.75 bpg
Kelly Olynyk (BOS)
Same situation different team here, after the championship window shut on the Celtics, Kevin Garnett and Paul Pierce (with Jason Terry) bolted for Brooklyn while their coach opted for the more fashionable team from LA (that would be the Clippers). But unlike Kanter above, Olynyk has Brandon Bass/Kris Humphries and Jeff Green/Gerald Wallace at the other spots of the front line, and they rebound so Olynyk's ceiling isn't going to be high but then again, it's a wide open season in Boston. We see a 10.0 ppg, 8.5 rpg and 0.5 bpg for the rookie.
Spencer Hawes (PHI)
Anytime Hawes gets starter minutes, he's always been a stat line filler. Points and rebounds? Check. Blocks? He got that. Assists? Sure. Steals? Yeah, why not. So when the 76ers thought to rebuild this year and hand the team to the young and capable hands of Thaddeus Young, Evan Turner and Michael Carter-Williams without a net or a backup plan, Hawes will have a good year by virtue of no one else is there . . . well until Nerlens Noel heals up and is ready to take his spot as the 5 but until then sign Hawes for 12.0 ppg, 8.5 rpg, 2.5 apg, 1.5 bpg and 0.5 spg . . .
Tier Six – If you still have not gotten a center and these are the only players available, all is not lost, close but you still have a chance to get by (barely) with them starting on your team.
Samuel Dalembert and Brandan Wright (DAL)
Dallas' formula at center during the Nowitzki era was just get someone serviceable and Dirk will take care of the rest. There were good choices (think Erick Dampier the season before that big contract), good idea (Elton Brand before the season started) and just plain old bad (All the rest of the seasons, especially Shawn Bradley). This year is no different and both would combine for the majority of the minutes at Center but would not combine for a decent average, maybe 8.0 ppg, 6.0 rpg, 1.0 bpg . . .
Omer Asik (HOU)
He was also thrilled with the addition of the Dream to the coaching staff BUT not the reason why they did it. He will be pouting and asking for a trade throughout the season, but what's the problem of getting starter money (US$ 8.3M for this season and two more after that) for bench work (from 36.0 mpg last year to 18.0 mpg projected this year), what could have been . . . if he stay put in Chicago instead . . . 6.0 ppg, 5.0 rpg, 0.75 bpg
Robin Lopez (POR)
The Trailblazers wanted Lopez in the off season and got him during the Tyreke Evans trade to New Orleans. We see him carrying on with his numbers this season from last season for the Hornets to the tune of 11.0 ppg, 6.2 rpg and 1.4 bpg
Tiago Splitter (SAS)
Ditto with the numbers above but only because Pop tries to rest the "A-team" and someone has to rebound and score during off games.
DeAndre Jordan (LAC)
That dunk/wince combo last season might be the only bright spot for Jordan, going through the playoffs his role shrank and shrank as the Clippers lost four straight games to get bounced out of the 1st round. 2013-14 is another downgrade of Jordan's stats to about 7.0 ppg, 6.0 rpg and 1.0 bpg
J.J. Hickson (DEN)
He had a great season in Portland last year but this season signed with the Nuggets to play behind Kenneth Faried, head scratcher. 8.0 ppg, 5.6 rpg . . .